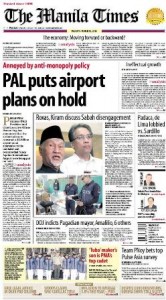 In a press briefing last week, Philippine Airlines (PAL) President and CEO Ramon S. Ang announced that the airline's plans to construct a $6 billion airport as an alternative to the outdated and overcrowded Ninoy Aquino International Airport were being put on hold. According to the Philippine Star (which still insists on calling the privately-owned PAL the nation's "flag carrier") headline, the reasons are described as "unclear government policy", but from Ang's comments the "indefinite' postponement of the project is evidently the result of deep unhappiness with the surprising unwillingness of the Aquino Administration to endorse PAL's efforts to create a monopoly in the local air industry.
The sticking point as far as PAL is concerned arose with the issuance of the terms of reference for the planned P17.5 billion Mactan-Cebu International Airport project, which would presumably also be applied to PAL's proposed airport or any other future projects. The original terms issued last December by the DOTC prohibited any airlines or airline-related businesses from bidding on the Mactan-Cebu project, which instantly eliminated PAL, PAL's major owner San Miguel Corporation, and Cebu Pacific's parent company Cebu Air Inc. from the contest to win the project. After strong criticism from these three and others, the DOTC revised the terms last month to limit airlines and related businesses to 33% ownership of the project. Significantly, however, the 33% ceiling was extended to ownership in bidding consortiums; in other words, such consortiums would be excluded if more than 33% of their equity was held by airlines or airline-related businesses.
Read the rest of the article here.
I write a column for The Manila Times on Tuesdays, Thursdays, and Saturdays. Most of the energy sector and the heads of several government agencies probably wish I didn't.