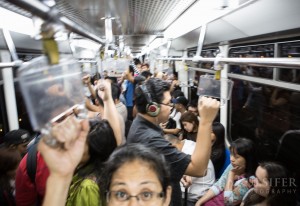 If you ride the Metro Rail Transit (MRT) system in the Philippines, especially during rush hour, chances are you will not find anything to pleasant to say about it. The experience is harrowing, to say the least. The minute you line up at the platform, you will find the queues disorderly. Instead of sticking to one or two lines you are most likely to see each passenger making his/her own. Everyone wants to get in the train first. When the train does finally arrive, passengers waiting to get in do not even have the decency to let exiting passengers go out of the train first. They immediately push their way in as soon as the doors open; if you are not able to get out, pasensiyahan na lang, next station na lang po. You will feel firsthand the inclination of the Filipino to fill up any and all available space.
The underlying principle at work, it seems, is to get on the train as soon as possible. Assert yourself physically into the train, otherwise you will never get home.
Given the scenario I just described above, one will probably wonder how in the world can you find anything good to write about a ride on the MRT? It is but the quintessential example of Filipinos failing to follow simple rules, regulations, and guidelines of decent and appropriate behavior.
That's how it is for us locals here in the Philippines, survival of the fittest.
But that's not the part of the ride home where I think about the topic of self-assurance.
The guy in front of me was talking to his companion beside him, nonstop. He talked about things he had done, how he vented frustrations at work, how he was able to go places on a tight budget, how to him calling out people for errant behavior comes naturally, etc.
The natural Filipino reaction to this kind of person can be summarized in one word, in the vernacular:
Yabang!
It translates, roughly to "How arrogant!"
If you step back, and think unconventionally (relative to the Pinoy psyche), you will find yourself looking at the other side of the coin:
Self-assuredness.
So what exactly is the definition of self-assuredness/self-assurance?
Having or showing confidence and poise.

Great faith in oneself or one's abilities
Did you notice that I used a native Filipino word for arrogance, but an English word for self-assuredness? It tells you something, doesn't it?
The closest Filipino equivalent of self-assuredness is may tiwala sa sarili, literally believes in oneself, but even then this can get mistranslated into English as cocky.
The lack of a direct equivalent of self-assuredness in Filipino tells us that it has not been highly-valued in Filipino society.
Filipino society is one that values humility and modesty, but the native equivalent of such – pagpapakumbaba – literally indicates that one needs to prostrate, to lower one's self in front of others.
In Filipino the fine line between arrogance and self-assurance is easily blurred, and Filipinos, more often than not, are inclined to interpret such behavior towards the former.
Filipino society is also one that is notorious for focusing on form, rather than substance. The natural inclination of Filipinos is to be offended by a message delivered rudely, yet has a very valid point. In order for Filipinos to listen to what you have to say, they have to think you're being respectful first, never mind that being such may dilute or water down what the essence of your message is.
This is why you will often find Filipinos complaining about brutally frank Westerners when they say something, especially when they criticize something about Filipinos. The renowned hypersensitivity of the Filipinos only manages to exacerbate such feelings of being offended.
This is also why you will find many who read Get Real Philippines who think that this website is negative, arrogant, disrespectful, "racist to Filipinos", etc. Filipinos are not yet ready, apparently, for people who can tell others about Filipino culture for what it is – dysfunctional at its very core.
***
Speaking of self-assuredness and the upcoming elections, one candidate in particular embodies this very concept, none other than Richard Gordon.
In the last elections in 2010, he was not afraid to tell it like it is.
He constantly pointed to his performance as chairman of the Subic Bay Metropolitan Authority (SBMA) to highlight how under his brutally frank style of leadership, he was able to transform it into the tourist destination that it remains to be today. His performance as both a senator and head of the Philippine Red Cross are indications of what kind of leader he is; he gets things done.
Filipinos need fixing; they need to work and they need to pull their own weight to make things happen. The surveys are crooked, they are not believable. Richard Gordon was not afraid to tell the people, the voters that they themselves need to shape up.
And for that they branded him arrogant.
In 2013, he has shown no sign of changing this behavior of his which defines his effective leadership style as he once again runs for Senator.
Let's face it, the maturity of the Philippine electorate is downright pathetic because they can't differentiate between arrogance and self-assuredness.
What did they do last elections when they allowed to win a man claiming to be humble and a "non-thief" but incessantly took cheap shots at his political enemies and people who did not agree with him?
They sealed their fate for another six years of mediocrity, and the status quo. Half that period is over, and though more and more people are showing their discontent with the presidency of Benigno Simeon "BS" Aquino III, it's too little too late.
It's sad that the Filipinos have to learn their lesson the hard way. They just had to get burned by a mediocre and incompetent government yet again just to figure out what it is they don't like. Yet even more tragic than this is that the Filipino doesn't know what he wants in his leader, either.
No matter how we keep urging the Filipinos to look at platforms instead of personalities, it's useless if this behavior is embedded at the very core of their culture, as benign0 has pointed out here:
That's the Filipino for you. To consider the Filipino voter's predisposition to vote morons into Congress on the basis of bright-coloured posters and idiotic slogans as the problem to end all reveals an incomplete understanding of the deeper, more fundamental flaw in the typical Pinoy's thinking faculties.
Fact is, for the average Filipino, making the right choices with how they spend their money has a more profound and direct impact on their personal wellbeing than choosing the right bozo on which to hang the title of "Senator". As such, our renowned "social media practitioners" fail when it comes to "educating" their followers where it is most relevant.

A change in mindset in this regard therefore cannot be domain-specific. The cancer of dysfunctional thinking that Pinoys are world-renowned for cannot be addressed within a narrow field of endeavour. It should be addressed at the deepest cultural level. Thinking when buying stuff mirrors thinking when voting for leaders. Different domains, same dysfunctional brain. The solutions are obvious.
Filipinos truly deserve their wretched society, and the politicians they elect into office.
[Photo courtesy: Craig Pulsifer]
А вы, друзья, как ни садитесь, все в музыканты не годитесь. – But you, my friends, however you sit, not all as musicians fit.