I don't know if anybody's noticed yet, but it seems most people I know — including women — prefer male bosses. In my own personal space, my worst bosses have mostly always been female. Why do you think that is? For all the talk about women being more "people-friendly" than men and of men supposedly being insensitive, overly-competitive, verbally-inept, testosterone-driven brutes at the office, my own experience with female bosses have nonetheless embedded a profound aversion to them.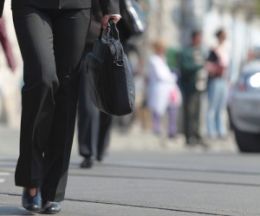 Perhaps the very traits that make women the supposedly top-notch managers they can potentially be is what makes them the psychos they turn out to be in practice. I once had a female manager who was just too empathetic. She'd ask me about my workload before assigning new tasks to me. I'd tell her: 'Boss, just pile it on. Leave it up to me to manage my time and your expectations' — ten thousand times a day. Or I'd come to work with one of those pesteng ahems stuck in my throat and she'd ask me if I am sure I didn't want to take the rest of the day off for a rest everytime she'd hear a stifled cough coming from my cubicle — 500 times a day.
'Boss, believe me, I'd rather be home right now than sitting here listening to you asking me if I'd like to go home every couple of minutes.'
Or there's that other female manager I had a few years back — also supposedly a "people person" but with said "skill" applied towards the other direction. She'd be a hit with the big guys; perceived by the powers-that-be, her boss, her bosses peers, etc., as the busy-bustling-bee sugar-and-spice-and-everything-nice bundle of pleasantries. But when dealing with her subordinates she'd turn into the Dragon Lady — going mental when her baffling instructions or requirements are not followed to the letter, hanging her staff out to dry when things don't go too well, and taking full credit when things do go well. She'd look or would in fact be busy all through her 10-hour day — always on the phone, coming in and out of meetings, walking to and from colleagues' cubicles. But try looking under the covers and you'd be hard-pressed to ascertain exactly what she actually achieves in a typical workday of hers that matches her bustle. Ask her what specifically she is stressing about and she gives vague replies: "Oh there's just so much going on," or "I just get so many emails…"
I tell you, under the watch of a female boss, I really learn to appreciate the 'Just get on with it' attitude of male managers. John (not his real name), the best boss I ever had usually asks just a couple of simple questions whenever I come to him with a bucket of dramas.
"Who's standing in the way of you meeting your objective?"
Now I I've learned to be careful when answering that one. John would be on the phone within a minute with that person getting to the bottom of why he or she had been identified as a "roadblock" to our all-important projects.
"What can I do at my level?"
I've made sure that there is a purpose to coming to him with project issues. I've found that failing to answer this question convincingly makes it look like the problem actually could've been solved at my level.
Am I overly-generalizing? Just because the best boss I'd ever had is male and the two worst ones were female perhaps makes me a bit unfair. But then I've also had many other managers besides these three and I can pretty much say most of the bad ones were female. Being female myself, I aspire to be like John as a manager — results driven, quick to filter the irrelevant, and disinclined to "get involved" in stuff for the heck of it.
Frustrated artist doing geek for a living.