If you look around in dictionaries for a definition of the noun "rival", more often than not there are a few recurring themes:
1) A person or thing competing with another for the same objective or for superiority in the same field of activity;
2) A person or thing that is in a position to dispute another's preeminence or superiority;
3) A companion in duty (an obsolete definition)
Except for the third entry, it is implied that one of the parties is in a superior position, which is why there exists a rivalry in the first place; at least one party wants what the other/s already have.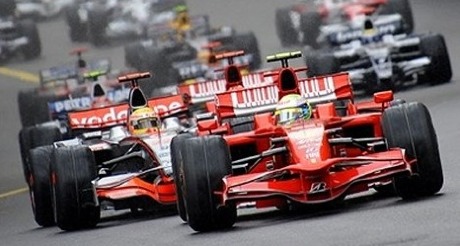 [Photo courtesy FanPop.com.]
While I was watching Iron Chef Japan one day, the main character Chairman Kaga suddenly came up with this definition:
A rival is someone who makes you strive for better.
As a writer, using the definition above, in a way I consider as rivals other writers, not only those here at Get Real Post, as well as the commentators who come here. Why? Because they make me strive for better. Yet do I feel some urge to see them defeated or humbled, especially by my own hand? Absolutely not.
There goes a tricky question: does having a rival or rivals necessarily mean that I have to defeat that/those person/s?
I think there is a key word to define a rivalry that helps self-development: healthy. For me, a healthy rivalry is one that doesn't let ego or obsession with victory get in the way of self-improvement. The focus shifts from defeating one's opponent to improving one's own strategies, personality, skills, etc. The scorecard would then be an added bonus.
The way I see it, there are three (3) main obstacles to making self-improvement the whole point of a healthy rivalry:
The ego
With Filipinos, it seems that their ego is one of their greatest enemies. We are an excessively proud people, yet we have rarely taken the time to build something to be proud about. A consistent observation about Filipinos is encapsulated in the expression "Basta Pinoy da best!" The Filipino ego is unable to swallow criticism, and drives the Filipino people to keep thinking that they are already perfect. They don't need to improve, to learn anything more, basta Pinoy da best! However, when someone/something better does come along, they are unable to learn from it and incorporate any improvements into themselves.
The need to defeat someone/something
A disturbing observation I carry of us Filipinos is that we take competitions/rivalries very personally, usually unnecessarily. In addition, there is this mentality that abounds that if Filipinos lose, then it means that they were cheated. Despite living my whole life here in the Philippines, I've never understood why Filipinos think they are a victim who is oppressed or even marginalized one way or another. I understand that face or hiya is such a strong social motivator here in the Philippines, but, again, just because someone defeats you or is preferred over you doesn't mean that you lose face. What it should mean is that one must take time to understand what he/she can do better for next time.
The mediocre mindset
Of course, as Filipinos we are notorious for the pwede-na-yan or mindset of mediocrity. It is also a common misconception that just because you won a competition, it means that you don't need to improve anything for the next. No! If a previous engagement revealed that your strategies, skills, and character traits have a lot of weaknesses and holes, then you must find ways to plug them up. Otherwise, you run the risk of them being exposed for other people to see later on.
To relate all this to being a writer here at GRP, I never saw the "need" to be better than the other writers. What I did see, was a need to avoid falling into ruts or dependence on a particular pattern of thinking. What I saw were chances to incorporate well-thought and constructive suggestions/comments from both commentators and other writers into my succeeding write-ups What I did see was that every writer and commentator out there brings his/her own experiences to the table, and that diversity is not something to be condemned, it is something to learn from. Finally, what I did see is that having a healthy rivalry is not something that will adversely affect the quality of the collective output, but will rather contribute to its overall improvement.
Epilogue
There's a saying that cousins are the first friends you'll ever make. There's one cousin of mine whom I particularly like and have learned quite a bit from. He has shared with me some stuff which relates to the topic of self-improvement that I haven't forgotten to this day:
Cousin: Dad, when I grow up, I want to be like you.
Dad (my uncle): Why? You can be better.
In the context of learning guitar from an instructional video:
Cousin: For now, start with aiming even just for 0.01% of what he knows. It may seem like a small percentage but you will soon realize it actually is a lot. Then gradually aim for 0.1%, 1%, and so on.
А вы, друзья, как ни садитесь, все в музыканты не годитесь. – But you, my friends, however you sit, not all as musicians fit.