Here is a completely subjective back-of-the-envelope assessment of Philippine online "debate" and "activism" in the last couple of weeks based on casual observation of my Facebook and Twitter timelines: the edge in Philippine online chatter is progressively getting blunt. When I say it is getting blunt I say so in the sense that it is becoming less edgy.
First, a bit of a backgrounder…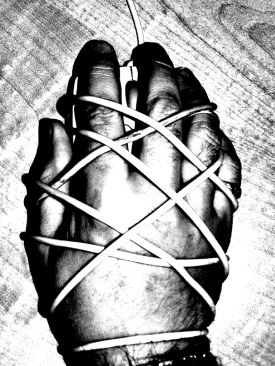 To be fair, Philippine online chatter has for the last 3-5 years suffered a progressive loss of edge as discussions and debate amongst netizens steadily migrated from the Wild Wild West of blog comment sections and the Fight Clubs of message boards such as PinoyExchange.com to the relatively civilised metrosexual latte-sipping clubs of social media sites like Facebook and Twitter. Whereas in blog comment sites, people tended to focus their commentary more on content and less on inter-personal relationships, social media is, well, more social. Personal relationships amongst netizens crystallised and, as a result, commentary became more moderated, more congenial, and less sharp. Social bonds formed amongst online identities tempered in-your-face discussions as cliques of like-minded mutual-back-scratching "social media practitioners" emerged to propagate increasingly inbred ideas that spawned increasingly unimaginative online "movements" and causes.
The ease, addictiveness, and A.D.D.-friendly nature of Facebook and Twitter publishing and socialising has atrophied the writing faculties of many formerly-prolific creators of full-length blog posts and feature articles. As such, the quality of online content amongst political activists has deteriorated along several dimensions including depth, substance, and breadth.
That's been going on for some time. But whereas that slow gentrification and loss of edge of online "activism" has transpired over timescales measured in the years, the recent collapse in the quality of the Philippine intelligentsia's "debate" has been more catastrophic. It follows the enactment in September 2012 of the now infamous Republic Act 10175 a.k.a. the Philippine Cybercrime Prevention Act of 2012. Since then, barely weeks after its enactment, and even after a temporary restraining order (TRO) slapped on its continued implementation by the Philippine Supreme Court, the muting of once mighty Twitter and Facebook activists and prominent political bloggers has become quite palpable.
Despite the TRO against RA 10175, the head of a certain anti-mining activist Esperlita "Perling" Garcia has already been mounted on a stake before the madla as an example of what "careless" shouting out on social media can lead to. Though the libel suit against Perling Garcia may not prosper…
[…] the damage has been, is being, done. Garcia faces a year or two of legal uncertainty, mounting legal costs, distractions from her advocacy. Pentecostes said all he wanted to do was teach her a lesson, in responsibility, but in fact it is an object lesson in plain harassment. The powers that be can reach us anywhere, even on Facebook.
All this ominously paves the way for a more sterile environment for political campaign in the lead up to the 2013 elections — an environment that favours the traditional mode of operating of the Philippines' well entrenched cadre of oligarchs, dynasty clansmen, and the no-substance election winning machines that they form and pitch as political parties to the Filipino masses.
In my personal watchlist of key "online activism" players, safe and congenial tweets and updates now dominate, sharing space with the sterilised shoutouts of a new elite clique of "online journalist" drones. Like politics like media. Tradition evolves not by changing its fundamental composition but merely by changing hands.
Like in the mid-1980s, ordinary Filipinos will likely have to rely once again on the foreign media for the sort of real insight needed to balance the lobotomised regurgitations of local "pracitioners" of both old and new media who now cower under the shadow of RA 10175.
benign0 is the Webmaster of GetRealPhilippines.com.