I started a joke, which started the whole world crying,
but I didn't see that the joke was on me, oh no.
I started to cry, which started the whole world laughing,
oh, if I'd only seen that the joke was on me.
– "I Started a Joke", Bee Gees
SUPPORT INDEPENDENT SOCIAL COMMENTARY!
Subscribe to our Substack community GRP Insider to receive by email our in-depth free weekly newsletter. Opt into a paid subscription and you'll get premium insider briefs and insights from us daily.
Subscribe to our Substack newsletter, GRP Insider!
Learn more
Amidst the gravity of the situation here in the Philippines, President Benigno Aquino III (BS Aquino) found time to tell a "funny" during his most recent trip to New Zealand. He didn't say that he came up with it; he was merely reciting it from a text message he received:
"Alam niyo share ko ho lang sa inyo isang, tawang-tawa ako sa narinig kong joke eh. Yung mga kababayan raw ho nating corrupt sa Pilipinas, kagagara ng kotse, kamamahal, katutulin. Pero pagka ginustong tumakas, ang ginagamit, wheelchair."

(You know, let me just share something with you, I was laughing hard when I heard this. Corrupt people in the Philippines have such flashy, expensive, and fast cars. But when they want to escape, they use wheelchairs.)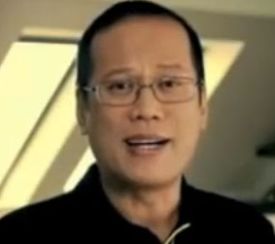 While BS Aquino seemed very careful not to name names (hey, he CAN restrain himself if he wants to!) , quite a few Filipinos easily read between the lines that he was alluding to his political enemies, former president Gloria Macapagal Arroyo, and former Chief Justice Renato Corona. Let's point out the obvious; personally, I think it's in bad taste to make fun of a person who's sick and all, in front of the international community, no less. Second, this fixation with Arroyo, despite her no longer being in any position to threaten PNoy's government, shows either unnecessary vindictiveness, a tremendous sense of insecurity, or both. Third, it shows that all that haciendero lifestyle bullshit didn't buy him breeding.
BS Aquino went on to brag, further, that the GDP was 6.3% in the first quarter, and 5.9% in the second. Oh god, it's that GDP thing again. It's a form of reporting economic growth that is easily misleading; read the link to get the lowdown why. Even that drop in percentage between the two figures above should tell you something. He also went on to claim that the Philippines is open for business. Yeah right, it's open for business, as long as you partner with his oligarch friends. Unfortunately, no matter how much BS Aquino tries to prod investors to come here to the Philippines, the fact remains that our welcome mat, the NAIA terminal 1, has just been universally reviled by travelers this year, for the second year in a row! How can you expect to be taken seriously as an investment and tourism if the front of your house drives them away?!
As a president, BS Aquino is a joke. And he's not even trying to be funny. To give him the benefit of the doubt, though, he is being consistent. Consistently non-performing. This whole joke started in 2009, where our then senator delivered perhaps some of the biggest punch lines that defined what were to be his "guiding principles" as president:
"Hindi ako magnanakaw" (I do not steal)
"Kung walang corrupt, walang mahirap" (No corruption, no poverty)
"God is on our side"
These punch lines did the trick for him in the 2010 elections to, as fellow GRP writer Gogs would say, "pole-vault over his mother's corpse", and plant his bum on that seat in Malacañang. The jokes didn't stop there. Perhaps his most unforgettable display of stand-up comedy, unmatched to this day, was his spectacular performance on August 23, 2010. The Hong Kong tourists who died on that day, and the formal apology that the Philippine government has yet to give left that performance hanging, and without a closure.
Other noteworthy (read: laughable) performances include his government's lethargic response to disasters such as Sendong and the habagat early this year, and the way his KKK (kamag-anak, kaklase, kabarilan) seemingly get off their offenses with just mere slaps on the wrist, and his support for the dubious portion in RA 10175, the online libel clause. Yet his best and award-winning performances are his government's defiance of a Supreme Court TRO, with the ultimate purpose of restraining GMA's right to travel, and the whole impeachment trial which ultimately removed former Chief Justice Renato Corona.
In the past few days, BS Aquino was trying to be funny again when he was trying to downplay his critics "in the left" by quoting survey statistics out of thin air. Teddy Casiño, the only candidate backed by Bayan Muna, replied with the following words:
"Let me remind the President that before his mother (President Corazon Cojuangco Aquino) died, he did not even rate in any survey nor was considered by anyone to be of presidential caliber,

Trust me, Mr. President, if I had Ninoy and Cory as parents, I'd probably be in your shoes too, except that I wouldn't look down on ordinary mortals like me who have no political pedigree but who have every right to serve the country as congressman or, for that matter, senator of the Republic,"
Casiño added that Aquino became senator "because of his lineage and the heroic efforts of his mother and sister," and that BS Aquino "should look at himself first" before deriding him or any other candidate for their low rating in the surveys.
While I don't agree with Casiño's politics all the time, he was pretty much spot on this time. BS Aquino was a nobody who suddenly shot up to the highest government position in the land, not because of his track record, but because of his lineage.
As the saying goes, the problem with political jokes is that they get elected.
So who is the joke on, really?
Forty percent of the voting population fell for his rhetoric hook, line, and sinker back then. Now the rest of the Philippines has been forced to endure that joke for 6 years. 4 years to go is still an awfully long time. We continue to elect government officials who continue to bring nothing to the table but empty slogans and even emptier promises. We complain about how corrupt our government officials are yet we refuse to do anything about the corruption in our respective sectors of society. We refuse to be educated on evaluating platforms and instead prefer the quick and easy name recognition scheme and jingle.
There's no denying it, Philippines. The joke is on us, the Filipino people
Pahabol lang: So I heard BS Aquino had to cut short his attendance in an Australian state dinner because he wasn't feeling well. "A bum stomach for a bum president", according to a status I saw on Twitter. At the risk of sounding just like him, doesn't this seem like karma at work?
А вы, друзья, как ни садитесь, все в музыканты не годитесь. – But you, my friends, however you sit, not all as musicians fit.