Picture yourself as an average kid catching your younger sibling being a douche. You see him doing the typical mischief kids do in their worse days; throwing massive tantrums, stealing toys from other children, hitting people for no apparent reason, stuff like that. Being the good kid that you are, you beckon to your brother and give him a brief lecture on how wrong he was and why he should apologize for his mess-ups. But your brother happened to be spoiled.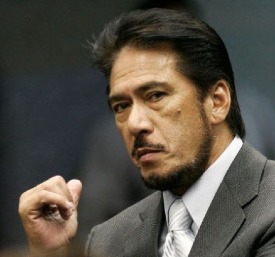 He wails and cries and bawls, saying that it's not his fault and you're the one who's being the douche instead. Your argument with your sibling reaches the ears of your dad. He rushes towards the scene and hushes your bratty brother.
"What happened?" your father asks, clearly alarmed.
"I saw him being rude to other people, so I scolded him," you say, somewhat feeling proud of what you've done, but annoyed at your brother at the same time.
"Okay, I understand," your father replies affectionately while caressing your brother's head. "Now, to avoid fights like this in the future, let me enumerate the things you're allowed to do so you won't hurt your little brother again."
"I—what!?" you blurt out in utter disbelief.
"Yeah, you're right, dad," your brother says, while giving you a mocking grin. "Tell him what he should do so he won't hurt me again."
Unless you've been indoctrinated with a radically different moral code, you'll agree with me in saying that this just screams injustice all over. Your brother was being a prick, you stop him from being a prick, and then your dad imposes rules on you instead? It just doesn't sit well with even our simplest perceptions of justice.
Unfortunately for our collective sense of justice, our own Senate President doesn't seem to agree with it. In response to the tirade against Senator Vicente "Tito" Sotto III regarding his plagiarized speech against the Reproductive Health bill, Juan Ponce Enrile suggested that they enforce a law that will define what the Internet bloggers, who comprise the majority of Sotto's critics, get to say.
According to Rappler:
From the RH bill to a blogging bill?

There was no apology from Senate Majority Floor Leader Vicente "Tito" Sotto III for plagiarizing the works of a blogger.

Instead, Sotto and Senate President Juan Ponce Enrile proposed crafting a bill that will define and regulate blogging in the Philippines.

(Source: Link)
Yes, straight from the short story above. Like your ridiculously unjust dad and bratty brother, Enrile and Sotto attempt to craft a bill that basically puts the blame on you instead for what Sotto had done. While Sotto shoots back at critics with a vast array of red herrings…
In his privilege speech, Sotto came out swinging against those who criticized him on Twitter, Facebook and newspapers. The comedian-turned-senator said his defense is the public's knowledge of his life.

"Ang buhay ko open book …. Ang tanong, alam ba natin sino [ang mga kritiko ko]? Matino ba sila? Mabait ba sila? Lasenggo ba sila? Nananakit ba sila ng asawa? 'Di natin alam sino sila pero ang gagaling manira," Sotto said. (My life is an open book. The question is: do we know who my critics are? Are they proper? Are they good people? Are they drunkards? Do they hurt their spouses? We don't know them but they are so good in criticizing.)

Sotto also bristled at critics' jab at his involvement as a host of the noontime show Eat Bulaga.

"Ang Eat Bulaga, daan-daan ang tinutulungan noon araw-araw. Libu-libo ang tumatangkilik. Itong mga tumutuligsa at namimintas sa atin, ilan na kaya ang natulungan na nila, kung meron man?" (Eat Bulaga helps hundreds of people everyday. Thousands watch it. Those criticizing me, how many have they helped, if any?)
Enrile stepped into the fray, inquired on what a blog is in the first place, came up with a brilliant idea and suggested to have blogs regulated.
The Senate President said, "Magpanukala tayo ng batas at ilagay natin doon kung ano ang mga karapatan ng mga may blogs para sa ganoon ay maliwanag." (Let us make a law and let us put there the rights of those with blogs so it's clear.)
In the midst of these amusingly irritating events, I must express my confusion; why do things have to turn out this way? Why is there a need for Sotto to put up a flimsy defense against his mishap, dragging Enrile into the mess in the process, endangering both of their reputations in the eyes of the public, when he could've just solved all of this in one simple action: saying sorry?
"I apologize for my failure to give credit where credit is due. I shall see to it that this will not happen again, and that I shall be more vigilant with the words I impart to the Filipino people."
It gives you an air of humility, it gives you grace, and it solves pretty much everything in one fell swoop. I mean, after all, what the critics basically want is for Sotto to acknowledge that he plagiarized someone else's work. Being a plagiarizer is a professional disgrace, which is utterly unbecoming of a public official like Sotto. The least he could do was to simply bow his head down and admit his mistakes. All will be eventually forgotten, and he can go back to being a bona fide champion of the so-called pro-life advocates.
But Sotto just had to attract more negative attention to himself by not admitting his wrongs in broad daylight. But the worst joke of all was for Enrile to side with Sotto while opening the threat to freedom of speech to bloggers everywhere. Agents of justice being unjust… how ironic.
Perhaps it could be machismo. Seriously, how could a man like Sotto yield to an unknown, not to mention female blogger? How could a senator bow down to a mere private citizen fighting for what is right in the face of professional and intellectual aggravation? Where's the pride in that?
Or Sotto might be thinking that in being hard-headed, he might get the people's favor for his unswerving principles. Although, observing the things that have happened, I've yet to see where the principles are hiding.
Or Sotto just doesn't know how to act smart in public.
Well? What's the next attraction in our political circus, Senator Sotto?
[Photo courtesy TodoEntertainment.com.]