Filipinos won't be able to move on from the impeachment trial of former Chief Justice Renato Corona for a while. First, some are still on high alert keeping tabs on the petitioning of President Benigno Simeon "BS" Aquino III along with the rest of the public servants who haven't done so to finally sign a waiver to open all their savings accounts to public scrutiny. It's only fair, since they convicted Corona on that basis. Second, there are reports indicating that a five-page petition was filed before the Supreme Court questioning the legality of the whole impeachment process particularly the guilty verdict that was handed out by the impeachment court.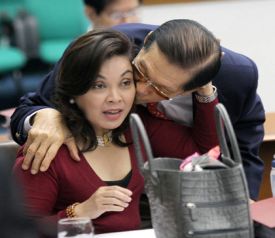 Whew! Call it post-partum depression on some people's part but I guess political pundits like us will never run out of things to write about when Filipino politicians are involved. For sure, the impeachment trial will forever haunt Filipinos because of the gross violations on the Constitution committed by the prosecution and the way the Senator Judges merely turned a blind eye to these. It is another dark chapter in our Philippine history. Anti-Corona supporters might even claim that pro-Corona supporters simply can't move on.
I guess you can blame that on the prosecution for screwing things up to begin with by filing the hastily- and badly-written impeachment complaint and defying the law in the manner with which they presented illegally-obtained evidence against Corona almost from the very start. Furthermore, the brunt of the blame for the fiasco should be on the Senator Judges, most especially the presiding officer of the court for tolerating these violations. On that note, the impeachment court should have been/be charged for grave abuse of power.
Anyone who ever watched the television series Law and Order would know that a case that has been tainted with dubious evidence would be thrown out by any rational trial judge faster than the speed with which Senator Panfilo Lacson ran from the law in 2010 when he was allegedly implicated in the murder of publicist Bubby Dacer and the latter's driver.
Most crime shows from First World countries show how, at times, investigators and public prosecutors can often be at loggerheads with one another on a case even before the charges can be filed in court. In many cases, the prosecutor may object to how the investigators gathered their evidence. It has been said that some members of law enforcement agencies like the police and other government investigators do dodgy work or take shortcuts on purpose. In some instances, they might even plant evidence just to speed up the process of securing an arrest warrant to bring in a suspect. When something is found to be amiss, a sharp prosecutor with foresight would warn the investigators that they cannot proceed with filing the charges because it would just get thrown out by the judge eventually. Sometimes it gets thrown out for lack of probable cause or for the simple reason that the investigation did not go through the proper procedure.
Even if a case makes it to court, a rational judge – a public official authorized to decide questions brought before a court of justice – would apply the law with impartiality and equally to both prosecutor and defendant. Unfortunately, this was not the case during the impeachment trial of former Chief Justice Renato Corona. In fact, the Senators who acted as "judges" could not apply impartiality during the course of the proceedings even if they tried because they are encumbered by major personal conflicts of interest.
Such notable conflicts of interest include, as reportedly pointed out by petitioners, former Assemblyman Homobono Adaza and lawyer Alan Paguia, the way several senator-judges "behaved like judges-prosecutors," including Senators Franklin Drilon, Pia Cayetano, Kiko Pangilinan, Edgardo Angara, Aquilino Pimentel III, Jinggoy Estrada, Panfilo Lacson, Chiz Escudero, Teofisto Guingona III, and Serge Osmeña — all of whom voted to convict Corona. It is no secret that these senators are all allied with President Benigno Simeo "BS" Aquino. To quote the petitioners:
"They behaved… to the point of badgering witnesses, just so the points which could not be achieved by the House prosecutors could be obtained," the petitioners said.

The two petitioners said these senators should have inhibited from the impeachment case because "by their conduct, they have shown bias, prejudice, partiality and lack of independence in Corona's case."
What is most interesting to note, something which actually went under most of our radars, is the fact that Senators Juan Ponce Enrile and Jinggoy Estrada were directly related to some Congressmen who signed the impeachment complaints against Corona. Cagayan Representative Jack Enrile is the first and only son of Presiding Officer Senator Enrile while San Juan Representative Joseph Victor Ejercito is the brother of Estrada. Of course let us not forget to mention again that there is also the father-and-son relationship of Senator Edgardo Angara and prosecution spokesman, Aurora Representative Sonny Angara.
A fair trial followed by a fair hangin'
Only those lacking in critical analysis would think that Corona wasn't, for lack of a better word, screwed from the very start. In retrospect, it is apparent that the House of Representative and the Senate just went through the motions of the six-month impeachment procedure just so they wouldn't be accused of not giving Corona some kind of process. It was a process, yeah; a process with all roads that led to how and where they wanted it to end — a conviction. There is also a Filipino term that can accurately describe what happened to Corona's impeachment. It's called "luto". The reported gathering of six Senator-Judges at a dinner hosted by Sen. Loren Legarda the weekend before the closing arguments were made on Monday is a clue supporting the possibility there was a lack of independent analysis on the part of the judges when they came up with their individual verdicts.
Ironically, some sectors of Philippine society consider these Senators as heroes for convicting Corona; never mind that there was nothing heroic about what they did. It's not like Corona was found guilty of plunder like former President Joseph "Erap" Estrada, the father of Senator Jinggoy. Corona is not even a convicted mutineer like Senator Antonio Trillanes who won a Senate seat while he was in jail for the crime of rebellion. Corona wasn't even a repeat offender like Senator Gringo Honasan who led a series of coup d'etat against former President Cory Aquino during her term and who managed to escape while incarcerated. Corona did not even fake his own assassination attempt the way Senator Enrile did in 1972. His act was said to have been used by then President Ferdinand Marcos to justify declaring Martial law. Senator Enrile was also a suspected co-conspirator in the election cheating done in the 1986 "snap elections", which was said to have robbed then candidate, Cory of the election.
These genuine criminals were easily "pardoned" for what they did and are now in power. It's a shame that these Senators even made Corona look like a monster after they convicted him for the perceived error in his SALN entries even though their crimes vastly dwarf Corona's "crime". Unfortunately, such is the fate of someone who does not know how to be a politician.
In life, things are not always what they seem.