Confirming the decaying state of Original Pinoy Music (OPM), Filipino recording artist Kuh Ledesma called for the limitation of the number of foreign artists visiting the Philippines to promote their respective labels.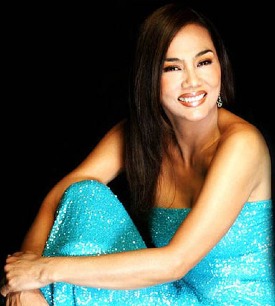 In a recent interview with Pep.ph, the Pop Diva pointed out that because we are a small country with limited resources, our local talents should be protected and not be deprived of opportunities that otherwise go to foreign performers.

"Kung ako ang tatanungin, kung ako ang president, dapat limitado talaga. Kasi, nakikita ko talaga na kapag sinuportahan natin ang mga Pilipino, talagang lalawak ang bayan natin," she argued.

(Source: Link)
I fail to understand how Ledesma's argument is connected to our country's alleged shortage in resources (and what kind of resources does she refer to, anyway?), but I understand quite well that she wants to bring back the former glory days of OPM, and the most plausible solution she can come up with is to shun foreign artists from reaching out to their Filipino fans.
Somewhat unsurprisingly, singer-songwriter Jim Paredes sided with Ledesma regarding the issue.
"There is a regulation of sorts also in the US, Australia and the UK by way of actors equity where producers pay for local jobs displaced," he said.
In other words, Paredes believes that local artists who got pushed aside by foreign ones should be given "compensation." Moreover, Ledesma found an ally in singer-actress Isay Alvarez:
"And their numbers are growing," she further cautioned. "Yes it's true I was part of a foreign musical once, but I guess that's different because Cameron Mackintosh brought 'Miss Saigon' here because I think he owes it to the Filipinos. Besides, most of the talents in that musical came from this country anyway."
Alvarez also wants foreign performers to pay more for their concerts here in the Philippines, even going as far as to tell producers to use the collected funds to support the unnoticed artists here in the Philippines.
At face value, it would seem these local artists have the dying OPM industry's best interests at heart. However, something not so wonderful occurs as well in the process; these artists are trying to dictate what the market should want. And they are blaming the foreign artists for their own mishaps.
The music industry is one of the liveliest markets as of today, and like any other market, some suppliers win most of the demand, while some are not so fortunate. But a market truth remains uncontested by time; winning in a specific market requires creativity and perseverance on behalf of the supplier.
Notice how the foreign music industry is very adaptable in terms of musical genres; pop, jazz, ballads, rock, heavy metal, country music, you name it. There is bound to be a well-known name in every genre from brilliant artists outside the Philippines.
Meanwhile, can you name a good local band or artist for every musical genre that is still active and widely recognized, and can therefore compete well with foreign artists? In all probability, all we will ever recall are cheesy ballads and tiresome revivals of the classics. This is what's keeping OPM down on its knees; we have lost our sense of diversity and creativity as an industry.
We complain of brilliant Filipino performers shrouded in obscurity. Sure enough, recent news attests to this undeniable fact:
At the end of the month, singer, songwriter and bass player extraordinaire Cynthia Alexander is leaving the Philippines.

For good.

Cynthia is uprooting herself and her family and migrating to Seattle, Washington.

Her reason?

Career-wise, she has had very limited support.

Or, in her own words: "I think I'm ready for change, and new challenges."

(Source: Link)
But I don't remember any successful local artist or local music industry which has consistently supported her career here. The likes of Kuh Ledesma complain about the gradual loss of talent in our musical industry, yet have we heard of them actively and consistently supporting aspiring but talented musicians by promoting them on television, or by sponsoring their albums for the market to see? I don't think so.
And how are the foreign artists to blame in this tragedy? Who were the ones complacent about the current state of OPM, leading to a period of mediocrity, where sub-standard local artists, with the backing of the OPM industry itself, churn out colorless revivals and monotonous musical styles? How are the foreign artists to blame for our own negligence, as local talent is wasted because the industry was not observant enough to so much as give them a sideways glance?
Moreover, how is distorting the market preference going to solve anything?
Ovation Productions head Renen De Guia, promoter of countless shows by foreign performers for many years, thinks regulation is not the answer.

"Everywhere in the world, markets are opening up. That's the meaning of going global. We cannot go back to the old ways. We need to compete and we are competing beautifully," he pointed out.
While I do not really agree with his last statement, it is very true that the music industry is going global, and so does market preference. We must therefore adapt to the changes of times. Will restriction of choices in music ensure massive support for OPM?
Acclaimed music video director Robert Quebral also believes that preventing foreign acts from performing here will not automatically translate to better patronage of local performers and submits that "they simply don't share the same market."
Indeed, because you can never truly change what people desire, unless you work your way through it by following the law of supply and demand; give something spectacular that no other supplier can give, and demand will naturally come.
It might be safe to say that artists like Kuh Ledesma know next to nothing about economics, nor do they intend to directly tackle the root of the matter; the sheer lack of creativity in our OPM industry.
Instead, they put the blame on something else; their competitors, the foreign artists. They want the good ones out to give people the impression that OPM is good by itself. Simply put, while intentions are a matter of dispute, they are contributing to the culture of mediocrity our society has suffered from all these years, and they are keen on killing off the symptoms by suggesting intake of painkillers, a.k.a. market restrictions. In the process, Kuh Ledesma and company only confirm that Philippine music can never match its foreign counterpart, which will in all likelihood discourage local talent even further.
Still, the truth remains to be seen by Filipinos. If our music industry really wants to get back on its feet, then it needs to get its creative juices flowing. Start looking beyond the pool of mediocre artists that constitute the majority of mainstream OPM, and start searching for undiscovered talent to prevent the loss of the likes of Cynthia Alexander. Introduce new musical genres. Incentivize would-be artists to create something new. Think outside the box. Create and innovate! Isn't this what art is all about? Let the Philippines know why you are working for an artistic trade.
No amount of market distortion can conceal the deteriorating quality of our local music, nor would it bring satisfaction to anyone. A market works best through competition, for competition brings out the best in everyone. It is not an overstatement to say that it is only through a renaissance of creative OPM can we truly salvage its ailing condition.
Are Filipino artists up to the task?