Low-income families struggling to get by might be in big trouble as Senator Manuel Lapid filed a bill that might suck the good ol' piggy banks dry.
Senator Manuel Lapid has filed a bill to penalize the hoarding of coins to avoid coin shortage.

Citing figures from the Bangko Sentral ng Pilipinas (BSP), Lapid said there should be around 17.34 billion coins–worth around P18.94 billion–in circulation. He said that would mean around 184 coins per Filipino.

(Source: Link)
The issue of coin hoarding has been raised in the advent of the bill's filing. At the same time, the senator made known the ever-present, although less noticed, issue of coin melting.
"To enterprising crooks, this volume of coins in circulation is a goldmine. Recent valuation of the worth of the country's coinage suggests four of the coins are worth more than their face value if melted," he said in his explanatory note.

Lapid warned that melting down coins "along with the common practice of keeping coins in piggy banks, commercial undertakings such as the Automatic Tubig Machines which use coins for operation, video games machines and illegal numbers games, may threaten the sound circulation of coins in the country."

The bill specifically defines coin hoarding "as possessing coins of legal tender 'beyond the requirements of his regular business as may be determined by the BSP.'"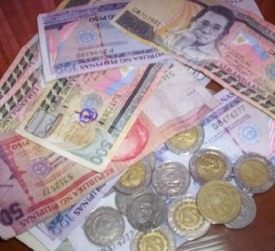 Furthermore, possibly to the chagrin of low-income families, the bill, if passed, will grant the Bangko Sentral ng Pilipinas (BSP) power to force people to give up their savings at home should it simply declare a coin shortage. Anyone who fails to comply would be penalized for the crime of coin hoarding, with a year in prison and a fine of Php 100,000 "for every one thousand pieces of coins hoarded or a fraction thereof," to boot.
Should this bill be passed, it may be bad news for our less-fortunate fellowmen, who rely on piggy banks to secure financial stability. The proposed bill was met negatively by Internet users in the given link. I myself am against this bill for the following reasons:
1. Implementation – This issue was raised by several Internet users. How exactly can this bill be implemented with maximum efficiency? Cross-questioning suspects can be a herculean task; after all, many Filipinos hoard coins at some point. Should they personally count the number of coins a suspect might have and see whether it matters? This might be a burdensome, perhaps futile, work for the police. Either way, the provisions in this bill theoretically lead to:
2. Deprivation of Freedom – Granting the BSP too much power to the point of being able to force Filipinos to give up their coins restricts the citizens' freedom. We are to have less rights to our earnings should this bill be passed; all the BSP has to do is to declare a coin shortage, and, provided that the bill is implemented properly, it's goodbye to your savings. This is especially damaging for families of lower social standing.
3. Economic Short-sightedness – Supposing that the people do part ways with the coins, the economy must be prepared for the possibility of an economic mishap; an inflation. A sudden surge in currency in circulation will to a degree devalue the Philippine peso, which means it would take more pieces of coins and/or bills to match the value of the products in sale; in other words, there would be a rise in prices. And given the generally upward trend of national pricing, perhaps another hike is the last thing consumers want. Even if the passage of this bill will, realistically speaking, be impeded by the difficulty of its implementation, Senator Lapid could have at least studied its economic implications, and offered social policies that can be entailed to this bill to mitigate the effects of the coin inflow.
All in all, I suspect this bill is prematurely conceived; incomplete in many aspects, can weaken the peso, and on top of that, the bill can make it harder for poorer Filipinos to live and save. I personally am not in favor of the passage of this bill. However, this does not mean I am okay with excessive coin hoarding, which in turn fuels the crime of coin melting.
Hoarding contracts the money supply. If unattended, monetary contraction can deal a blow to the economy, as I explained in my past article, using the Great Depression as an example.
Panicking, account holders quickly withdrew their money in fear of losing them, hoarded them and attempted to wait the recession out. The money supply shrank considerably, the banks dropped dead one by one, and with people preferring to save rather than spend, there was dismal economic activity, the little recession mutated into the Great Depression.
Moreover, the gradual release of coins into the economy in sync with economic growth can mean a healthy financial industry, as money becomes more flexible, readily convertible to from bills to coins and vice-versa. Finally, in a simple chain of reasoning, coins are not really made for free; coins are made with money, and it would be a waste for them not to be utilized.
But this traps us into a dilemma; on one hand there is a need for Filipinos to let their coins circulate in the long run, while on the other hand, not only the proposed bill is hard to implement and sustain, but it can also violate the people's freedom to do what they want with their money. Is there a way out?
Perhaps yes, if we think outside the box. What if we use the banks? If we can get them accessible enough to less fortunate Filipinos, under the assumption of a stable monetary policy, they can be convinced to start investing for their future. This can solve most, if not all, problems about hoarding. First, there would be no force involved; we can just convince people to convert their coins into paper bills (if necessary) and invest in accessible banks. Second, the prospects of inflation will be mitigated, since such banks, which now hold to actual money, can choose not to lend, and save it for later, making the expansion of usable money gradual. Last, this can enliven the financial industry, since more money is available for transactions. The poor can have the potential to be an active participant in the economy.
This idea is not new at all; it's called microfinance.
A type of banking service that is provided to unemployed or low-income individuals or groups who would otherwise have no other means of gaining financial services. Ultimately, the goal of microfinance is to give low income people an opportunity to become self-sufficient by providing a means of saving money, borrowing money and insurance.

(Source: Link)
This I believe is a matter hardly discussed in the current administration, hardly even mentioned in the news, despite Philippines actually having a microfinance institution.
The Microfinance Council of the Philippines, Inc. (MCPI) is the national network of microfinance institutions working towards sustainable, innovative and client-responsive solutions to poverty in the country. MCPI is currently comprised of 47 institutions, including 39 practitioners and 8 support institutions. Its regular members include 23 non-government organizations, 12 rural banks, 1 thrift bank, 2 cooperatives, and 1 regional network. The key programs of MCPI include advocacy, social performance management and consumer protection in microfinance, capacity building for microfinance institutions, performance monitoring and benchmarking, and the establishment of a knowledge and research center for microfinance.

(Source: Link)
In addition to MCPI's constituents (under the assumption that they do exist), perhaps the council, together with the government, can incentivize existing banks to speculate on microfinance, or it can attract investors to try poking around this potential market to encourage a rise in the number of microfinance banks.
However, despite the MCPI's claim that it works closely with BSP (link here), sound and visible microfinance strategies to address the issue Senator Lapid raised in his controversial bill remain to be seen. It seems the details of our financial industry are an understated issue, given rising concerns between our country and China over the Scarborough Shoal.
In my opinion, instead of relying on PNoy's conditional cash transfer program which has yet to produce noticeable positive results, perhaps the administration can turn their attention to making the Filipino poor a potential driver of the financial system, even in small ways. Perhaps microfinance can be a step towards the reduction of the income gap between the poor and the well-to-do. It's worth a shot.