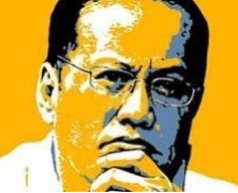 I do not think President Noynoy Aquino (PNoy) is entirely devoid of any scientific knowledge. I am inclined to think that he has a firm grasp of physics. In fact, Noynoying has its own set of principles to explain itself as a seemingly natural phenomenon.
PNoy has his own fundamental laws of motion. If Newton's laws form the basis for classical mechanics, Noynoy's laws form the basis for his presidency. Just as Newton has three, so does Noynoy.
Let's get to them below, shall we?
1. A body at rest shall forever remain at rest, regardless of how many forces there are that compel it to move.
This is by far, the law of motion that best encapsulates both Juan Tamad and Noynoying. It explains the lack of results in PNoy's presidency. Most of all, it explains why Filipinos' living conditions will never improve.
2. The force exerted on a body is equal to the product of the mass of people who agree with an idea, and the appeal or popularity it has with them.
Force equals mass appeal. This is expressed in the equation F=ma.
Rephrasing this law, we get the almost cliché statement that Filipinos will never get tired of hearing and spewing: Popular support for an idea necessarily makes it right.
This law is the very reason that Pnoy ran for the presidency in the first place. Your mileage may vary on whether he was coerced or bullied by the yellow mob into running, but fact is he gave in anyway. Oh, and this is also the reason he won.
We see this law at work again in CJ Corona's impeachment trial. By Noynoy's word, CJ is corrupt, therefore he must be removed. The Filipinos lap it up, like dogs.
3. For every action, there is an equal and opposite inaction.
Examples below:
a) Pnoy and his cabinet are finally getting to work on the Mindanao power situation – after almost 2 years since it was brought to their attention.
b) PNoy says he will not comment anymore on CJ Corona's impeachment trial – yet the survey stations owned by his family do it for him.
Aside from the laws of motion mentioned above, Noynoying physics is guided by two additional principles:
Noynoy's principle of conservation of energy: Pnoy's energy is neither created nor destroyed; it is always conserved.
PNoy's energy is best conserved for, and spent, playing video games, going shooting, drinking with his buddies, and going out with his women. Why waste it on impossible tasks such as, say, running the country?
Noynoy's principle of free fall: What goes up will never come down.
Have fun with this one. Talk about rising prices of fuel and basic commodities, and most recently, power rates. If PNoy has his way with the Supreme Court, Hacienda Luisita's price will never come down. Perhaps it is not a stretch to say that Pnoy and his cronies want to forever stay in power. After all, they've had not only a taste of power, they've been drinking it by the gallon for the past 3 decades.
Kung gusto nga naman, may paraan… (If there's a will, there's always a way)
I guess we could even say that PNoy has adopted both western and eastern methods of thinking. His laws of motion above are derived from western style of thought; his philosophy of pakitang-taoism make up the eastern philosophy part of his thinking.
Speaking of Chinese Taoism, it emphasizes a concept of wu wei. Roughly translated, this means "effortless doing", or "action without action". Noynoying and Pakitang-taoism emphasize and emulate only the "effortless" and the "without action" part.
In conclusion, it suffices to say that Noynoy's presidency is not only doing nothing, it is also nothing doing. 4 more years to go…
А вы, друзья, как ни садитесь, все в музыканты не годитесь. – But you, my friends, however you sit, not all as musicians fit.