After Senator Miriam Defensor Santiago addressed the prosecution panel with her now infamous "gago" speech last week, the onion skins started flying. A few days after, Fr. Arevalo, spiritual adviser to the Aquinos, came out with a statement saying that by calling Aguirre a fool, through the use of gago, Senator Santiago is worthy of the fires of hell. He even had the bible quote to back it up: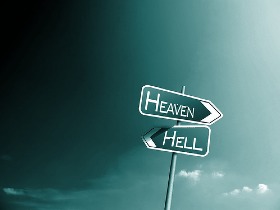 Matthew 5:20: "But I say to you that if you are angry with a brother or sister, you will be liable to judgment. And if you insult a brother or sister, you will be liable to the council. And if you say, 'You fool,' you will be liable to the fires of hell."
However, Senator Santiago, true to her form in not backing down from a fight, replied immediately. Unfortunately for Fr. Arevalo, Miriam has a master's degree in Theology. Whereas most people would simply shut up and stand down after being admonished by a priest, Senator Santiago did not.
Selected quotes:
"Under the second Vatican Council, there is no hell; but even if there is, there is nobody there."
"I can engage in a public debate with the priest, and we can exchange quotation for quotation from the Bible. But that would be foolish, because the Bible can be interpreted in as many ways as there are Christian churches,"
"The priest is saying that he is close to God, and I'm not. I say to the priest, judge not, that you shall not be judged."
"A priest cannot violate the law in the guise of criticizing a senator-judge with the ulterior motive of promoting his own political agenda."
Simply put, Miriam Santiago put Fr. Arevalo in his place.
This series of events raises a few questions:
1) Did Fr. Arevalo make his pronouncement because he was personally offended by the use of "gago"?
2) Was Fr. Arevalo, being the spiritual adviser to the Aquinos, acting out of that role to rise to the occasion as another defender of the "daang matuwid" and the yellow horde?
3) What was Fr. Arevalo thinking, by trying to start a war of words, with Senator Santiago, of all people?
This kind of event shows that the Roman Catholic Church of the Philippines is an institution still struggling with a lack of relevance and substance in today's society. It also shows the characteristic of a typical Filipino, ever so predictable: the epal. Many Filipinos think that they are entitled to get in their two cents worth, no matter how uncalled for and idiotic it is. Kagaguhan, ika nga.
Article 2, Section XI VI, of the Constitution states that "the separation of Church and State shall be inviolable". What this means, is that government is not to interfere with religious affairs, and vice versa. Naturally, this definition will always conflict with the archaic view of the church that it alone is the absolute authority on morality.
However, this is the Philippines, where rules are merely suggestions. This is also the place where church dogma still dominates all aspects of everyday life, even if it shouldn't. This is the place where the people simply lap up what the priests shove down their throats, and don't even bother to think how it is applicable or useful to them or not, or whether it actually is. In the vernacular, sa Pilipinas, nagpapagago ang taumbayan sa mga gagong pari na yan.
The Philippines is stuck between a rock and a hot place. Yes, you read that right; a rock and a hot place. I intentionally modified the idiom. We are stuck under a rock; we have not seen any significant forward stride in our country's development for 26 years (and counting!). We are in a hot place because, simply put, the Philippines is like hell, both literally and figuratively.
Who was it who said "I would rather have a country run like hell by Filipinos than a country run like heaven by the Americans."? Ahh, Manuel L. Quezon, a former President. Had he been alive today he would be seeing exactly what a Philippines run like hell is.
If Arevalo was acting in reflex to defend a perceived wrong to his master's son, I mean spiritual advisee's son, then he's just another attack dog, all bark and no bite like the others. If he wants to stick his nose into government and political affairs I think it would have been better if he had told PNoy to get up and start working instead.
If PNoy doesn't want to see hell on earth, then he definitely should start doing his job better now. Perhaps PNoy should stop saying that "God is on his side". When the Christian God said "Go forth and multiply", PNoy must have thought it applied to not only his women, but his money, and his incompetence as well. I will not be surprised if he prays for his critics, and his allegedly coup-plotting enemies, this way: "Father, forgive them, for they know not what they are doing". The way he's running the country to the ground, sooner or later he could be reciting: "My God, my God, why have you forsaken me?"
Apparently he is ignoring the prayer he needs to recite and live by the most: "Lord, grant me the serenity to accept the things I cannot change, courage to change the things I can, and the wisdom to know the difference."
It seems that when God rained brains on the world, PNoy held up an umbrella. But then again, he's supposed to represent an average Juan like you and me, right?
А вы, друзья, как ни садитесь, все в музыканты не годитесь. – But you, my friends, however you sit, not all as musicians fit.