Ugh…if I see another news headline comparing the Philippines to some kind of animal, I might just get physically sick. "Asian Tiger Economy of the World"; "The dark horse of the region". Speaking of being sick, at least one headline referred to the Philippines as the "healthy man of Asia" as opposed to the perennial "sick man of Asia". But seriously, all this talk of the country's potential is nothing new.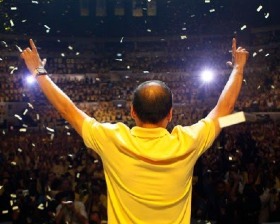 As stated in one of the articles, there was much optimism in the air during former President Cory Aquino's time too and this was immediately after she was installed as the head of state following the first EDSA "People Power" revolution. Back then they referred to us as "the blooming tiger economy of Asia". Unfortunately, investor confidence quickly fizzled out. The tiger must have turned out to be just a fat cat.
The pattern of renewed optimism can be attributed to the confidence enjoyed by every newly elected president. This was the case with former President Fidel Ramos and I'm pretty sure that after former President Gloria Arroyo was installed following the second EDSA uprising dubbed "People Power II", the world thought the Philippines would be on the right track once more. Every new leader brings with him or her an assurance that this time around, things will be different. That is, until they actually start working and realize that they have no choice but to dance to the tune of the padrino system.
Luckily for the incumbent President Noynoy Aquino (PNoy), his propaganda machine in the media can keep trumpeting his so-called popularity with the people until his term ends regardless of how much a mockery he makes out of the country's institutions and even without introducing any new economic policies. After all, the people who pushed PNoy to run for the Presidency have no choice but to keep propping him up like that lifeless character from the film Weekend at Bernie's lest they be forced to apologize for tricking the voters into thinking that he is "The One". But I digress…
Going back to the state of the economy, every time the topic shifts to something that deals with data, people's eyes glaze over and boredom sets in, which is a shame because the only way to understand how the country can move forward is to look at the facts and figures. Unfortunately, only a handful of people really understand what the heck the economists are talking about. What are they talking about, really? Let's try to analyze what the expert from CNBC had to say:
The Philippines' "very robust and young population" presents a ready pool of talent, says Mark Matthews, Head of Research Asia at Bank Julius Baer. He expects the country's population of 93 million, around half of whom are below 20 years old, to more than double to 190 million by 2040.

With fertility rates declining in the West and in Asian countries like Japan, Korea and China, the Philippines will increasingly become an important source of immigrant labor, he added.
While the above statement is actually bad news for advocates of the proposed Reproductive Health bill (RH bill) which seeks to curb population growth, the expert from CNBC is basically saying, however, that it is our enormous population particularly the young members of our society that can help propel our economy forward. Investors see the potential of the young as a source of skilled workers or employees in the future.
Whether they end up as employees in the country or abroad does not really matter. This is as opposed to the increasing number of elderly people in the West and other Asian countries. China might be successful in luring in foreign investors for now but everyone knows that their one child policy and Chinese couples' preference for boys will contribute to their declining birth rate and can (if not already) create an imbalance in the sex ratio that will in turn pose a colossal challenge to their population dynamics.
Here's the question though: do young members of the Philippine population really present a "ready pool of talent"? Not yet. They can but the problem is that before they can become skilled workers, young Filipinos need to be educated and trained first before they can be part of the pool of talent. Without the necessary education and training, they will only be good at drinking large amounts of alcohol after a day's work as jeepney drivers or household helps. Who can educate and train the young generation? The government cannot do it without putting more into the education budget. We all know that education is the least of the government's priorities.
"[…] And the interesting thing is 80 percent of them speak English," Matthews said. "Most people who speak English in third world countries, they don't want to go overseas to work in sort of manual labor. But the Filipinos have no problem doing it…and they are making three times as much as they are making back at home, and they are sending it back home." .
Uh oh…the economic expert is praising us for our ability to speak English better than our neighbors in the ASEAN region. Unfortunately, the future generation of Filipinos might not be as fluent or well-versed in the English language because of the introduction of the "Mother Tongue-Based Multi-Lingual Education" reform program by the Department of Education (DepEd) this year. This program involves one where "any of 12 major local languages spoken in different regions of the country will be taught as a subject and used as a medium of instruction from kindergarten to Grade 3." The 12 mother tongues for classroom use are Tagalog, Kapampangan, Pangasinense, Iloko, Bikol, Cebuano, Hiligaynon, Waray, Tausug, Maguindanaoan, Maranao, and Chabacano.
Now, that new DepEd program that will give less priority to teaching the English language is obviously not going to work well with the idea of Filipinos being more desirable as employees because of the perception that our communication skills are better than others. Somebody should call the attention of the DedEd quick so they can reverse this trend.
The Philippines is already one of the world's biggest recipients of remittances — the fourth biggest in 2010 according to the World Bank — which account for a tenth of the country's gross national product. According to the country's central bank, monthly remittances hit a record high of $1.7 billion in September with total remittances for the year expected at $20 billion.
What was once just a stop-gap measure to ease unemployment and foreign exchange problems introduced in 1974, sending overseas contract workers had since become a permanent fixture. In fact, the country has become too dependent on remittances from OFWs to keep its economy afloat. How exactly do the remittances help? It is premised on the idea of "a people-centered emphasis on growing levels of consumptions and a widening middle class." In other words, corporations are looking into the spending habits of the hard-working and mostly displaced Filipinos abroad who earn foreign currencies and who do not have a habit of saving.
But like what I said in an earlier article of mine, the remittances are also dependent on the economic conditions of the countries where Filipinos seek employment. When countries like Saudi Arabia stop accepting OFWs for one reason or another, the OFWs will have no choice but to come back home and the spending fuelled by their remittances will likewise stop and adversely affect industries across the country.
In another article of mine, I wrote that perhaps venture capitalists should keep in mind three things: 1) The earning capacity of Filipinos can be volatile. Considering OFWs do not have a habit of saving, their earning capacity will become little to nil if their luck runs out in the job market. 2) Natural resources are finite, meaning there will come a point when raw materials will become so scarce, the prices of goods will skyrocket. 3) Making money does not necessarily have to mean aggressive expansion. A lot of companies have fallen victim to overexpansion. What's the point in opening up more branches of SM Supermalls if the people have run out of money to spend?
Anyhow, the Filipino people's spending habits must have caught the attention of a few gambling lords as evident in what of late has been a growing interest in setting up casinos. The chairman of gambling regulator Philippine Amusement & Gaming Corp (PAGCOR), Cristino Naguiat Jr is even claiming that he is up to his eyeballs "fielding calls and booking appointments to meet possible investors in a sprawling gambling and entertainment project his government hopes will rival Las Vegas in five years."
The Philippines as another Las Vegas? That image is not going to sit too well with the country being the biggest Catholic nation in Asia. I wonder how the Catholic bishops are feeling about this proposal. This will certainly boost employment in the entertainment industry. We can say goodbye to the family friendly image some people might have wanted the country to project. But even before the plan materializes, Naguiat, a close friend of President Noynoy Aquino, is already embroiled in controversy. Naguiat is now under investigation after he was named in a US lawsuit as among those who allegedly accepted $110,000 worth of hotel accommodations and illegal payments, courtesy of Kazuo Okada, a Japanese gambling magnate who is planning a $2-billion casino in Manila. This is a situation they describe in the Filipino vernacular as tinapay na nga, naging bato pa. Here's to hoping that PNoy will give his buddy a bit more than just a slap on the wrist to prove to foreign investors that he means business.
A follower advised me that the hashtag "2050" was trending on Twitter the other day. I presume this has something to do with the HSBC prediction that the Philippines is set to leapfrog 27 places to become the 16th largest economy by 2050. I don't mean to burst anyone's bubble but I think the bank's prediction is too optimistic. They even said it themselves: in order to achieve this, the country has to grow by "8.4 percent from 2010 to 2020, by 7.3 percent from 2020 to 2030, and by 6.6 percent from 2030 to 2040, and by 5.8 percent from 2040 to 2050." Now that growth could mean encouraging a lot of spending and consumption just to stimulate the economy. Again, they have not taken into consideration that the supply of natural resources like crude oil, which is used in manufacturing might not meet this demand in the future.
The country's growing population can offset any growth achieved if the majority of the population is unemployable. HSBC even echoed the same sentiments regarding the talent pool in their prediction confirming that the "growing population, which, if properly educated and trained, should help the economy generate more income over the next decades" — which could also mean that if not properly educated and remain untrained, the growing population can only help pull the economy down. Like what I've said before, if the country's population keeps growing, any economic growth achieved will not mean much for the additional mouths to feed.
HSBC probably gets its perception that the current government has sound "macroeconomic fundamentals and improving governance" from members of the Philippine media allied with PNoy. The truth is, PNoy's good governance is just smoke and mirrors. Nothing has changed since he took over from the previous government.
Tiger, dark horse or whatever animal they may want to use in describing the Philippine economy, it seems it still boils down to the people performing well as humans in order to achieve their potential. Performing well does not necessarily mean we have to multiply like rabbits just to satisfy corporations' voracious appetite for our hard-earned cash. On the contrary, performing well means managing our population to the level where the country's domestic resources could cater to everyone's needs.
* * *
I got this from a member of a GRP forum:
Sometime in the past, one young, representative from Laguna sponsored a bill recommending that Filipino language be used in all levels of accounting firms and banking institutions. The congressman claimed it will provide a better understanding of the business transactions for those who are inexperienced and non-English speaking citizens.

The bill received unanimous approval from the House and was presented to the President for signature to become the law of the land. But in spite of the overwhelming pressure from the members of Congress, President Gloria Arroyo vetoed the bill.

Why? She found out that when the English "business" words are translated in Tagalog, they sound very malicious and are "nakaka-hiya at nakaka-kilabot!"

Here are a few sample words:

Asset – Ari
Fixed Asset – Nakatirik na ari
Liquid Asset – Basang ari
Solid Asset – Matigas na ari
Owned Asset – Sariling pag-aari
Other Asset – Ari ng iba
False Asset – Ari-ari-an
Miscellaneous Asset – Iba-ibang klaseng ari
Asset Write off – Pinutol na pag-aari
Depreciation of Asset – Laspag na pag-aari
Fully Depreciated Asset – Laspag na laspag na pag-aari
Earning Asset – Tumutubong pag-aari
Working Asset – Ganado pa ang ari
Non-earning Asset – Baldado na ang ari
Erroneous Entry – Mali ang pagkaka-pasok
Double Entry – Dalawang beses ipinasok
Multiple Entry – Labas pasok nang labas pasok
Correcting Entry – Itinama ang pagpasok
Reversing entry – Baligtad ang pagkakapasok
Dead Asset – Patay na ang ARI
In life, things are not always what they seem.