The term we use to describe hyper-sensitive people here in the Philippines is balat-sibuyas, which literally means "onion-skinned". The analogy is that just as onion skin easily comes off, Filipino people are easily hurt.
I aim to derive another analogy using the onion. Attempting to get a message across to Filipinos creatively is like peeling onions: it makes one want to cry.
Go watch the video "20 things I dislike about the Philippines" in one of the links below, and watch the tears start to roll down, and the onion skins start to fly.
Video link on Channelfix site
One of the last links remaining on Youtube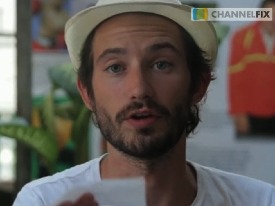 Jimmy Sieczka, the guy talking in the video, is the latest target of the ridiculous emo reactions of our balat-sibuyas kababayans who never fail to rise to the occasion whenever somebody comes along and says something that puts Filipinos in a "purportedly bad light".
Predictable as ever, hyper-sensitive Filipinos showed their penchant for shooting the messenger, and ignoring the message. "Oh he's not Filipino, why should I care?" "If I ever see you on the street, you're a dead man!" "Your own country has its own flaws, so why focus on ours?"
Do all these sound familiar?
In a radio interview featuring Jimmy on Thursday morning, March 15, with Mo Twister, Mo himself said there should have been a 21st item to dislike: the NAIA airport! Well, we may never know what Jimmy actually thinks of Cebu's airport, but it's safe to assume that had he been based in Manila, not only would have the NAIA airport definitely made the list, a 20 list item would have been too short.
Seriously, people! It's satire! It's sarcasm! We should be smart enough to know that we are supposed to take things like this with a grain of salt! As many of us here in GRP like to say over and over and over, at the risk of sounding like a broken record, literary devices such as sarcasm and satire are lost upon Filipinos. Whether they choose to ignore it, or really don't get it, the result is the same. They come out looking stupid.
To their credit, Filipinos wouldn't show this much rage over it if it weren't true. Then again, the over-reaction to Taylor Kitsch confusing the Philippines for Indonesia shows that onion skins start flying once the Philippines is mentioned regardless.
Filipinos never fail to show their trademark indignation that masks a lack of substance underneath. Yet once again, we fail to grasp a more important question: so we know what's wrong with the country, what are we doing about it?
For the record, the video was funny more than anything.
А вы, друзья, как ни садитесь, все в музыканты не годитесь. – But you, my friends, however you sit, not all as musicians fit.