And we wonder why — no, we lament that — there is such an astounding culture of impunity in the Philippines. It is because for the trouble of acceding to an invitation to speak the truth before a panel of men in scarlet robes, private citizens cop ridicule from an institution we've for so long been made to believe are the least likely to deliver offense: our supposed "guardians" of "truth and justice" a distinction which former tabloid and now "broadsheet" the Philippine Daily Inquirer fancies itself as the concept corporate embodied.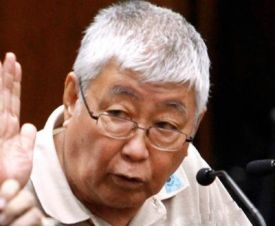 The Philippine Daily Inquirer, however, benefited immensely from the rise to power of the Aquino-Cojuangco feudal clan. In the lead up to the 1986 "people power" "revolution", the then fledgling tabloid was lucky enough to have bet on the right horse. It was a big bet made while supposedly espousing reporting objectivity as evident in its chosen slogan "Balanced News, Fearless Views". The most recent spectacular contradiction of this ironic slogan can be found as late as the beginning of 2011 when the Inquirer proclaimed newly-installed Philippine President Benigno "Noynoy" Aquino III "Filipino of the Year" for 2010. This was despite Noynoy having been in office only six months as President — a period marked by a litany of astounding gaffes, most notable of which is a bungled handling of diplomatic relations with China after a botched hostage rescue operation resulted in the deaths of nine Hong Kong tourists in August of 2010.
SUPPORT INDEPENDENT SOCIAL COMMENTARY!
Subscribe to our Substack community GRP Insider to receive by email our in-depth free weekly newsletter. Opt into a paid subscription and you'll get premium insider briefs and insights from us daily.
Subscribe to our Substack newsletter, GRP Insider!
Learn more
This sorry record did not stop the Inquirer from gushing on its hallowed pages how Noynoy was "the living Filipino who made the most positive impact in 2010" and even started calling him a "rock star" — one who was bigger than singer Arnel Pineda (lead singer of the American rock band Journey). Even more incredible, the Inquirer used as its basis "survey" results from "research" firms Social Weather Station and Pulse Asia that showed what at the time was a high satisfaction and trust rating given the president by the Filipino public. Never mind, of course, that both firms are owned by Noynoy's relatives and friends.
So it is quite unfortunate that all of this blatant bias coming from a newspaper that purports to be "fearless" and "balanced", now finds its most recent victim in Demetrio Vicente who exhibited more balance and fearlessness as he took the witness stand at the impeachment trial of Supreme Court Chief Justice Renato Corona last Tuesday, the 13th of March than any Inquirer editor could likely ever know. The front page of the 14th March issue of the Inquirer featured a collage of unflattering photos of Vicente who had reportedly previously suffered a stroke.
This inability to live up to its tacky slogan is evident in the manner with which the venerable "broadsheet" issued its delayed "apology" for this spectacular lapse in editorial judgement.
The Inquirer apologizes to its readers who took offense to the newspaper's use of a series of photographs of a defense witness, Demetrio Vicente, who testified on Tuesday in the Senate impeachment trial of Chief Justice Renato C. Corona.

The Inquirer issued a statement acknowledging that Vicente's photos, which appeared on the front page of the newspaper's two-star edition and on Page A20 of its one-star edition on Wednesday, had offended some of its readers.

"For this, we sincerely apologize. It is not our intention to disparage Mr. Vicente in any way," the Inquirer said on its official Facebook and Twitter accounts.
Note the carefully- and cleverly-chosen words. The apology;
(1) did NOT directly address Mr Vicente;
(2) did NOT acknowledge the disrespect and lack of taste it exhibited; and,
(3) did NOT express regret.
Instead, the Inquirer's "apology";
(a) denied any impropriety on the part of the paper;
(b) sought to appease its source of income and primary value proposition to its advertisers (its readership); and,
(c) passed off the information as a news report rather than a sincere message from its editor.
Just another day in the wholesale and profitable abatement of the national intelligence. Such is the Filipino Condition upon which corporate stalwarts such as the Philippine Daily Inquirer scrapes off the icing from its daily cake.
[Photo courtesy Vox Bikol National News.]
benign0 is the Webmaster of GetRealPhilippines.com.