Contrary to popular belief, Roman Catholicism is not the state religion of the Philippines. The state religion is really sort of a sub-belief system or sect of Roman Catholicism called Pakitang Taoism — really more a philosophy than a religion, to be fair. But while Roman Catholicism provides a regimented framework of dogmas offering a rich portfolio of rituals with which one can showcase their piety, moral uprightness, and overall "goodness", Pakitang-Taoism provides a bit more flexibility for its practitioners.
Pakitang Taoism is derived from the Tagalog term pakitang tao which literally means a person who is all form. The implicit meaning of the term is that said person lacks substance underneath said show. Thus, the concept of pakitang tao can be appreciated for its sublime analogy to the more familiar English phrase "all form and no substance".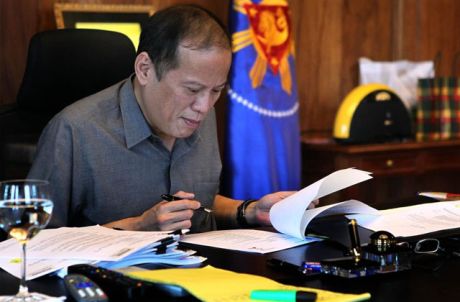 Today, a renaissance of Pakitang Taoism is in full bloom as Philippine President Benigno "Noynoy" Aquino III himself takes up a leadership role in its promotion. Recall that Noynoy had also recently lent his good name to a re-branding of the renowned Filipino folk hero Juan Tamad (literally "John the Lazy"). Under the re-branding campaign, the term Noynoyism has been embraced by the Filipino public as de facto the term du jour that takes the place of Juan as the embodiment of the renowned indolence that national hero Jose Rizal once wrote about. Malacañang's response is scripture-perfect Pakitang Taoism — something that the on-line version of the venerable Wall Street Journal itself had recently picked up…
In response, the President's office has released a series of photos, showing him sorting papers, chairing meetings and meeting dignitaries. But that has not stopped critics, who have in recent days been pictured "noynoying" everywhere from New York to Saudi Arabia, where the Filipino community it sizable.
Thanks to a very cooperative Philippine mainstream media, a heroic effort to release photos of Noynoy looking "busy" succeeded at reaching millions of Filipinos many of whom, in turn, applied some creative Photoshopping license to these (though it is doubtful if many of the Photoshop applications used by Filipinos are, themselves, licensed).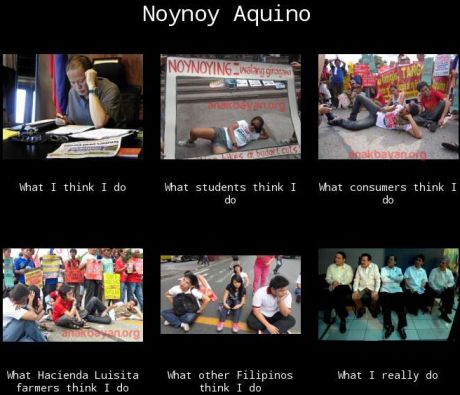 So now Noynoy is not only the new Juan Tamad, he is also the new pakitang tao personified. He is now a true Filipino icon — something that he, the son of national martyr Ninoy and the late former widow-President Cory, desperately needed to elevate himself to. Congratulations, Mr President.
[Noynoying image courtesy Anakbayan.org.]
benign0 is the Webmaster of GetRealPhilippines.com.