The impeachment trial of Chief Justice Renato Corona goes on a break for five weeks for the Lenten season. You have to wonder why the Senate cannot even be flexible enough to delay the schedule of their regular hiatus considering the country is gripped with a matter that is of utmost importance that does not happen every year. Besides, last I heard Catholics around the globe observe Holy Week for one week only, so why should the Senators need more than that? These so-called impeachment court judges might be wearing a robe now but they are not the real men in robes who spend their time praying. We can only hope that all the players in this trial become more rational after coming out of their religious retreats or to be more precise, their holiday vacations in Boracay or some posh beach resort elsewhere.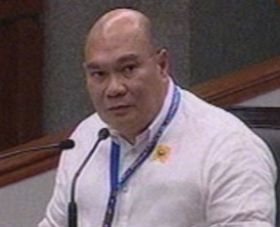 A lot can happen between now and then. There are people wondering if President Noynoy Aquino and his communication team can keep their word that they "would no longer comment on the trial." That remains to be seen. After all, they are not above twisting their own words to justify breaking their promises. Indeed, PNoy may have promised to stop talking about CJ's trial but it seems he is letting survey firms do the talking.
Media outlets said to be owned and operated by friends and family members of PNoy still have the result of the latest survey, which says that Chief Justice Corona's approval rating "plunged 24 percentage points to just 14 percent" as their front-page headline. Don't be surprised if these media outlets maintain that bit of irrelevant information as their "top breaking news" until May or until the trial ends. This is the same news item that highlights "Mr. Aquino's high trust and satisfaction ratings showed that the public was feeling the effects of the administration's programs against poverty and corruption" despite the Noynoying rage going viral and even making it to international news. Cheap tricks don't come any cheaper than this.
Aside from the help provided by survey firms, media pundits and celebrity wannabes like Juana Change are also assisting the prosecution steer the public perception their way. Ms Change recently created a video that insinuates that some of the Senator judges are biased for Corona and that ultimately, it is the will of the Filipino people that matters; never mind that in the same video, she admitted that majority of Filipinos do not even understand what is going on in the trial.
The prosecution, through their spokesperson, Juan Edgardo Angara even hinted during the break that they "may search for more properties owned by Chief Justice Renato Corona outside Metro Manila in light of a revelation of a Land Registration Authority (LRA)…" Their failure to do this prior to the trial says a lot about their competence levels. They only realized their search for properties owned by the Coronas may have been too narrow after it was revealed that LRA administrator Eulalio Diaz III limited his research of Corona et al's properties to Metro Manila. It was interesting to note that it was Senate President Juan Ponce Enrile who hinted during the trial that the prosecution conduct this expanded search — something that caused some people to start doubting his motives. There was no point in Enrile mentioning it considering they already have too much on their plate and it was already too late for the prosecution to submit any more findings as evidence since they had already rested their case. Enrile might be taking this "liberality" with the prosecution to a new level.
But I may be overestimating what the prosecution will do during the break. They never made any preparations for their presentation in the past, so why should they start doing so now? Judging from the statements of lead prosecutor Niel Tupas, Jr during his interview with ANC anchor, Karen Davila, it seems like the prosecution can continue to relax during the Easter break. This is what he had to say:
"It's been 34 days. Prosecution was able to present evidence. We feel we have presented an overwhelming case vs Corona."
And
"So far we haven't seen substantial evidence to help the defense."
Frankly, I've heard a lot of people say that listening to Tupas speak is like listening to a psychopath. Some say that his behavior can be mistaken for something that fits the description of the term. Psychopaths are said to have "a personality disorder characterized by a pervasive pattern of disregard for the rights of others and the rules of society. Psychopaths have a total lack of empathy and remorse, and have very shallow emotions. They are generally regarded as callous, selfish, dishonest, arrogant, aggressive, impulsive, irresponsible, and hedonistic." Actually, one can be forgiven for saying that the description pretty much describes most of the prosecution team.
It's quite baffling how the prosecution can still go on stating before the media that they have a "strong" case when in fact, some of the Senator Judges themselves are already calling on them to apologize for misleading the public:
Senator Loren Legarda on Thursday challenged the prosecutors to issue a public correction of their earlier charge that Chief Justice Renato Corona owned 45 real estate properties after they stipulated in open court that at least 21 of these did not belong to him.

"We're not playing ball here. If they made the announcement in a press conference, the correction should also be made in a press conference. I think (the prosecutors) should correct themselves," Legarda told reporters.

The senator noted that spokespersons of the prosecution panel went to town shortly before Corona's impeachment trial began in January and accused the Chief Justice of failure to report the properties he allegedly owned.
I don't think that asking them to apologize for misleading the public is enough. The prosecution should not only be cited for contempt, the judges should likewise call for a mistrial. Why a mistrial? Because the prosecution committed practically all conceivable violations under the sun just to file a case, get a subpoena, and influence the public and the Senator Judges. It goes without saying that Chief Justice Corona has not been given a fair trial from the very start.
It is actually a bit odd that the court is still tolerating the behavior of the prosecution — perhaps all because the Senators want to please the "public" and appear "impartial". It was Senator Jinggoy Estrada who confirmed during an interview that they didn't want the public to say that they were delaying the trial by holding a pre-trial. A pre-trial would have prevented the wrong evidence and witnesses from being presented and could have saved them time. Obviously, the wrong assumption regarding the public's perception has taken its toll on everyone most especially, the public.
At this stage, rational people can already see that even if the case still pushes through, the verdict should not be more than (1) correction of Corona's statements of assets, liabilities and net worth (SALN) and (2) amending of the existing laws. The new SALN form can help guide public servants including Corona on how to include all the assets and liabilities necessary for promoting transparency. Amending the existing laws on banking and taxation of allowances can patch up some loopholes in some laws and help prosecutors in the future.
All of the wrongs that the prosecutors alleged Corona to have committed are not entirely Corona's fault. It is not against the law to sell a property to a second cousin; it is not against the law for the buyer to delay transferring the title of the property to his name just like what Nonoy Vicente did; it is not against the law to sell or give the property to your own children; it is not against the law to receive legitimate allowances from your employer, which in turn can help you save and buy investment properties; it is not against the law to hold a bank account where you can keep your savings. So therefore, Tupas was wrong in saying that they have presented an overwhelming case against Corona.
Surprisingly, there are Senator Judges who still know how to analyse what is happening. As the events unfolded on the last day before the break, Senator Ralph Recto said "he is of the perception that the proceeds from the sale of the lot, on which the New Sampaloc Public Market now stands, may be the same P34.7 million deposited in peso accounts in the name of the chief justice in the Katipunan Avenue branch of PSBank—and later withdrawn on the day Corona was impeached by the House of Representatives."
The defense may have something else in mind in terms of how best to explain Corona's accounts, which is why lead counsel for defense, Serafin Cuevas could not confirm nor deny Recto's clarification. The trial before the Easter break certainly left some people with more questions to ask. As they say, justice delayed is justice denied.
[Photo courtesy GMA News Online.]
In life, things are not always what they seem.