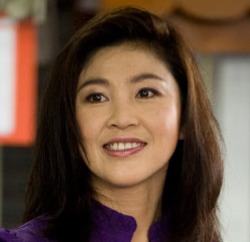 First celeb Kris Aquino may have been on to something when last Friday she tweeted, "Came from Malacanang. Lunch for Thai Prime Minister Yingluck Shinawatra. She's tall & slim & attractive! 44 yrs old, bagay for PNoy!" [Latter Tagalog phrase translated "a good match for PNoy!"]
Prime Minister Yingluck was on an official visit to the Philippines on the 19th of January where she met President Benigno "Noynoy" Aquino III who took the opportunity to compare her to his mother, former President Corazon "Cory" Aquino. To Ms Yingluck, Noynoy said: "You hold a distinct honor of being the first woman Prime Minister of Thailand. My mother, too, was the first female president of my country." Both Noynoy and Yingluck also share a common path in their rise to the top political post in their respective countries — a path blazed by a family member…
That is certainly true for Yingluck, who repeatedly asked voters on the campaign trail: "If you love my brother, will you give his younger sister a chance?"
Her primary political qualification seems to be the fact she is the youngest sister of [former Thai Prime Minister Thaksin Shinawatra], who was ousted in a 2006 military coup.
Noynoy, for his part, capitalising on his being the son of the late former President Cory Aquino who was swept to power in 1986 by a popular "people power" revolt against then President Ferdinand Marcos, campaigned for the 2010 presidential elections on a pedigree platform propped up by the popular appeal of his mother and the "hero"-cum-"martyr" status of his late father Benigno "Ninoy" Aquino Jr.
Unlike Noynoy, however, Yingluck is an experienced executive. She held executive roles in various businesses founded by her elder brother, the former Prime Minister, and later became the president of property developer SC Asset and managing director of Advanced Info Service (AIS). AIS, which is Thailand's most successful operator of mobile phone services was also founded by Thaksin. Yingluck also boasts a bachelor's degree from Chiang Mai University and a master's degree from Kentucky State University, both in public administration.
Noynoy, for his part, boasts a bachelor's degree in economics and is a former student of former President Gloria Macapagal-Arroyo who was an economics professor at the university Noynoy attended.
[NB: Photos courtesy/source The Guardian and Global Post. Parts of the above article were lifted from various articles published on Wikipedia.org in a manner compliant to the Creative Commons Attribution-ShareAlike 3.0 Unported License which governs the use of content made available on this site.]
benign0 is the Webmaster of GetRealPhilippines.com.