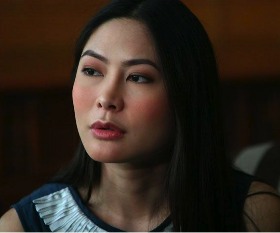 Ladies and gentlemen, a star is born and her name is Karen Jimeno! For those who have been living under a rock, Jimeno (not to be confused with Jimenez) is a lawyer and one of the spokespersons for the defense team of Supreme Court Chief Justice Renato Corona. Some people are even saying that she could spell the difference between an acquittal and a conviction in the Chief Justice's impeachment trial. The lawyer can disarm anyone with her polite manner and formidable intellectual abilities. Her telegenic beauty can definitely boost TV ratings.
From being an unknown Harvard Law graduate, lawyer Jimeno has literally become an overnight sensation. After her initial appearance on the first day of the impeachment trial, she has become quite the new darling of the media. Even on social networking sites, a lot of the Netizens who follow the trial can't get enough of her. Some have become more interested in following the proceedings because of her. There are even those who complain that she doesn't get as much airtime as some members of the prosecution team who are not as pleasing to the eyes nor pleasant to the ears as Jimeno.
Jimeno's unique rise to virtual celebrity status comes at a time when some celebrities have become famous thanks to their shameless self-promotion. Then there are those who are famous for doing nothing significant at all. Jimeno on the other hand is part of a team that is helping save a man's reputation in a trial that has gripped the entire nation, and any promotion she has done is for the benefit of her client not hers.
So what is so special about Karen Jimeno? Little is known about her apart from her having taken up law at the University of the Philippines and earning a masters degree at the prestigious Harvard University. We can blame media and stereotypes for creating a false notion that both beauty and brains don't go hand-in-hand, which is why when we see someone like Jimeno possessing both, most people become enthralled.
You can also blame most people's attraction to Jimeno to man's instinctive predisposition to be drawn to people with good genes. A study has shown that "masculinity/femininity of faces is linked with symmetry and hence advertise quality, that is good genes." Likewise good looks "could advertise quality in terms of resistance to disease, or environmental stresses and that might mean people with these traits are healthier and live longer." According to Dr Anthony Little of the University of Stirling…
We seek a partner with good looks because this is a biological advert that says good genes are to be found in this particular body to help our own genes thrive in the next generation.

He adds that a second paper in the journal Behavioural Ecology shows that people who prefer more symmetric faces prefer more extreme faces, that is a rugged male face or a beautiful feminine female face.

Dr Little concludes that "overall our work suggests that symmetry and masculinity in faces signal the same thing and that these signals are present across human populations and also in our non-human primate relatives."

The findings back the claim that the masculinity/femininity of faces is linked with symmetry and hence advertise quality, that is good genes.
Good looks aside, the general impression people get when they watch Jimeno is that she is both sensible and levelheaded. She seems like a nice person too and this is evident in how she explains things patiently even when reporters ask silly questions about the case.
The young generation of Filipinos could certainly use a role model like Jimeno. She is sharp, gracious, demure, fashionable and even sporty based on a photo of her scuba diving. It is time Filipinos do away with role models who exhibit nothing but lack of substance, idiocy and lewd behaviour – traits that can be found in typical celebrities such as actresses, pop stars and TV personalities. Let's just hope Karen Jimeno can be given more airtime.
[Photo courtesy Crusade Against Irresponsible Journalism.]
In life, things are not always what they seem.