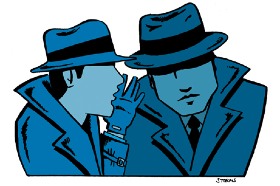 Recently, Purple S. Romero of "social news network" site Rappler.com published the article "Return P8.6-M, World Bank tells SC" which details a World Bank request to the Philippine Supreme Court to return "a total of US$199,000 (P8.6-M) in 'ineligible' funds by the end of January, saying the High Tribunal spent this on activities and projects not covered by a loan agreement between both parties"…
In a Dec 28, 2011 letter addressed to SC Associate Justice Teresita Leonardo de Castro, chair of the Judicial Reform Support Project (JRSP) Management Committee, Matthew Stephens, acting WB country director, cited seven concerns and issues on how the High Tribunal used the US$21.9M loan (P903-M based on current rates) it granted the High Tribunal in 2003.
Over at the Get Real Philippines Community group on Facebook, member Belinda Gozon Madrid had this to say about the above "report"…
It seems that [the above request] was not supposed to be published publicly as yet but it was leaked to RAPPLER.COM. It is alleged that Andre[w] Parker husband of Presidential Management Staff chief leaked the paper to RAPPLER. This is the report which seems to insinuate and fuel anti [Chief Justice Renato Corona] sentiments before Monday's trial.

I was a BETA page user of RAPPLER but I have since UNLIKED this page because I object to the use of news to promote partisan views. I have [no] problem with partisan views as long as they are stated as such. When news is muddled with opinions and innuendoes…then that is called something else?

This is worrisome… not only do we have political dynasties now ruling together with oligarchs…we now also have here an example of a whole family in government holding key appointed position…s…pwede pala ito???

"Julia Abad. Budget Secretary Abad's daughter Julia Abad Parker is the director-general of the Presidential Management Staff, a very powerful office that has a lot of say on how the President's P1 billion pork barrel will be spent. In addition, her husband, Andrew Parker, is a senior rural development economist for the Philippine office of the World Bank, a major multi-lateral lender to RP. A second child of Abad, Luis, is the chief of staff of Finance Secretary Cesar Purisima, who also heads the Monetary Board. Abad's wife, Rep. Henedina Abad, has been assured by incoming Speaker Feliciano Belmonte that she will be the senior vice-chair of the very powerful House Committee on Appropriations, which will be chaired by Cavite Rep.Joseph Abaya."

[Above quoted from the article "Conflict of interest in Abad situation" written by Belinda Olivares-Cunanan, 21st July 2010.]
[NB: Some parts of the above excerpt are edited for clarity and as such may not be identical to the original text taken from the source.]
Rappler.com was also recently the centre of a row with the prestigious University of Santo Tomas (UST), after one of its "online journalists" Marites Vitug reported that the UST allegedly granted an academic degree to Supreme Court Chief Justice Renato Corona who, it is also alleged, did not meet the standard requirements for said degree. Rappler.com CEO Maria Ressa, had since been quick to invoke "libel!" in response to some bloggers issuing their opinion on possible agendas at work behind her fledgling "social news network" site.
Indeed, Rappler.com has so far been silent on the obvious question given these sorts of observations made about the way it "reports" the news and presumes to be a "social news network" made up of a clique of "online journalists"…
Who funds Rappler.com?
Abangan ang susunod na kabanata…
benign0 is the Webmaster of GetRealPhilippines.com.