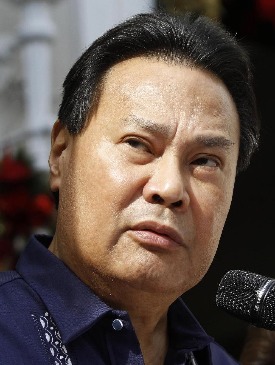 The Philippine media seems to be stepping up a campaign to distort the facts surrounding the impeachment case against Philippine Supreme Court (SC) Chief Justice (CJ) Renato Corona. It is evident in the way Michael Lim Ubac wrote on the very first line of his Inquirer.net "report" World Bank: Loan to Supreme Court high risk that "The Supreme Court under the watch of Chief Justice Renato Corona has been weighed and found wanting." But, as Get Real Post reader Domingo Arong pointed out in a comment there, "the loan was administered under the incumbencies of three other previous Chief Justices during a span of eight long years,"…
"The World Bank approved the loan in 2003" during the incumbency of CJ Hilario D. Davide (November 30, 1998 – December 20, 2005) and continued to be administered during the tenure of CJ Artemio V. Panganiban (December 20, 2005 – December 7, 2006).

The loan was to expire on Dec. 31, 2009, during the incumbency of CJ Reynato Puno (December 8, 2006 – May 17, 2010); however "the World Bank extended the closing date twice–first by 18 months (until June 30, 2011), and then by 12 months (until June 30, 2012)."

"Thus far," the report continues, "the tribunal has spent $16.3 million (76 percent of the revised loan amount of $21.4 million."

However, "due to questions over the fiscal discipline of the tribunal in adhering to loan stipulations, the World Bank cancelled the final tranche of the loan amounting to $0.5 million."
Clearly, the above information is not consistent with the opening line of the very news "report" that it appears in. As if that instance of seemingly blatant twisting of facts weren't enough, a paid ad was also placed in the 15th January 2012 edition of the Philippine Daily Inquirer by an undisclosed group which had the words "Remove Arroyo's Gatekeeper!" as its header and "Fight for what's good! Save the Supreme Court! Remove Corona!" as its footer. Included in the ad was a cartoon depiction of an embattled Chief Justice being persecuted by the public…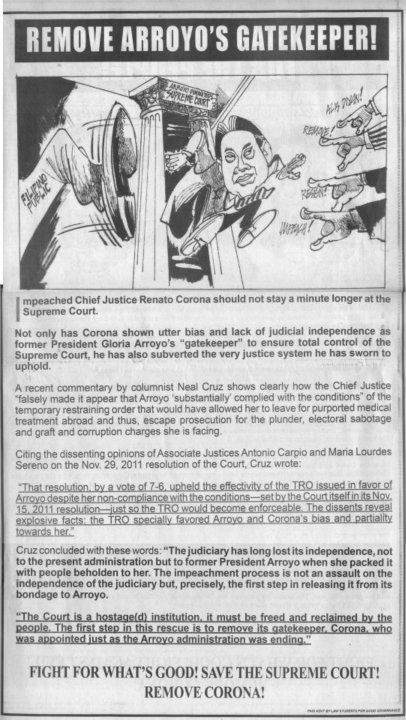 The above image was posted on the PAID YELLOW AD on PDI today regarding CJ Corona look in page 10-1 folder of the Facebook page Showbiz Government with the following caption:
ABS-CBN and [the] Philippine Daily Inquirer headlined the World Bank misuse loan [refer here]. What the Yellow Media maliciously ignored was [that] the WB project was implemented in 2003 under CJ Hilario Davide, Jr. whose son was endorsed by Noynoy Aquino (P-Noy) during the 2010 election. Sadly, [the] WB fund was audited during Renato Corona['s] watch. The head of the project committee was even another Justice. Not Corona. Who are you fooling, ABS–CBN and Philippine Daily Inquirer (Official)?

[…]

People are quick to say Corona is biased [for] former President Gloria Arroyo because [the] SC (a collegiate body) voted 19-0 in favor of Arroyo. Probably, they should ask the question if all 19 cases vs Arroyo were prepared WELL or hastily. If the cases were loose due to technical deficiencies/loopholes, you cannot expect [the] SC to uphold these cases because the very essence of their responsibility is to uphold the law in all its technicality. This should give Arroyo prosecutors the message [that] they should do the hard work and not cut corners. […]

[NB: Some of the above text was edited for clarity by the author of this blog and, as such, the above copy may be slightly different from the original.]
Earlier we noted how "social news network" site Rappler.com, an organisation of "online journalists" who promise "uncompromised journalism", apparently published the original World Bank audit findings which were originally not intended for immediate public consumption, raising the possibility that the whole story around the WB findings were inappropriately leaked and used…
It seems that [the WB report] was not supposed to be published publicly as yet but it was leaked to RAPPLER.COM. It is alleged that Andre[w] Parker husband of Presidential Management Staff chief [NB: Budget Secretary Abad's daughter Julia Abad Parker is the director-general of the Presidential Management Staff] leaked the paper to RAPPLER. This is the report which seems to insinuate and fuel anti [Chief Justice Renato Corona] sentiments before Monday's trial.
So much for "uncompromised journalism". Veteran blogger Angela Stuart-Santiago notes in her call out to [Rappler.com CEO Maria Ressa] that the whole Corona impeachment circus is a "trial by publicity, and rappler is part of it. too bad." Too bad indeed. At a time when Filipinos now possess the tools to access an unprecedented volume of information, they can no longer rely on their traditional sources of said information for the truth.
benign0 is the Webmaster of GetRealPhilippines.com.