The newly unveiled tourism slogan "It's more fun in the Philippines" by the Department of Tourism (DOT) received mixed reactions from Filipinos. First, the lack of originality was again highlighted after social networking pundits discovered that Switzerland used the exact same slogan in 1951. What shocked and annoyed some Filipinos is that similar accusations of blatant copying of ideas were already the cause of the collapse of the current government's first attempt at reviving the tourism industry back in November 2010. It was alleged that the design used in the said marketing campaign plagiarized Poland's campaign.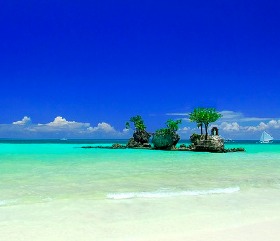 Tourism Secretary Ramon Jimenez and other officials were quick to deny the new copycat allegations. In a news report, Jimenez insisted, "BBDO, the advertising giant hired to come up with the campaign, would never resort to copying another country's campaign." To quote:
"They're not like that, hindi po sila ganun. You have to meet [BBDO chairman] David Guerrero to realize that [the] guy would [rather] slit his throat than copy something, you obviously dont know him," he said.
Of course the people behind the new tourism slogan will deny that they copied Switzerland's old slogan. After all, it's their reputation that's on the line. For argument's sake, let's say that those behind the new marketing slogan came up with It's more fun in the Philippines on their own; it highlights a failure in basic research — even just a quick Googling.
If a regular schmoe was able to dig up the old tourism advertising slogan of Switzerland on the Net, then why weren't the people from the advertising agency hired by the DOT just as savvy? It makes sense for a big advertising agency or anyone for that matter, to check that an idea hasn't been used before prior to using it.
It took over a year for the DOT to replace the failed slogan in 2010 but it seems like the new one is already going to be hard to sell. It's quite ironic that a slogan whose purpose is to sell the Philippines outside the country needs to be sold first to the Filipino people. When something like It's more fun in the Philippines doesn't sell well even to some Filipinos, it's a good sign that there are still Filipinos who still prefer honesty and sincerity to the use of exaggeration. Just like what former Senator and DOT secretary said, "Tourism is a story, it's not just "wow" or "fun", we have to justify it. The product should sell itself. We don't want to advertise tapos pagdating dito, wala. We have to improve the country".
Mr Gordon is spot on. You don't invite guests to your house without cleaning your house first. Unless you didn't like that guest in the first place and your intention was to ensure they did not to come back after their visit, you wouldn't likely bother to clean up. But if your idea is for your guest to like you and to make him come back and visit you again, you'd do everything to make your house more inviting and welcoming.
It's not that tourists from all over the world wouldn't have fun in the Philippines. But realistically speaking, the words "more" and what kind of "fun" are what make people ask a lot of questions. The inclusion of the word "more" can be interpreted as a bit trying hard. Why couldn't they settle for "It's fun in the Philippines" for example? And "more" fun as compared to which country? I'm sure there are a lot of countries that can offer the same and even more for the money without experiencing the difficulties in traveling in and around the country.
If it is indeed more "fun" in the Philippines, the millions of Overseas Contract Workers (OFWs) who were forced to find alternative livelihoods all over the world including war torn and unstable countries like Iraq and Libya would feel even more displaced and homesick. I wonder if the advertising agency and the DOT officials even thought about the effect this new slogan might have on the OFWs' morale?
Having fun is personal. Someone's idea of "fun" may not be the same as another person's idea of fun. Being stuck for two hours in Edsa on your way to Quezon City may not be someone's idea of having fun but locals have lived with it for so long and shrug it off as "ganyan talaga dito" as they laugh it off; something tourists would find baffling. Eating the favorite delicacy called "balut", which is a fertilized duck embryo that is boiled alive and eaten in the shell may be "fun" for some but those who have no taste for such might find it disgusting. In the same manner, forcing the issue that certain things are "fun" won't work.
Indeed, Filipinos who live locally know how to have fun because they manage to find a way around the poor infrastructure; rampant corruption and poverty that has become a way of life in the country for most of its inhabitants. You can even say that those who have no choice but to reside in old graveyards still manage to have "fun" despite their wretched existence. But someone with a higher standard isn't likely to find the idea of living with the dead fun at all.
If you expect the same level of convenience and standard of living found in First World countries, you need a lot of money in order to have "fun" and lead an enjoyable life in the Philippines. A servant that will answer to your needs 24/7 is mandatory; otherwise, you wouldn't have time to do your household chores after spending two to three hours stuck in traffic coming home from work. Likewise, a driver can make up for the lack of convenient and reliable public transport. These are the things that most moneyed Filipinos who agree "it's more fun in the Philippines" tend to take for granted. They do have more "fun" than the average Filipino because they can take advantage of the cheap labor.
Like what I've been saying over and over, Filipinos in general are too obsessed with projecting an image that we are fun loving and happy creatures despite our circumstances. Unfortunately, this national obsession with being "happy" or having a good time instead actually leads the Filipino people into a permanent state of misery, because the majority's pursuit of happiness is shallow and misguided. We pride ourselves in being perceived as a "happy-go-lucky" people, but we also come across as a people who do not take things too seriously even in times of crisis; which is why much of the social ills that beg obvious solutions remain unresolved.
So the question is, how would tourists from around the world have "more" fun in the Philippines? Let's face it, it's more of the beautiful scenery that can still be found in the countryside that would make tourists come and visit the Philippines. Our wonderful beaches, the flora and fauna found in Philippine jungles still untouched by illegal loggers are indeed things that shouldn't be missed. There are places in Mindanao that are truly breathtaking for example. Unfortunately, kidnappings by local bandits can be a problem. In fact, the U.S. renewed its travel advisory of the risk of terrorist activity for the Philippines. Obviously, American tourists would heed the warnings of their government more than the marketing gimmick of the Philippine government. Even in Manila, it is not too far-fetched for disgruntled ex-military police officers to hijack a tourist bus and take tourists hostage. So therefore, fixing the law and order situation in the country can help.
Fixing the country's infrastructure should also be a priority for the government. They can start with the international airport. The airport is where visitors get their first and last impression of the country and its people. Like I said in my previous article, "as of this writing, the construction of the new international airport NAIA-3, which is mired in controversy hasn't been completed due to the lawsuits filed by its private investors against the Philippine government regarding their compensation".
My experience travelling has taught me that riding the local public transport is one of the best ways to immerse myself in the local culture. Riding the bus and the trains is better compared to being driven around by a relative or friend because you actually feel like one of the locals when you are using their facilities.
It's actually the little things that matter most to tourists anywhere in the world. Sometimes we don't even have to try too hard to entertain them. The best way to entertain a visitor is to keep the house clean and make them feel at home. If we can work on the basic necessities an individual would need during his travels, we won't even need a fancy tourism slogan to attract tourists.
In life, things are not always what they seem.