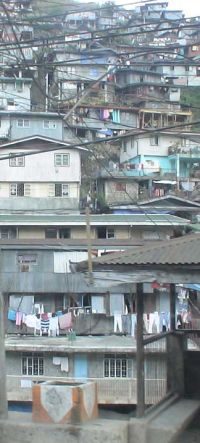 I honestly didn't expect a flood of reactions about my article on Baguio City's decay. I knew I made minor errors around there which I am grateful have been clarified. Still, most of the comments I received in both this site and Facebook, not to mention the four emails I received, were concentrated on the past; or, to be more specific, how people miss the Baguio of yesteryear. All I could say about all of this is that the pristine Baguio that many of us know in the past is gone, and the only way to actually get things done in this City is to think of the present and create a future that not only is conducive to Baguioites including myself who love the City, but also to those who would visit it.
In the past week or so after my initial article was posted, I've been lambasted on both sides of the issue of Baguio's ruination, especially on the issue of a mass protest against a mall's expansion project. On the malls' side I've been labelled an "anti-progressive" and an "anarchist." On the protesters' side meanwhile I've been called an "elitist," simply because I didn't want Communists to infiltrate the action. The irony of it all is that both sides are too stuck up their behinds to actually seek dialogue with each other and find common ground. There seems to be a pervading attitude of seeing one's own side as "good" while the other as "evil." In the end, it seems that both sides won't get it. Meanwhile, Baguio continues its rancid decay due to a simple lack of diplomacy.
Beyond this all-too-common struggle between "capitalist pigs" and "tree-hugging liberals," it would be perhaps best to look to (and act upon) solutions that would really sustain Baguio's ecosystem. I'm not a city planner or a civil engineer, but being born in Baguio I believe I have a say on what I think is good for where I live and how I live it, in a way where not just one side of the struggle wins.
1 — ADMIT THAT BAGUIO IS A TRASHY DUMP. This is the whole point of what this hallowed website's name is all about: getting real. A majority of people in Baguio don't want to act because they're (for a lack of a better word) deluded into thinking that the entire City is beautiful, and will remain beautiful, regardless of all the greed and pollution that's going on around them. Unfortunately, if you don't want to believe that where you live in is a cesspool, then chances are you won't clean it up.
2 — STOP VOTING INCOMPETENT LEADERS, THEN EVENTUALLY BLAMING THEM FOR BAGUIO'S ILLS. This is a no-brainer. Politicians, especially on the local level, are prone to exploit everything to push their pet interests, with little oversight. It sounds ideal, but we Baguioites simply need to stop electing officials who we know have ulterior motives that outweigh their altruism. If we Baguioites know all too well that our leaders don't have the best interests of Baguio in mind, then why in the world did we put them there in the first place?! It's unnecessary self-flagellation on a massive scale. Throughout Baguio's history we have proven many times over that our allegiances are to each other, not to the celebrity of names in government. The logic to this is simple: if they don't put the needs of Baguio first, then get them out of office. This coming 2013 midterm elections, I know whom to write on the ballot underneath "Congressman" or "Mayor"–or rather, whom NOT to write.
3 — BOTH CORPORATE INTERESTS AND ENVIRONMENTALISTS HAVE TO STOP DEMONIZING EACH OTHER AND INSTEAD SEE EACH OTHER ON EQUAL TERMS. Two malls now operate within Baguio's central business district, with two more near its political boundaries. Now I understand that too much capitalism and "trickle-down economics" that they all generate create an unfair imbalance in both Baguio's ecosystem and social fabric. I also understand, however, that if the people of Baguio don't want oligarchic interests to dominate a certain area, that's when they must enter and express their sentiment, and provide clear solutions that benefit both parties. Calling each other names only alienates both parties from each other, and eventually also alienates those who have various ideas beyond the duelling sides. Having a "with-us-or-against-us" principle doesn't help, either. For urban renewal in Baguio City to happen, we must admit the fact that there are private corporations that can do good, and sometimes even better.
One idea that's been percolating in my head that may or may not offend the sensibilities of those reading this article is for Baguio residents to create a collective trust fund. Any money that enters this trust fund could be used to buy land from the government (or from private institutions), which could be used and managed as reservations. It's too idealistic, I know, and the management alone could be a nightmare, but it's something to think about that has probably been never done before.
4 — BE AWARE THAT BAGUIO'S STRENGTH LIES IN THE COURTS, NOT IN THE STREETS. I know that Baguio is pretty much a laid-back City, where things still function even if people chill out more than our lowland counterparts. This is reflected with how we approach critical issues: being law-abiding citizens we'd rather fill the council room at City Hall, listen to the people in power, and air our opinions there afterwards. It's worked so many times before, and it would do so in many years to come. I'm not saying that we should stay within the confines of the hall for every issue; of course, there are times when we need to voice things out beyond it. But as history points out, the battle for Baguio's ecology is better won away from the streets. Going the "Fiesta Revolution" path is something that Baguioites aren't really used to, that's why more often than not that system doesn't work here as much as in other cities. It becomes too artificial if such a culture is forced onto Baguio. However, if there's something that Baguio people should retrieve from the past, it's our old-fashioned trust in due process, and the ability to guard due process, even if the people who claim to wield it aren't reliable; because if they aren't, well, we know what to do come election year.
5 — CREATE A TRANSPORT NETWORK THAT PRIORITIZES PEOPLE, NOT VEHICLES. I mentioned in my first Baguio article about our penchant for private vehicles–a need that unfortunately does not bode well for Baguio's winding road network and mountain air. It takes a lot of political will to actually urge people to make use of Baguio's efficient taxi system, one thing which I commend Baguio for having. From experience, I know that our taxi drivers are polite, trustworthy and would even give back exact change. Such a gem in Baguio can be cultivated if much more could be invested for creative public transport that prioritizes people. Some streets in the central business district can be totally closed to traffic in exchange for bike lanes or total pedestrianization, and tram lines have been in the works since the early 1990's (all have been shot down due to "cost issues."). Not only is such a large investment a boon for the City's long-term economy, but it would also revive its ailing ecology.
6 — TREAT EACH OTHER LIKE THE PRECIOUS NATURAL RESOURCES THEY WANT TO PROTECT. Baguioites will deny it, but many people here simply do not know how to segregate their garbage, despite a direct order from City Hall to do so. As an example, I previously worked in a university here where paper is classified as "non-biodegradable," when based on researches paper comprises as much as half of all trash disposed. I aired this with the administration, which decided to "look into" the classification. I have no idea if anything has happened, since I don't work there anymore. If Baguioites really care about the City's ecology, then they would find a way to actually start caring about it within themselves. It becomes the height of hypocrisy when people scream to "save the trees" but actually drive down Session Road on a gas-guzzling car. Or eat out of non-biodegradable Styrofoam. Or exhale smoke in other people's faces, claiming that it's a "free country" to do so.
In all my years of living in Baguio I have come to realize that any external force that attempts to change Baguio has to go through the gauntlet of its locals. There is truth to the adage that a direct confrontation against an enemy does not necessarily lead to a good solution; the people of Baguio have known this for more than a century. For all its faults Baguio should not be judged as a black-and-white city where the people in power are "evil" and the people beneath them are "oppressed;" such is defeatist, and will ultimately lead to nowhere. I have made my peace with both sides of these issues. Baguio needs to rediscover that there are infinite shades of gray in between that could be used to solve its current woes.
[Photo courtesy Travel-Philippines.com.]