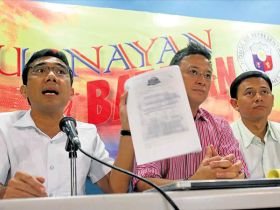 Supreme Court Chief Justice, Renato Corona is richer (only) by eight million pesos according to an ABS-CBN headline report. This is shocking news, indeed. This means that the embattled Chief Justice won't be able to afford to purchase even just a second hand Porsche similar to the one President Noynoy Aquino (PNoy) bought in 2011, which reportedly cost P4.5 million. In fact, Corona can forget about having a mid-life crisis and buying himself any sports car at all. At the rate he accumulates his wealth — through investment properties instead of dipping his fingers into public funds – Corona will neither be included in the Forbes rich list nor given membership to the poshest country club in the country meant for the rich and famous before he retires.
Seriously, eight million pesos is nothing to boast about in public, really. No wonder, CJ Corona was confident he had nothing to hide in his Statement of Assets, Liabilities and Net Worth (SALN). On the contrary, I would say that he must have been slightly embarrassed at the thought that people would discover that he is not even "rich" enough compared to some of his peers.
Indeed, if we can rely on some data cobbled together from different sources by Get Real Philippines Community netizen Amy Lee, we will find Corona rather impoverished by the standards of his colleagues in the other branches of government…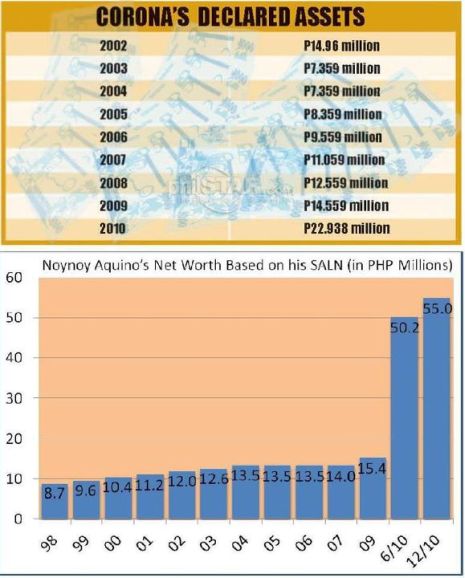 I don't understand why ABS-CBN News, which is said to be owned and operated by people close to the Aquino family is misleading the public about Corona's supposedly ill-gotten wealth. They are reading things that are not even on Corona's SALN. Last I heard, it's not a crime to invest in properties. In fact, investing in properties is one legitimate way of accumulating wealth.
The allegations that CJ Corona hadn't been filing his SALN since the start of his membership in the Supreme Court has been proven false. And the allegations that he had "enriched" himself during his time as member of the Supreme Court is also false. It is crystal clear from his SALN that he is paying for his property investments by instalment and any earnings from those properties are only on paper due to the fact that the appreciation in value of those properties can only be realised if he decides to liquidate them. Which means Corona won't even be able to buy anything worth even one million pesos without liquidating any of his assets and without the approval of his spouse.
His SALN, which ABS-CBN News have published does not indicate that he had amassed "ill-gotten" wealth. Where the prosecutors got the idea that CJ Corona had "enriched" himself and had amassed "ill-gotten" wealth is a mystery considering they haven't even seen his SALN until the third day of the impeachment trial. What has been proven in the proceedings is that they were making baseless allegations using their suspicion and broadcasting it to the public using mainstream media, which includes media networks ABS-CBN News and The Philippine Daily Inquirer. It is worth emphasising again that both are said to be operated by people close to the Aquino family. Indeed, Philippine media can sometimes cause more problems than they do good.
It was a good decision on the part of the defense team not to allow CJ Corona to testify. If the treatment of Supreme Court Clerk Enriquietta Vidal by the members of the prosecution team and some of the Senator judges are any indication, Corona would be bullied and mistreated too. We all know how these so-called "statesmen" conduct themselves during congressional and senatorial hearings. Some of them seem to take the opportunity to act like rabid mad dogs aggressively intimidating persons of interest as if they are superior beings when in fact, they are supposed to be working for the people. Their kind of behaviour is usually evident in people who lack substance and harbour delusions of grandeur. They try to hide their incompetence by acting boorish or rude just to distract people from their own shortfalls.
Speaking of incompetence, the prosecution team is justifying their incompetence by saying that they are underdogs compared to the defense team. They said that despite having ABS-CBN private lawyer Mario Bautista and a total of 59 private lawyers who are said to have volunteered to help. It's a bit weird that they admit being the "underdog" because being an underdog means one who is expecting to lose or struggle. The question is, where did their confidence to file the impeachment case come from? They shouldn't be struggling now if they had a solid case to begin with.
It is beginning to appear like the prosecution's main reason for filing for impeachment was merely to humiliate CJ Corona into resigning. It probably didn't occur to them that they would have to present the so-called compelling evidence they spoke of with the media in court. They are certainly learning the hard way that the due process involves dealing with facts and not fiction.
In life, things are not always what they seem.