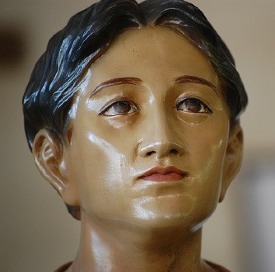 I read recently that we have another Filipino saint queued for canonisation by the Roman Catholic officialdom in the Vatican. Blessed Pedro Calungsod is a 17th Century Visayan martyr whose bid to be the second Filipino saint is "now a certainty" by virtue of a papal decree made last week according to an Inquirer.net report. That's nice. Another Filipino saint.
A lay catechist, Calungsod died in Guam while trying to defend his fellow mission worker, Jesuit priest and now Blessed Diego Luis de San Vitores, when the natives attacked them on April 2, 1672. Calungsod was 17 years old.
The same report relates lead Calungsod sainthood advocate Msgr. Ildebrando Leyson's account of a "miracle" that is "attributed to the intercession of the young Visayan martyr". The miracle, reported in March 2003, involved "a businesswoman in her 50s" who "hails from Eastern Visayas" making a remarkable recovery from a coma she fell into after suffering a catastrophic loss of oxygen supply to the brain while undergoing heart surgery.
It was at this point of near resignation [over the patient's unpromising parameters] that the doctor uttered a prayer to Calungsod.

At around 6 p.m., the woman woke up.

According to the doctors, if any recovery was still possible from such a comatose state, it would take weeks and the patient would be reduced to "a vegetable, paralyzed and unable to speak," Leyson said.

And yet the woman recovered in just four hours and showed no signs of physical impairment whatsoever.

As word spread around the hospital, more doctors and other members of the medical staff rushed to the patient's room.

'Who is that?'

One of them wondered whether there had been a misreading of the patient's brain data, but a check later showed that all measurements were accurate.

"That is the miracle," Leyson said.
It's a good story with a happy ending. The miracle had since been officially recognised by Pope Benedict XVI as a legitimate miracle "obtained through Calungsod's intercession". This was, according to the report, the result of a long process of "verification" to establish that "only Calungsod was called out by the woman's doctor and not any other saint or figure honored by Catholics".
It makes me wonder, however, what makes one person who was practically dead eligible to receive the "graces" of a "miracle" from a candidate saint and get a second chance at life while others — thousands of others — who were otherwise healthy, raising families of their own, looking forward to Christmas, and had mothers, fathers, sons, daughters, brothers, and sisters like billions of other human beings, had their homes and lives simply washed off the face of the Earth in last week's flooding disaster wrought by Typhoon Sendong.
When we thank our god for the "blessings" we received this Christmas, do we stop and wonder to ourselves what makes us more "blessed" in the eyes of said god compared to the millions of others who seem to be leading wretched lives that are practically devoid of those "blessings" we are routinely thankful for in prayer? When we rejoice over how "God is good!" when something nice happens to us, do we pause and wonder why he is not as good to others as he is to us?
What makes us — what makes me — so special in God's eyes that I'd be so blessed with a roof over my head and food to eat three times a day and have nice things happen to me while others aren't? Is it because I pray with a louder voice than most others?
Look back at the year that just passed and we will find that this is a year where one influential person or another in Philippine society claimed before the Filipino public that he or she holds a special place in one conceptual source of "power" or another — whether that power be the long-ingrained tradition of an all-powerful deity, or in the more recent but equally nebulous notion of the "people's will". The disturbing aspect of our belief that one sector of humanity or, worse, one individual — such as, say, ourselves — is so exceptionally blessed by some notional power lies in its silence on what is left for all the rest.
The most obvious example is in the way Philippine President Benigno "Noynoy" Aquino III claims that the God of Roman Catholic Filipinos is on his "side". What then does that say about those who find themselves in today's political Opposition; about those who are critical of his views, approaches, and policies; about those who are mounting a legal defense against his efforts to incarcerate them? Does that mean Noynoy's Roman Catholic God is against them?
The way to resolve these difficult questions is not too difficult. It just requires us to be a bit less self-absorbed; a bit less comfy in the sketchy notion that we are "blessed" by a god or are "mandated" by some sort of "people's will". In fact, we should altogether ditch the notion of our individual specialness. Much of the history's great atrocities were outcomes of that sort of thinking — how one or a handful of tribes were a "Chosen People"; how one culture or gene pool formed the "Master Race"; how one belief system is endorsed by the "one true God"; etcetera, etcetera.
Perhaps there are "miracles" and there are "saints" and gods who intercede against the physical laws of Nature so that said miracles may happen. If so, let's be thankful for these in silence and continue to achieve quietly when we do get on with life, rather than so pompously proclaim a personal conclusion we make that these constitutes "evidence" of some personal blessedness awarded to us by the powers we believe in.
benign0 is the Webmaster of GetRealPhilippines.com.