In the aftermath of the devastation wrought by Typhoon Sendong upon northern Mindanao which may ultimately claim up to 2,000 lives, the administration of President Benigno "Noynoy" Aquino III has released an official statement admitting that it may have been distracted from warnings coming from climate and environment experts…
Palace spokesman Edwin Lacierda admitted that the Aquino administration did not heed or give enough attention to the report of the Climate Change Congress of the Philippines, which had warned that Cagayan de Oro, the city that, along with Iligan, was most devastated by Sendong, could suffer what Metro Manila's Marikina went through during 2009's storm "Ondoy."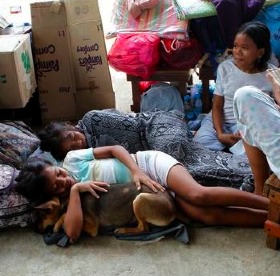 The distraction was reportedly attributed to a preoccupation with "clearing the landmines" laid by the previous administration of former President Gloria Macapagal-Arroyo.
SUPPORT INDEPENDENT SOCIAL COMMENTARY!
Subscribe to our Substack community GRP Insider to receive by email our in-depth free weekly newsletter. Opt into a paid subscription and you'll get premium insider briefs and insights from us daily.
Subscribe to our Substack newsletter, GRP Insider!
Learn more
Much of the forest cover lost by the Philippine archipelago happened during the last 65 years since Filipinos were granted independence in 1946. From 1990 to 2005 alone, no less than 3.4 million hectares of forest cover had disappeared. According to the Inquirer.net Editor, the Spanish colonial administration left the islands with 70 percent old-growth forest cover. Today it is less than 7 percent.
While the Second Aquino Administration had demonstrated an ability to rapidly mobilise what is seen to be a subservient Philippine Congress into impeaching its avowed archenemy Supreme Court Chief Justice Renato Corona, it has so far exhibited a flaccid regard for what should have been more pressing matters of state — matters that have now come acutely relevant in light of the appalling tragedy that hit northern Mindanao which is widely attributed to "probably the most rapid and severe deforestation in the world". Some programs to address issues such as reforestation were introduced under the Arroyo administration. The P7-billion Integrated Natural Resources and Environmental (INREM) program was initiated in 2007 but languished as a result of a lack of funds and political will to push it through. And although there are laws banning logging across the islands, many Filipinos are skeptical that these will ever be properly enforced considering that many Filipino politicians themselves have interests invested in the industry.
Indeed, the government was reportedly well aware of the disaster waiting to happen in Mindanao.
At a press conference called by the Climate Change Congress of the Philippines, space technology expert Dr. Esteban Godilano said the threat to Cagayan de Oro was presented to various government agencies in a river basin planning workshop sometime in July.

"Alam na nila 'yan. Tatlong beses akong nag-present doon. Una noong National Summit on the Impact of Climate Change sa buong Mindanao, sa Cagayan de Oro din (They know that. I made a presentation three times. The first was during the National Summit on the Impact of Climate Change on the whole of Mindanao, which was also held in Cagayan de Oro)," Godilano said. "Siguro naghahanap pa ng pondo, kaya lang inabot na ng delubyo (Maybe they were still looking for funds, thus they were overtaken by the deluge). The rest is history."
Even back in 2009 following the devastation of Typhoon Ondoy levied upon the National Capital, the challenges faced by the numerous volunteer groups and NGOs that stepped up to provide relief to Ondoy's victims made the key underlying issues that formed a deadly systems of factors obvious.
The current situation where reliance on private sector resources to stopgap what government should have been keeping systemically sound to begin with becomes routine (1) highlights the overall systemic inadequacy of our society and state in dealing with disasters and (2) is a sub-optimal response to crises because disjoint operations coordinated at micro levels lack scale and efficiency and are prone to waste. Ideally, government should be in full control of a crisis response and the private sector, where they contribute assistance, subordinate to government management.
The Typhoon Sendong disaster (and the many others that preceded it) reminds us that the Philippines faces issues and challenges far bigger and more profound than what was made out to be the the "highest priority" undertakings by Noynoy's government. The deeply-ingrained ethic of negligence and lack of foresight that pervades Philippine society revealed by the death tolls of these disasters demand systemic solutions of the sort that not even the most clever propaganda catch-phrases and slogans can ever encapsulate.
benign0 is the Webmaster of GetRealPhilippines.com.