A quick look at what has happened in the Philippines in 2011 will give Filipinos a very good idea of what is in store for the country in 2012. Another year has passed but not much has changed for most Filipinos. If you prefer the status quo, you'll get more of the same. If you are tired of the status quo, it'll be like the saying, it's the same old sh1t. Pardon my French.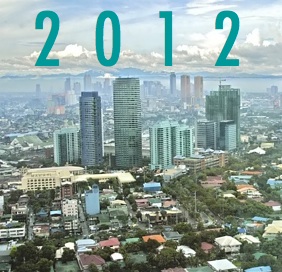 The Year 2011 will be marked as the year regular guy, Christopher Lao, got very annoyed at "not being informed" about the flooding on one of the streets of Metro Manila after his car got submerged when he tried to drive through floodwaters. The year finishes off with a Malacañang Palace official, Edwin Lacierda, admitting they were informed about the possibility of a flooding in an area that includes the cities of Cagayan de Oro and Iligan as early as several weeks after President Benigno Aquino III (PNoy) took over the presidency in 2010 but failed to act on the information.
Indeed, what one does with the information given to him or her could make or break his or her standing in society. When Malacañang just sat on the information, the effect was devastating. 1,249 deaths and millions of pesos worth in damage later, please be informed of the Palace admission that they simply dismissed warnings about the looming climactic catastrophe in the country. It is tantamount to admitting their incompetence. The word impeachment comes to mind…but we'll discuss that later.
In just a few days, we will be welcoming 2012 but the mentalities of some Filipinos are still stuck in 1986, back when the late former President Ferdinand Marcos was still alive. This is evident in the way some people still wear yellow clothing or paraphernalia the way the late former President Cory Aquino used to wear a yellow dress all the time during her heyday. Cory's son, PNoy even wears a yellow ribbon on his chest the way Hitler used to wear his swastika on his sleeve – proud and loud; meant to distract everyone from flawed reasoning.
2011 didn't start off well for PNoy and the Filipino people. PNoy's purchase of a Porsche in January also attracted some hard-hitting criticism. It was one of those times the incumbent President's lack of empathy towards other people became obvious to others especially the poor – those who live in squalor. His pleas not to judge him for buying a P4.5 million worth of sports car were ignored and the decline of his popularity rating by 13 points in March was widely attributed to that impractical purchase.
The Filipino people were apparently reminded of the perceived excesses of the past administration, which PNoy took every opportunity to rant about. Within just a few months after purchasing it, PNoy had to sell the Porsche citing that it drew too much attention whenever he drove it. His apparent lack of foresight even in simple things never ceases to amaze. He should have known that a Porsche would not blend in well in a country infested with tricycles and jeepneys.
Those who can't afford to buy even the tiniest of cars have to use public transport to get around the country. And riding a public bus was a mistake for 18 Filipinos, five of them dead and the rest injured when the bus they were riding in exploded along Epifanio delos Santos Avenue (EDSA) in Makati City in an apparent terrorist attack on the last week of January. Like with most things in the Philippines, the cause of the explosion remains a mystery to the public even after PNoy ordered a thorough "investigation". The glacial pace of every investigation ever conducted by our law enforcement agencies tend to result in the easily distracted public's waning of its interest in the case and in the process allowing those responsible for the crime to get away.
From low profile deaths to one high profile one — we come up to the death of a decorated general from the Armed Forces of the Philippines (AFP) General Angelo Reyes. The late general was embroiled in a scandal in which it is alleged that he skimmed off military funds when he was still an AFP chief of staff and received P50 million on his retirement. Reyes wasn't even on trial yet, but after having his dignity stripped and reputation tarred in a pointless spectacle mounted by some Congressmen and Senators, he committed suicide. The humiliation he received during a "routine" grilling in the Senate was too much for the elderly man.
It was former rebel and now Senator Antonio Trillanes who was said to have humiliated Reyes. Trillanes acted like a heavy-handed Pit Bull during one of the hearings:
"I'm just trying to protect my reputation here," Reyes then said. "I have served this government for 48 years."

"No, no, no, you don't have any reputation to protect," Trillanes said. "I believe this is the time of reckoning. … You better find very good lawyers."
What happened during the hearings involving the AFP could be what is in store for Supreme Court Chief Justice, Renato Corona at the start of the sessions in January 2012. Corona will be grilled by Senators "who hold their positions only by virtue of the popular vote and not by any other qualification of any consequence applicable to the task of systematically uncovering the truth. These are basically men and women who, with no formal training in cross examination, investigation, and the scientific method are let loose to feast upon 'persons of interest'."
2011 also marks the 25th anniversary of the first People Power Edsa revolution. The lack of economic and social stability in the country tells us that the pomp and pageantry the organizers prepared to celebrate the event is nothing more than what they call the smoke and mirrors effect. There is also an obvious irony in celebrating the anniversary of the toppling of a dictator considering the immediate family members of Marcos are now currently serving as public officials. PNoy's term is even beginning to look more and more like a dictatorship with allegations of him arm-twisting his allies just to get his way. Likewise, allegations of nepotism, favoritism, and incompetence also plague PNoy's administration.
More senseless Filipino deaths followed the senseless celebration of the Edsa anniversary this year. The Chinese government executed three Filipinos jailed for drug trafficking in March despite the embarrassing pleas from PNoy and his Vice President, Jejomar Binay for their sentences to be commuted. The appeals for clemency included three letters from PNoy to his Chinese counterpart and a taxpayer-funded visit to Beijing by Binay. Their efforts were all in vain because, as can be expected, the executions were carried out after the Chinese government turned down their request. This experience did not stop VP Binay from using the same tactic again with the next Filipino drug mule scheduled for execution. He might just keep doing it over and over for the rest of the 200+ Filipinos languishing in Chinese jails. It seems Binay is not familiar with the saying prevention is better than the cure.
Not everything that happened in 2011 was all bad news. It was this year when the Filipino people, at least the so-called "elite" members of the Philippine society finally said, "enough is enough" when it comes to dumb television shows like "Willing Willie". The show's host, Willie Revillame got embroiled in controversy after he bullied a crying six-year-old boy Jan Jan into mimicking the salacious dance moves usually done by the shows mainstay back-up dancers in exchange for money. Because of the ensuing uproar headed by outspoken social media mavens on the Net, some of the show's sponsors pulled out forcing Revillame to take a an indefinite leave of absence and hopefully reflect on his actions – if only for a short period in his "fun" life.
Good news comes to those who wait (that statement depends on whose side your on). This year saw two high-profile public servants resign after mounting pressure from their political opponents. First, it was one from PNoy's top ten hit list, Ombudsman Merceditas Gutierrez. Gutierrez filed her resignation after being impeached for allegedly neglecting her duty in failing to act on the criminal and administrative cases filed against former President Gloria Arroyo and her husband. In her statement, she said, "to fight through the months ahead for my personal vindication would, as it is, almost absorb my time and attention." Who can blame her when she was up against the PNoy machinery that spun the "guilty by association" propaganda around GMA?
Next to resign was Senator Juan Miguel Zubiri who filed his resignation following allegations of electoral fraud during the 2007 senatorial elections. The move was a first in Philippine political history. There has been no Filipino public official on record who resigned out of delicadeza or shame over the past. The allegations of cheating initiated by losing senatorial candidate Koko Pimentel reached a turning point after two high profile witnesses came out – suspended Autonomous Region in Muslim Mindanao governor and Maquindanao massacre suspect, Zaldy Ampatuan and a former election supervisor in Maguindanao. The development in this case is also the basis for the one and only case filed against GMA — electoral sabotage — that prevented her from traveling overseas.
As if Filipinos needed a reminder of how backward the country is, a town mayor proved how things are done wild, wild, west style. Davao City Mayor, Sara Duterte repeatedly assaulted a court sheriff back in July for defying her orders. Whether the order made sense or not was not the point, the point was that, what she says is the rule. Whether you are under her jurisdiction or not is not even the point, the point was that, what she says is the rule. Even her Facebook update confirms this: "Wala akong pakialam sa public opinon" ("I don't care about public opinion"). After another thorough "investigation", the Department of the Interior and Local Government (DILG) opted not to charge Duterte despite admitting that her actions were wrong. Goes to show that in the Philippines, the padrino system still trumps the rule of law even (or specially) when an Aquino is in power.
In a surprise attack in October, members of Moro Islamic Liberation Front (MILF) ambushed 40 members of the Special Forces of the AFP in Al Barka, Basilan Province resulting in the deaths of 19 soldiers. Both the MILF and the AFP are pinning the blame on each other. The MILF says that members of the AFP violated a cease fire agreement when they encroached an area known for being an MILF camp while the AFP defended its troops saying that they did not intrude and were about 4 kilometers from it when they were fired upon by the rebels, prompting the troops to fight back.
The death of the soldiers put to question PNoy's secret meeting with MILF Chairman Al Haj Murad in Kuala Lumpur back in August. It also came to everyone's attention that PNoy gave P5 million to the rebel group during the said meeting, which some suspect were used to buy guns and ammunition, which were then used against the military. If only PNoy was more transparent with his plans, it all would not have backfired on him.
Horror of all horrors, 2011 was the year international boxing champion; Manny Pacquiao almost lost a boxing match to Mexican boxer Juan Manuel Marquez. "Pacquiao was the aggressor throughout, and landed some sharp punches of his own. But when the decision was announced, the crowd booed roundly and, once again Marquez had lost a close fight. One ringside judge had it a 114-114 draw, while two others favored Pacquiao by 115-113 and 116-112. The Associated Press had it 114-114." Pacquiao won on technicalities but the question remains: what would most Filipinos do when Manny finally loses aboxing match? Are they still going to be "proud to be Pinoy" or are they going to bury their heads in the sand in shame?
The third runner up for the highlights of 2011 was the total disregard for the rule of law and the defiance of the Supreme Court by PNoy and Department of Justice (DOJ) Secretary, Leila De Lima. De Lima justified putting GMA on the "watch list order" and "hold-departure orders" using her gut feel and an "unverified" text message from "an unknown source" that GMA is seeking political asylum in the Dominican Republic; a claim that was denied by the Dominican Republic's foreign minister, Carlos Morales Troncoso.
Pandemonium erupted when De Lima ordered officers at the Naia International Airport (NAIA) to bar GMA from leaving for Singapore for medical treatment despite no charges so far being filed against her related to anything used as bases for the ban, and despite the Supreme Court putting a temporary restraining order on the travel ban on GMA. Her move resulted in her being questioned by the Supreme Court for acting as if she is "more powerful than the court". The justices also questioned her impartiality in handling the criminal case against GMA. One SC judge also asked De Lima to refresh her understanding of the Bill of Rights and the legal principle of the rule of law.
In an apparent act of retaliation, De Lima then issued a stern warning to the ten justices appointed by GMA that they also face impeachment similar to what happened to Chief Justice Renato Corona stating "PNoy was reclaiming the court for the people". If we are to interpret that, it seems PNoy and his minions have made it their mission to get rid of the judges who ordered the distribution of their family's land, Hacienda Luisita.
And the 2nd runner up for the highlights of the year goes to Chief Justice Renato Corona's impeachment. I also think that CJ Corona should bag the title "the coolest guy" in the Philippines for 2011. Not that I think he is necessarily innocent of the allegations against him. I just think that CJ Corona acted with dignity throughout his ordeal. His trial may not be over but he has won many supporters just by acting like a gentleman while PNoy acted like a toddler throwing tantrums and hurling insults directed at the Chief Justice on a number of occasions.
CJ Corona also knows how to deliver a speech and make a point. Some may have already judged him by his mere association to GMA, but his resilience is undeniable. Being cool is not defined by the number of likes one gets on Facebook or the number of supporters gathered by survey firms. "Being cool is being comfortable in your own skin. Everything stems for that." And CJ Corona seems like the type of guy who acts that way. I just hope that the Senators in charge of his impeachment trial will not make a mockery out of his plight.
If the past Senate and Congressional hearings are any indication, Corona's trial will be another chance for some senators and congressmen to make a name for themselves by acting like jackasses. Pardon my French. Some who are rabid supporters of PNoy might use it as an opportunity to pressure Corona into resigning the way they pressured Ombudsman, Guttierez earlier this year. PNoy seems confident enough that the Corona will be gone by next year because he already ordered his legal team to come up with a list of possible replacements to CJ Corona. Never mind that the list of the nominees should actually come from the Judicial and Bar Council, which nominates candidates to the Supreme Court.
The year 2011 culminates with the unfortunate deaths of about 1,249 Filipinos as of this writing from the killer flood that struck Cagayan de Oro and Iligan cities. "Tropical storm Sendong brought heavy rains, overflowing rivers and flash floods to the southern Philippines from December 16 to 18, sweeping away whole villages built on sandbars and riverbanks."
Cagayan de Oro City (CDO) Mayor Vicente Emano said they were not warned of the strength of Sendong but new revelations indicate that the Aquino government received warnings "from the Climate Change Congress of the Philippines several weeks after President Benigno Aquino III took over the presidency in 2010. The group claimed it repeated the warning to several Cabinet officials, but it remained unheeded." This prompted Environmental advocacy group, Kalikasan People's Network for the Environment (KPNE) to say that the Aquino administration should be held accountable for the disaster in "Mindanao's key cities, Iligan and Cagayan de Oro, for allegedly 'coddling' loggers and [for a] lack of disaster preparedness that could have saved thousands of lives."
It makes perfect sense for the Aquino government to be held accountable for the devastation. Their government was the one who received the warning not the previous government but they chose to ignore it because their priorities are wrong. There's just no way to blame this on GMA. I would be surprised if they do not own up to this. But then again, when it comes to PNoy, nothing should surprise us anymore, unless of course part of his 2012 New Year's resolution would include quitting his habit of pursuing retribution so he can have more time to concentrate on rebuilding the country.
And that was the year that was 2011. To us who monitor and evaluate the people involved in, the events that transpire over, and the ideas that underlie our nation's deepest issues and most formidable challenges, 2011 was a year packed with much to talk about. But perhaps to the average Filipino, 2011 will be just another year like many before it and, most likely, like many more to come — years where they scratched and will continue to scratch together the meager living that has come to consistently characterise their lot.
In life, things are not always what they seem.