The last several days saw a frenzy of commentary and speculation around the video Aquino-Cojuangcos: Facts They Don't Want You To Know (which we shall refer to as just Facts when citing it henceforth) where some revealing and unflattering information about the feudal clans of the Aquinos and Cojuangcos currently ruling the Philippines in tandem were laid out in a brilliant showcase of moving picture artistry. Its enigmatic producer who goes by the name Baron Buchokoy and who runs the YouTube channel PinoyMonkeyPride understandably is coming under scrutiny and has since attracted attention from Philippine mainstream media. Despite the unsurprising glib dismissals of the information presented in Facts by Malacañang, the clamour for an interview with Buchokoy have been persistent.
Pressed for comment on these numerous invitations to come out for an interview, Buchokoy had so far given the following response to writer Paul Farol: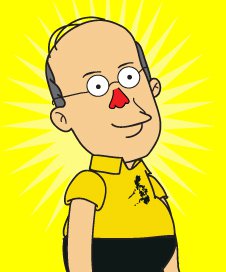 Thanks [for the] offer. But I want to maintain my efforts as an idealistic effort. Meaning I don't want to attribute it to one person (me). If I stay anonymous, it would be easy for people to become part of it. Until a solid figure who embodies "Fight Filipino Ignorance" comes out.
In the above short statement, Buchokoy sends out an important message to Filipinos:
Focus on the issues.
Though I myself would consider it a privilege to be sitting in the same room as Baron Buchokoy picking his brains, I think I could respect his coyness. Indeed, Buchokoy stands in stark contrast with some of the more high-profile "opinion shapers" out there who compensate for a lack of substance using spectacular displays of flamboyance.
Compare (1) the challenge faced by an obscure personality attempting to send out an important message with (2) that of a celebrity attempting to send out a message that is trivial. Hands down, celebrities succeed and get paid the big bucks while they are at it. This punctuates the astounding tragedy in the reality of the business of shaping opinion — it is usually the opinions of the loud and vacuous that get the most traction in our society. And that is what makes people like Baron Buchokoy absolutely remarkable. With no profile, no face, and no name, he succeeds at reaching out to hundreds of thousands with a relevant message.
Perhaps this is where we begin to understand the Mainstream's interest in getting Buchokoy to come out and make himself known. The Mainstream gets its rocks off pumping out content devoid of substance using named and credentialled celebrities. The fixation on getting a mike and a camera shoved into Buchokoy's face, it seems, represents a subconscious desire to pull the man by the ankles down to the abyssmal level of the Philippine mainstream.
We can imagine what might be going through the minds of our fat-cat media execs and "communications" bureaucrats:
How does an obscure Nobody get a message out to a vast audience for free while we routinely pay tens of millions to bozos like Sharon Cuneta and Ai Ai de las Alas to pitch our bullshit?
Well, I suppose when one needs to ask, one will never get it. Many self-described "social media practitioners", media "consultants", and "publicists" regularly walk into politicians' offices with their Power Point presentations articulating one or the other seven-step "process" towards "achieving" their popularity goals. It's big business. And the fact that it is so is a testament to how true substance remains the rare Earth element that it always has been — despite all this technology we now have at our disposal.
As what was said to have been said by the late Eleanor Roosevelt…
Small minds discuss people
Mediocre minds discuss events
Great minds discuss ideas.
benign0 is the Webmaster of GetRealPhilippines.com.