Indeed. We've written so many of them already, and yet here I am writing yet another one. To be fair, writing anti-jeepney articles is one of the easiest things. For some background on our proud tradition of anti-jeepney, check out this little animated GIF…

This animated GIF was hand-crafted by Yours Truly way back in 2000 — back in a time when criticising what were then pillars of Philippine society and culture, jeepneys included, was regarded as shocking. Our regard for many of these formerly shocking insights on Filipino culture has since been normalised and now form part of polite conversation: that Filipinos' tropical culture predispose them to a lack of foresight; that Filipinos suck at saving, accumulation, and, therefore, capital expansion; that ours is an inherently unjust society despite it being constituted by an outwardly religious people; and that all these facets of Filipinos' culture dysfunction find their collective embodiment in the jeepney.
Jeepneys, in short, represent everything that is wrong with the Philippines. Nonetheless, these derelict contraptions continue to apply an astounding grip on the sensibilities of the country's foremost "thought leaders". In a recent Rappler "report", Isagani de Castro Jr presumes to compare jeepneys to vehicles that had become "cultural icons" in other countries.
Can you imagine the Philippines without its jeepney? Or Thailand without its tuk-tuk? Hong Kong without its Star Ferry? London without its double-decker bus?

These modes of transportation have become cultural icons in these places, and phasing them out would mean losing part of that territory's soul.
It is interesting that de Castro, in his "report" also wrote about Japan's streetcars and how, along with the other examples he cited above, gushed about how they are "prime examples of how cultural transport icons boost tourism". De Castro failed to remind his readers that pre-war Manila had, itself, been known for its iconic streetcars. Manila's tranvias have been cited as once-upon-a-time being the "envy of Asia". Adrian Gamble wrote about these, at the time, "modern steam- then electric-powered streetcar and interurban rail service that once lined the streets of the Philippine capital" which "consisted of nearly 100 kilometres of track and carried more than 35 million passengers during its peak in the 1920s."
By the 1920s and into the '30s, the Manila Tramway became one of the most extensive tram networks in Asia, rivalling those in far more populated cities like Hong Kong (600,000 by 1930) and Tokyo (4,000,000 by 1930). Its 100-kilometre urban and interurban service carried a recorded 35 million passengers during its peak year in 1925. The tramway was a central part of the rapidly modernizing city, as the former colonial port town was growing up fast. The American influence and capital that had flowed into the Philippines following the US takeover brought with it a host of impressive Beaux-Arts and later Art Deco edifices, as a series of new office towers, government buildings, and train stations began to transform the Philippine capital.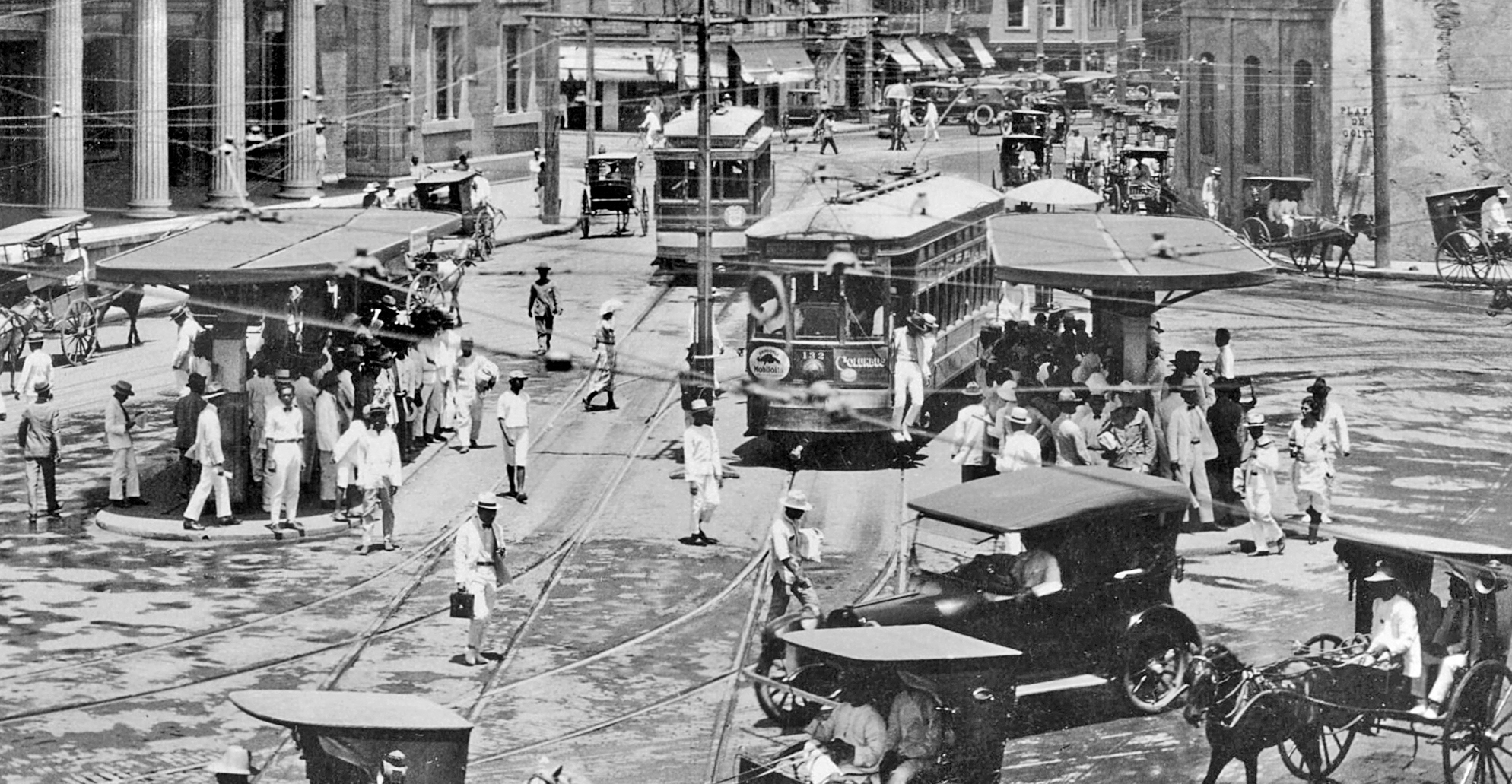 To prop the jeepney up alongside historic public transport icons of other countries and leave out the one that actually holds a stronger claim to that pedestal attests to the selective "thinking" that Filipino "thought leaders" apply to their work. The way Filipinos habitually choose mediocrity over world-class achievement manifests itself today in how the Philippines lags far behind its peers in Southeast Asia in the development of modern mass public transportation. Why do Filipinos find such disturbing comfort in short-sighted solutions to their most profound problems. The mystery persists.
benign0 is the Webmaster of GetRealPhilippines.com.