Our Signal group was having discussions about the looming jeepney strike and the talk eventually reached the point that my economist friend proposed that they cancel all the franchises and award them to private groups who can provide the better, if not the best service. He's definitely on to something.
Part of the reason why we have serious problems in the National Capital Region (NCR) is a lack of long-term planning. The late former President Ferdinand E. Marcos put order into the transport system by organizing the routes to be plied by transport consortia, with the slack filled up by the state-owned Metro Manila Transit Corporation. This was all abolished after Marcos was ousted which is why we find ourselves in the mess that is the NCR today. This week's public transport strike is supposed to be not because of the modernization plan but how it's being carried out. Bottomline, the drivers and operators are asking the government for a subsidies. They're not content with what the government is providing. These selfish morons, supported by the leftist-liberals, want to take their countrymen for a ride, pun intended, by frying them in their own taxes.
Yep. We're going to be financing their livelihoods, without deriving much benefits because there won't be significant changes in the way jeepney drivers behave on the roads. Since there's road scarcity owing to the increasing population of commuters, mass high-density transport is the best solution. This entails moving more passengers with less vehicles on the road at peak hours. This is why there's a need for point-to-point, intermodal transport system. As it turns out, the Department of Transport (DOTr) has asked local government units (LGUs) to come up with their own transport roadmap. This is logical given they have control over their jurisdictions. A hub and spoke system works best with short distances covered by modes of transport which feed into the hubs where there are transport modes capable of carrying a higher volume of passengers. There's no reason why a system can't be put in place.
The only real issue is the opposition to the need for change. This is the main stumbling block. The bigger problem is how the jeepney operators and drivers perceive themselves to be a power bloc because they represent votes. They claim to be a "marginalized sector". They're supposedly "poor". But we have an Ateneo-educated jeepney driver's daughter; a certain Reycel Hyacenth N. Bendańa…
(1) Bakit nga ba may transport strike?

Hi mga marites!

Ako po si Hya, anak ng jeepney driver na 2-dekadang nagmamaneho at ipapaliwanag ko sainyo kung bakit may strike at ano ba ang "JUST TRANSITION"#NoToJeepneyPhaseout pic.twitter.com/tBa3i7ShyJ

— Reycel Hyacenth Nacario Bendaña (@hyabendana) March 4, 2023
…who takes more pride in developing her professional career the wrong way because she is entitled. Note, in her CV below how much of what she regards as personal achievements include contributing to the protest rallies mounted by left-leaning "cause-oriented" groups.
[NB: Following CV was publicly available for download from Linked In at the time of this writing.]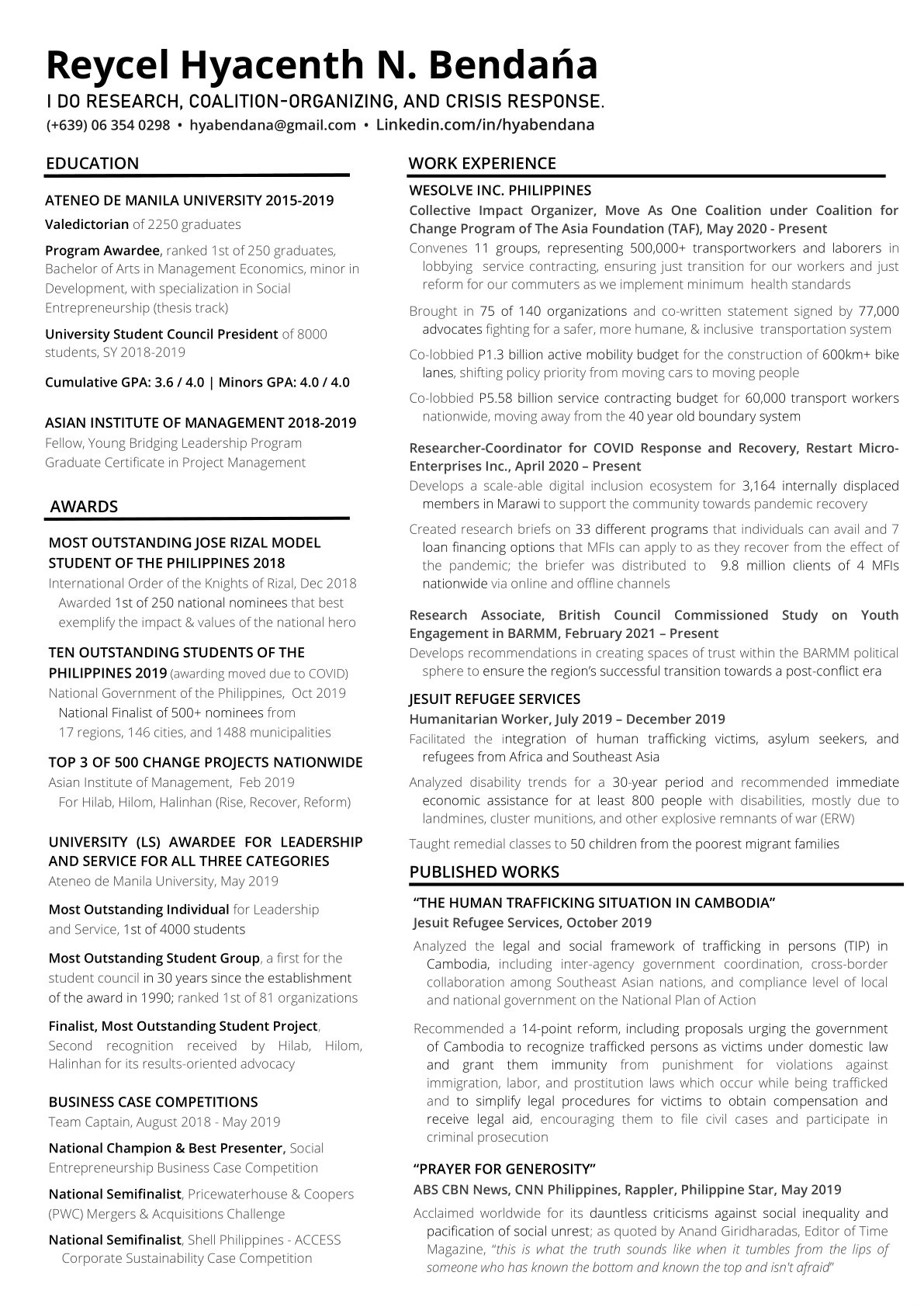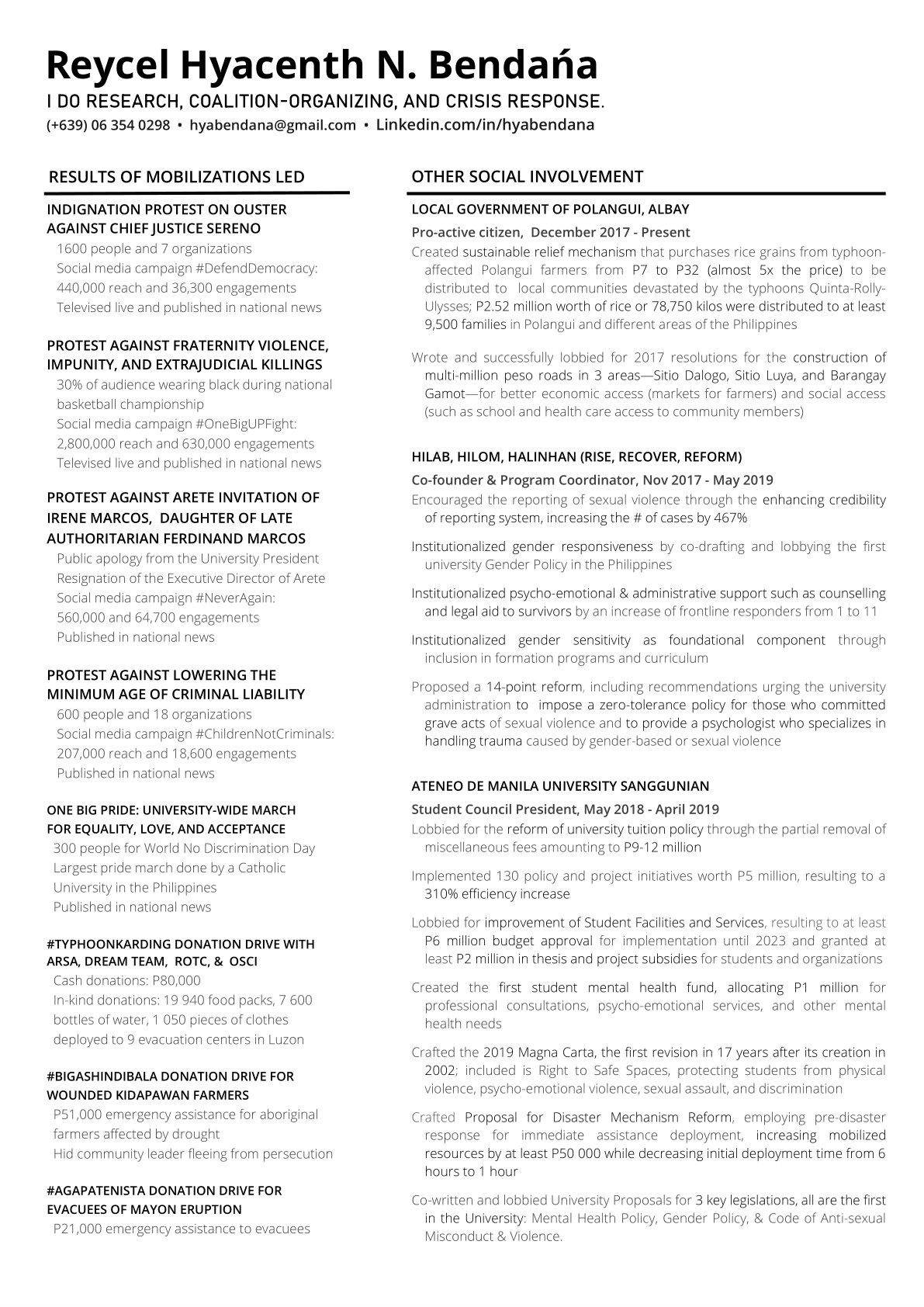 Imagine a valedictorian of the Ateneo de Manila University no less devoting an entire section of her CV to the "results of mobilizations led"! Awesome, right? These leftist-liberal wokes are the bane of our existence because they make others believe in the causes they espouse but only have their selfish interests at heart. We shouldn't let ourselves be fooled by these gaslighters.
Cook wide reader political crackpot music afficionado old soul out-of-the box thinker aspiring writer tech geek gearhead