Yellowtard social media personality Mia Magdalena F. Longid is the most recent of a series of Opposition "online activists" to find themselves in hot water over an ill-thought-out post on the Net. Preceding her over just the last several weeks is a small (more like the tip of the proverbial iceberg) virtual Hall of Yellowtard Social Media Infamy:
(1) The venerable Zyza Nadine Suzara (a.k.a. "Budget Babe") who, without sound bases, accused two authors of this site of committing "plagiarism"
(2) "Evil nurse" Faith Nester Poltic who allegedly tweeted a callout to her fellow nurses to kill former First Lady Imelda Marcos using lethal means most nurses have access to
Joining Suzara and Poltic is Longid who, unfortunately for the latter, is at the stage the prospect of which the earlier two are likely shittin' bricks over. The plaintiff in the case against Longid is Ana Maria Paz Rafael, a former assistant secretary of the Presidential Communications Operations Office. In late 2021, Rafael was designated manager of the Benguet Electric Cooperative (BENECO) by the National Electrification Administration (NEA) — a move that prompted the Provincial Board of Benguet to declare Rafael persona non grata (full Inquirer "report" here).
It is likely that Longid, who is a resident of Baguio City and the (now possibly former) registrar of ultra-exclusive Brent International School there, thought she'd run with this and take initiative to mount her own "fight" against Rafael. It seems, though, that she may have encountered a bit of a setback. What seem to be images of documents outlining the resolution of Rafael's complaint against Longid, which covers offenses related to R.A. 10175 (the Cybercrime Prevention Act) and R.A. 7610 (Special Protection of Children Against Abuse, Exploitation and Discrimination Act), have since been circulating on social media.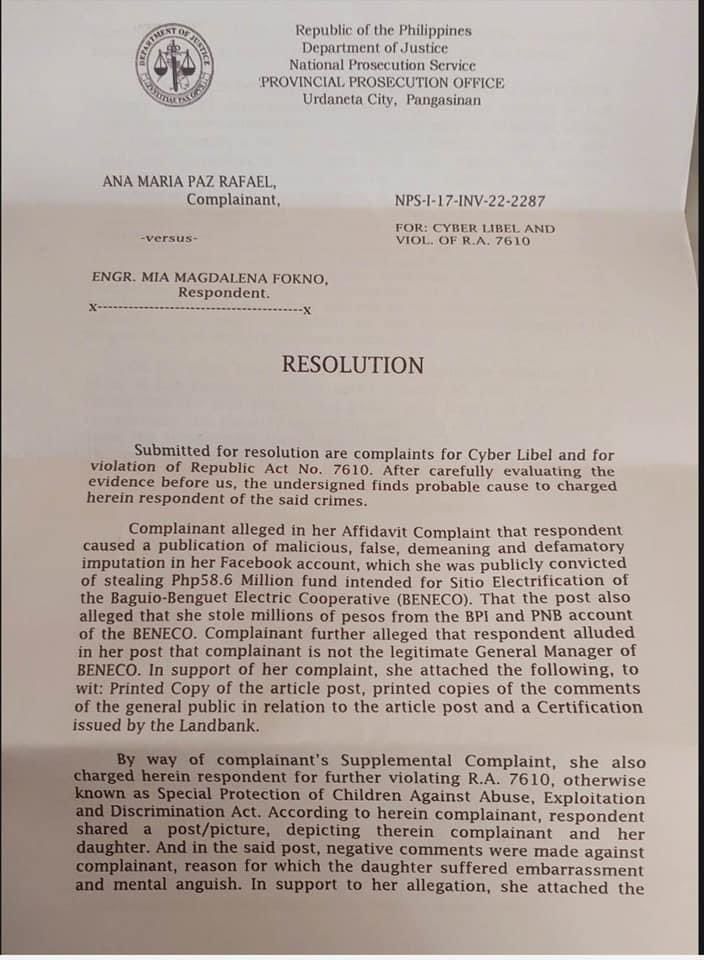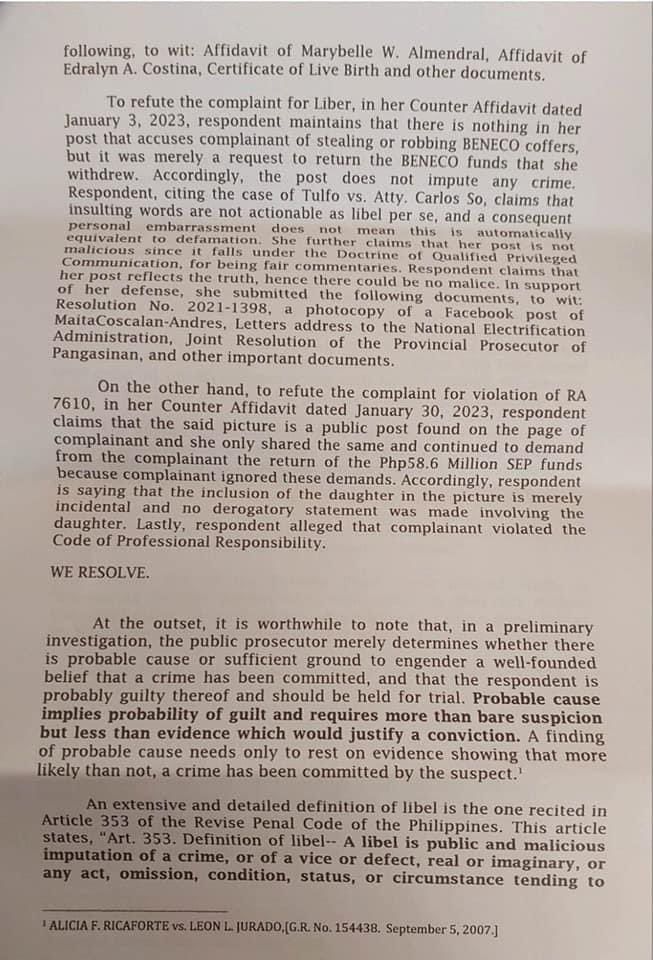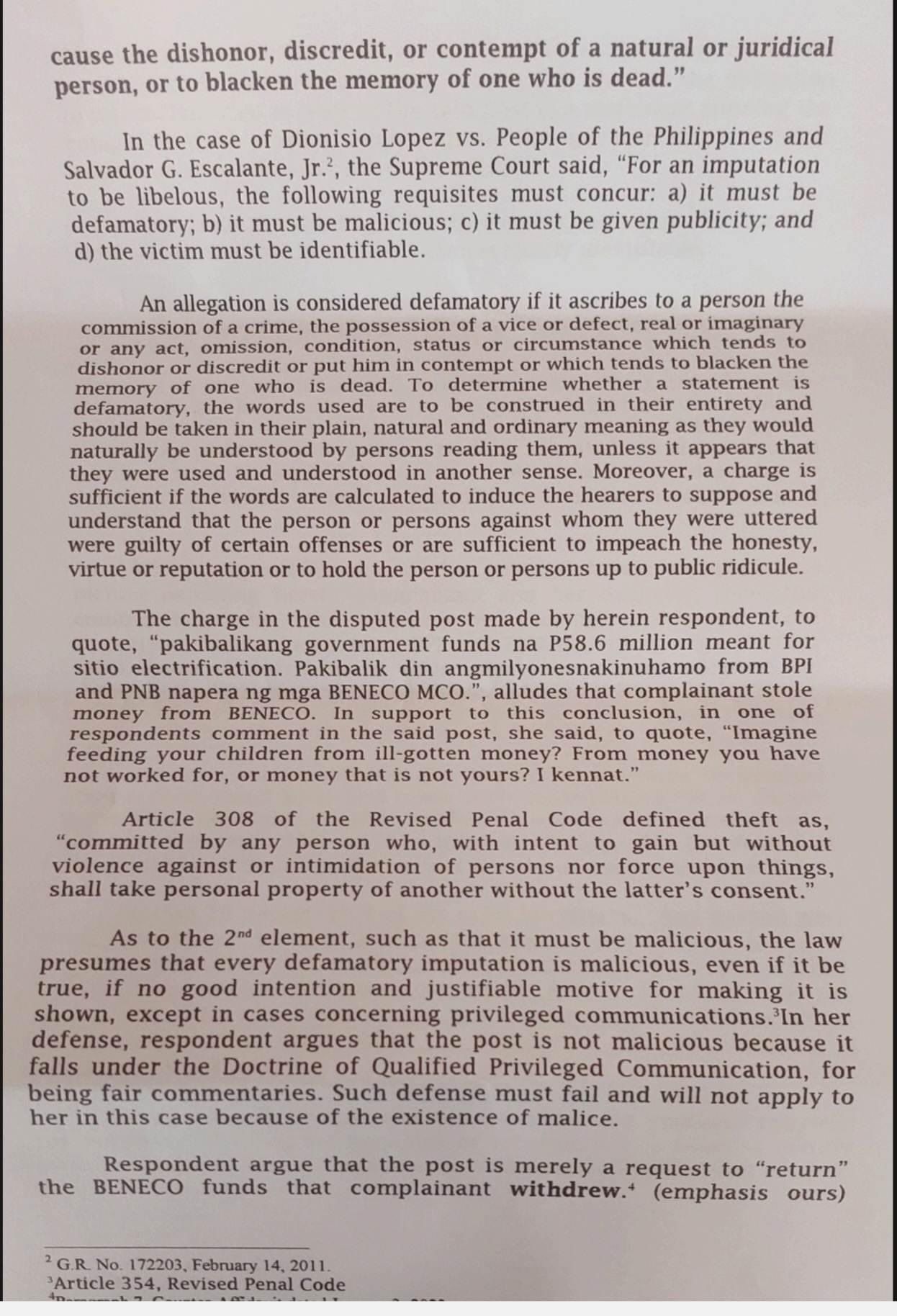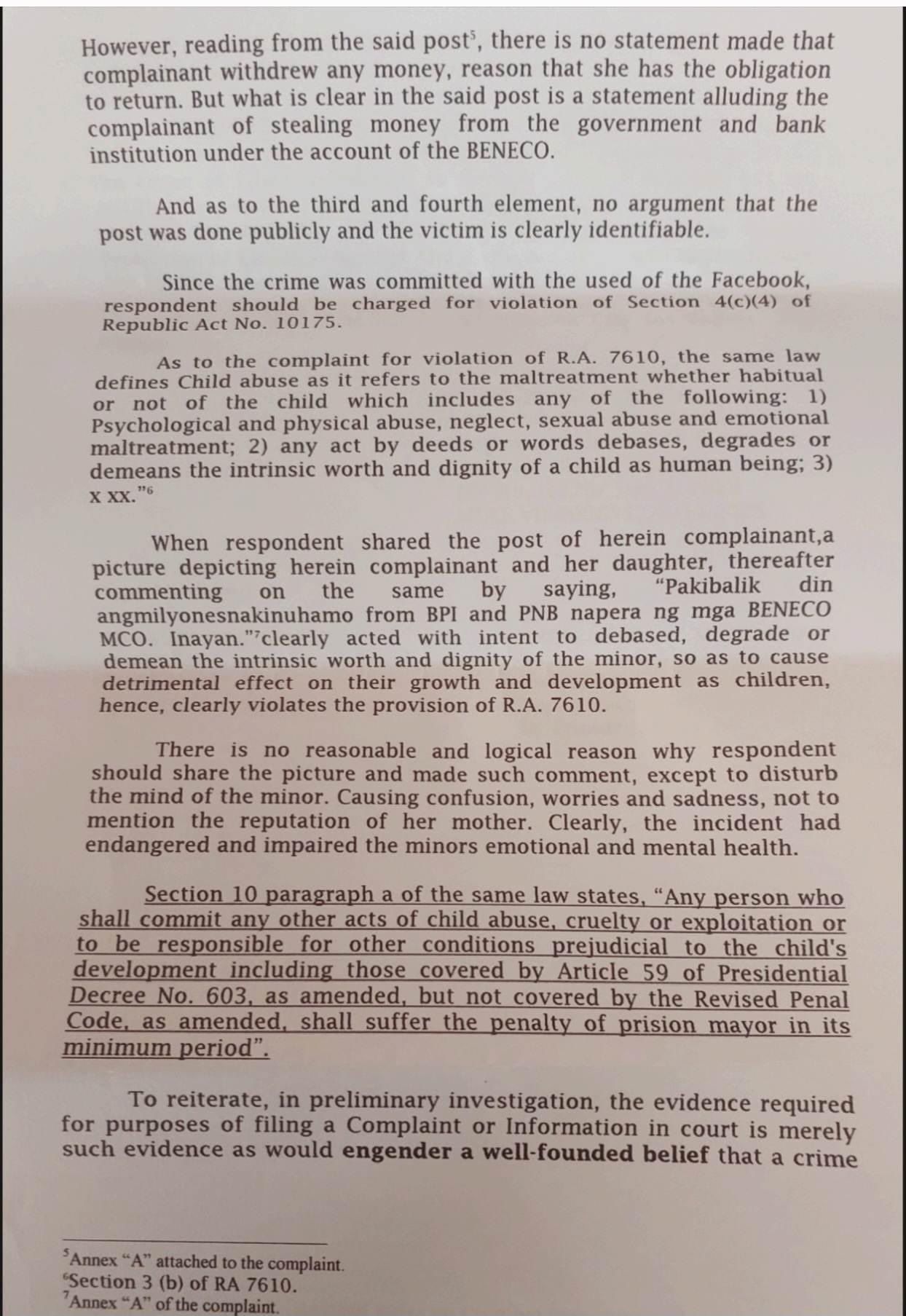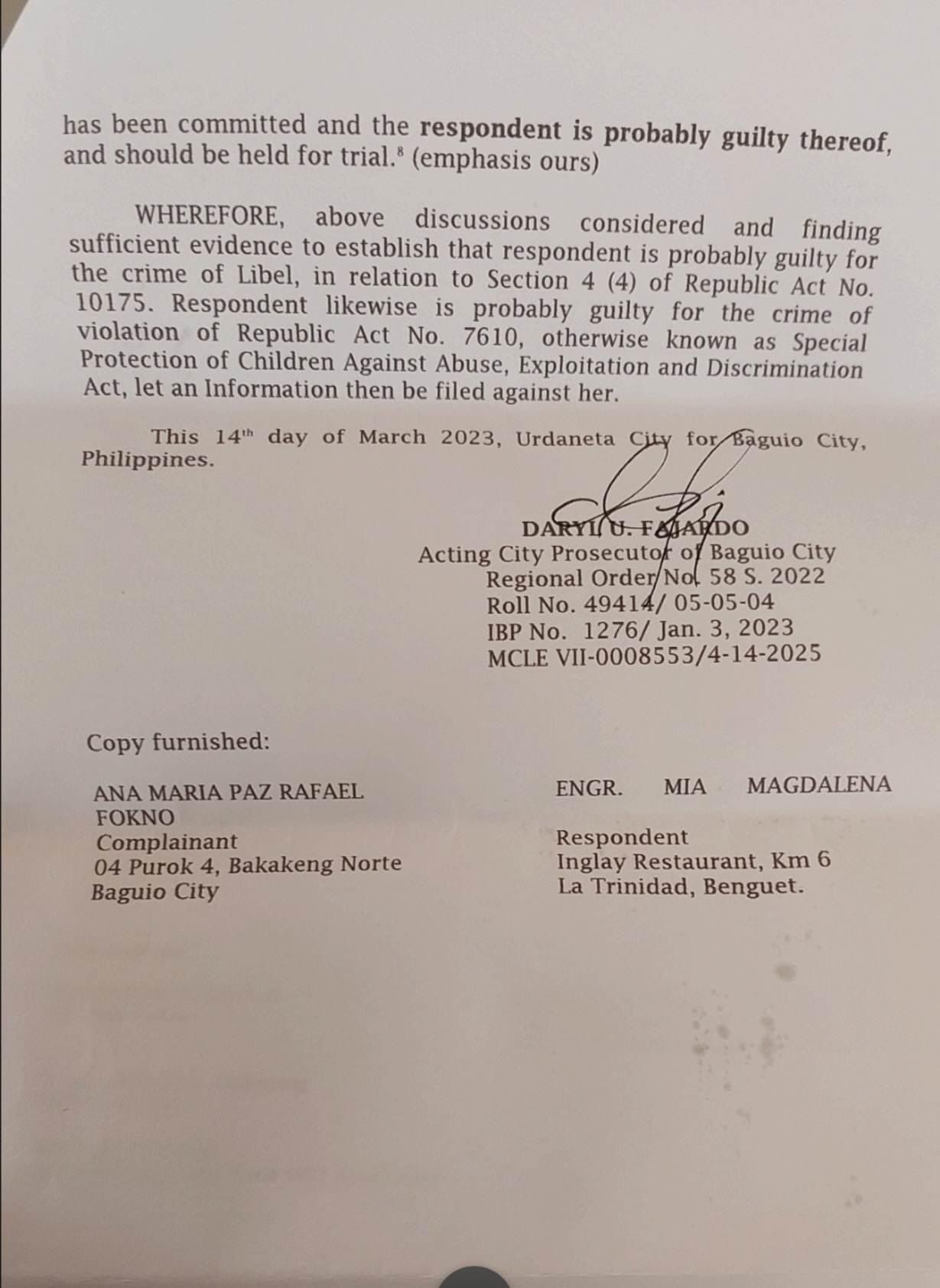 Rafael alleges that Longid published a post on Facebook containing the text, "pakibalik ang government funds na P58.6 million meant for sitio electrification. Pakibalik din ang milyones na kinuha mo from BPI and PNB na pera ng mga BENECO MCO" [Translated: "Return government funds amounting to 58.6 million pesos meant for the sitio electrification. While you're at it, return too the millions you stole from the Bank of the Philippine Islands (BPI) and the Philippine National Bank (PNB) which are monies beloning to the BENECO Member-Consumer-Owners (MCOs)]. According to the above document Longid argues that the post is "merely a request to 'return' the BENECO funds that [Rafael] withdrew". The second offense related to the Child Abuse Law is in relation to Longid's alleged including in said Facebook post "a picture depicting herein complainant and her daughter". Daryl Fajardo, Acting Baguio City Prosecutor asserts, "There is no reasonable and logical reason why [the] respondent should share the picture and [make] such comment, except to disturb the mind of the minor."
Interestingly enough, Longid is also chums with Rappler Chief Executive Officer and Nobel "Peace Prize" laureate Maria Ressa.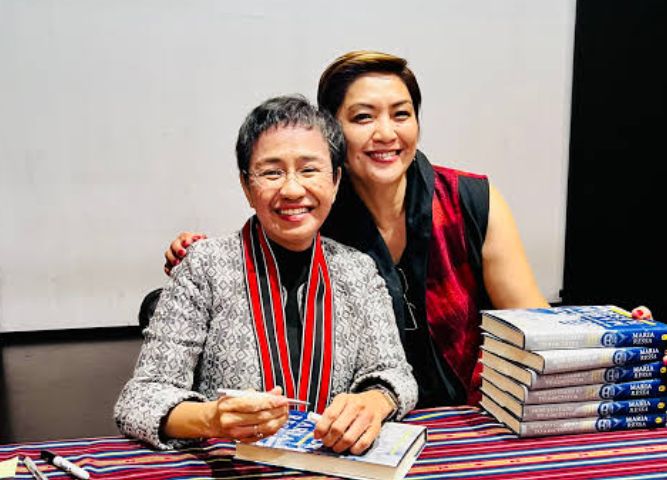 Recall that Ressa was herself, along with one of her "reporters" Reynaldo Santos, Jr. (no longer an employee or Rappler), successfully sued for libel by buesinessman Wilfredo Keng. A disturbing pattern of slanderous and murderous behaviour seems to be emerging from the Yellowtard community — something the broader Opposition ought to pay heed. This is, after all, a community who routinely mount shrill "activist" campaigns against "disinformation" and all of that "evil" stuff that they blame for the catastrophic loss of the Opposition over three consecutive national elections. The irony in their behaviour evidently flies way above their pointed heads.
benign0 is the Webmaster of GetRealPhilippines.com.