It all started out as a benign response to a tweet issued by GMA Network "broadcast journalist, anchor, host, documentarist and podcaster" Howie Severino. Evidently (at the time of this writing) travelling from Manila to South Korea soon, the eminent "journalist" tweeted, "Dear recent travelers to Korea, any new Covid/health requirements?" Only wishing to help, I tweeted what I thought was a helpful a response.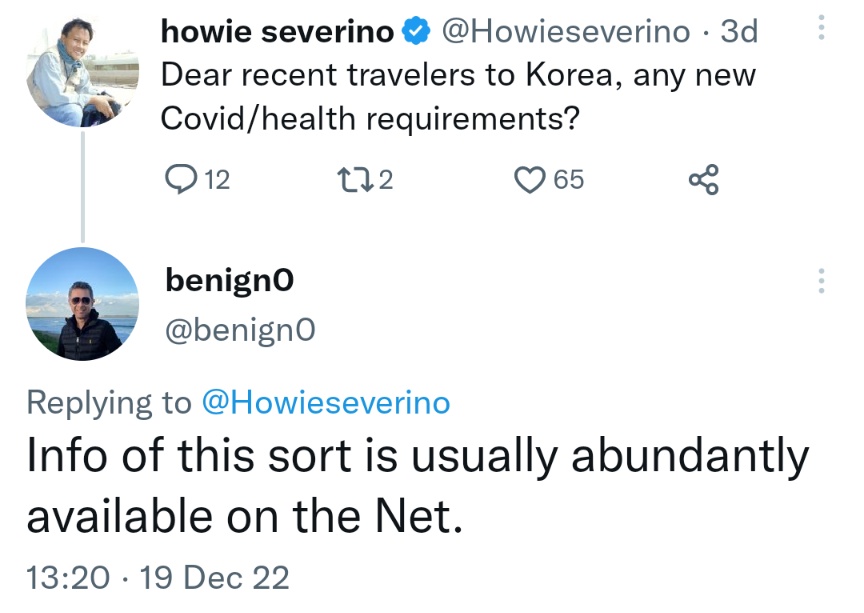 Clearly this was not something the admired "broadcaster" found insightful and the outcome of this lack of curiosity is an all-too-familiar Yellowtard response.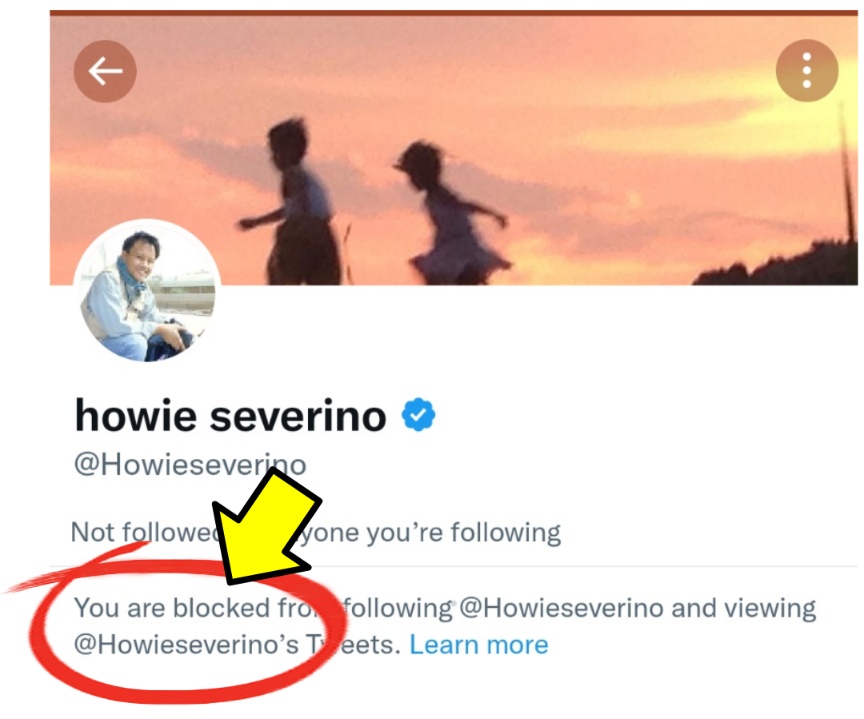 Interestingly enough, one of his followers — a certain Mary Anne Señir — later shared some research on the matter that she had taken the initiative to undertake and provided a link to a website run by the embassy of South Korea in the Philippines.
Hi, Sir. I've been doing a research on travel requirements of top destinations of Pinoys. Got this from the Korean Embassy visa section on Dec 14. Here's the link mentioned in the email [Link provided]
The link opens a page containing the information Severino sought. Dated the 4th October 2022, the notice reads "Notice on the Lifting of PCR COVID-19 test after entering to the Republic of Korea(From Oct.1, 2022) […] We inform you that those who entered the Republic of Korea after midnight on October 1st do not have to undergo the COVID-19 PCR TEST after entering the country." The date of the notice, perhaps, was something that gave Severino doubts prompting him to earlier tweet, "Much of the online info on Korea requirements seems outdated or conflicting. Info from real-world experience helps. Thanks friends :-)"
Whatever Severino meant by "info from real-world experience", it seems the revered "documentarist" would rather believe disembodied voices on Twitter than a reliable source-of-truth such as a page from the Korean Embassy website. This is perhaps an outcome of the the Philippines being host to a low-trust society. Nonetheless, that didn't stop him from retweeting the tweet, perhaps realising that he is, in fact, surrounded by idiots he decides he would rather not trust.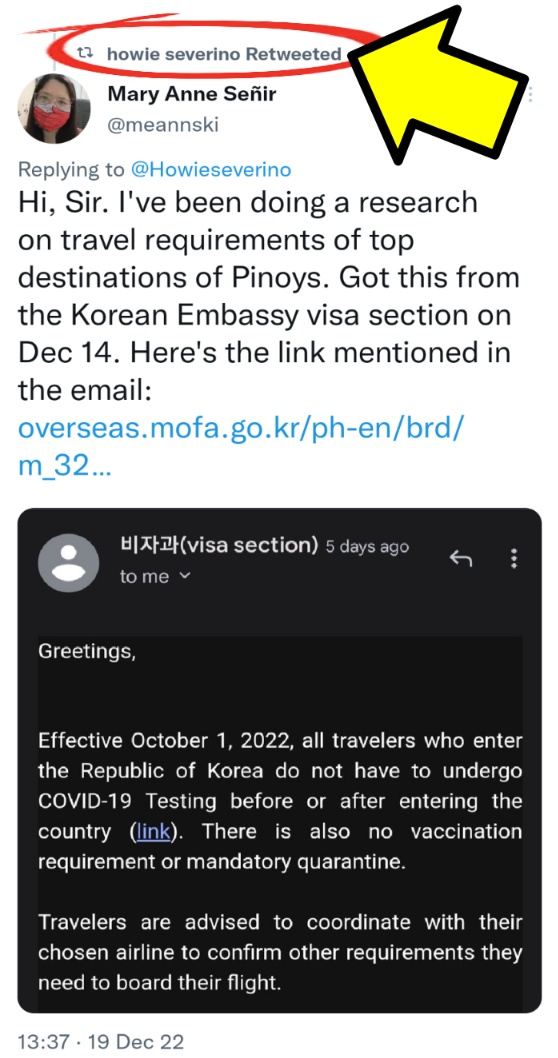 This sort of behaviour coming from a "thought leader" of the Philippine "journalism" establishment reveals the character of said community. It's no wonder that Philippine "journalism" is at the state it's in seeing how its top opinion-shapers are comfy "crowdsourcing" information that would otherwise have best been sourced from more authoritative channels. Acting and reacting on the basis of hearsay is at the root of much of the world's evils and it is ironic that this behaviour is most observed in the leaders of a political camp that habitually shrieks the loudest about the "evils" of "disinformation".
benign0 is the Webmaster of GetRealPhilippines.com.