Many Filipino-Americans claim that they are part of the great immigrant movement that contributed mightily to building the great nation that the United States is today. The claim is based on the notion that America is "a country of immigrants" — that its motto was once a call to the world to…
Give me your tired, your poor,
Your huddled masses yearning to breathe free,
The wretched refuse of your teeming shore.
Send these, the homeless, tempest-tost to me,
I lift my lamp beside the golden door!
This is an excerpt from a sonnet written by American poet Emma Lazarus that is engraved on a plaque mounted on the pedestal of the Statue of Liberty which has come to symbolise the immigrant plight that built the Land of the Free.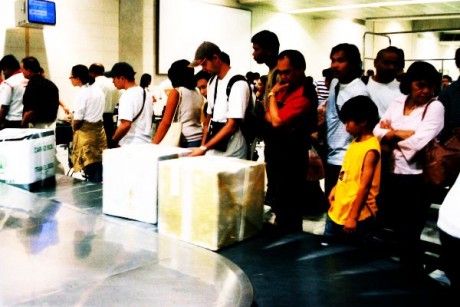 Indeed, the wave of European immigrants that streamed into America's shores brought the energy that comes from a collective yearning to break away from old traditions and social structures that had long stifled innovation and social mobility in the Old World into a land where a right to engage in a noble "pursuit of happiness" by everyone is enshrined in its charter.
The question that's always bugged me is how exactly the Filipino immigrant community has contributed to America in a way significant enough to be counted as a part of the national equity of overall immigrant achievement.
America's wealth is built upon a foundation of collective prowess across virtually all political, cultural, and commercial aspects that make a nation great. It was the first to implement its brand of a democracy in the vast scale we see it working today. It remains the world's foremost cultural capital with much of the planet's people's idea of "coolness" hinged, for the most part, on the brands Americans created and ways of life Americans lead. Its industrial and military might remains unparalleled and is an outcome of Americans' tradition of scientific and technical excellence and the bold enterprising spirit that applied these to the business of creating tangible wealth.
So let us step back from that and take stock of how much of that Filipino-Americans really account for.
Let's start with being real about how much of those aspects of national greatness Filipinos, themselves, possess as a people. Are Filipinos a great entrepeneurial society? Are they known for scientific and engineering excellence? Are Filipinos renowned for an egalitarian society composed of citizens who are mutually-supportive of one anothers' success? Do Filipinos place achievement over and above credentials and family affiliations? Are Filipinos famous for their industry, frugality and focus on creating and accumulating wealth sustainably through productive enterprise to create commercial legacies that transcend generations?
Just a quick browse of today's Fil-Am news gives us an idea of the smallness of the sorts of events that the community regards as newsworthy enough to make their top headlines.
10-year-old Filipino-American singer bringing good luck to Warriors…
The Golden State Warriors' unleashed their most lethal weapon against the Cleveland Cavaliers in Game 1 of the NBA Finals on Friday.

And it's not the MVP Steph Curry, neither the sweet-shooting Klay Thompson nor defensive specialist Andre Iguodala or any of the players.

It's the charming 10-year-old Filipino-American girl named Nayah Damasen, who sang the national anthem before tipoff.
And this…
June 12 Independence Day anti-China protest rallies set
Those who cannot physically attend the protest rallies are asked to join their selfie campaign. "Please take a cell phone photo of yourself holding a sign saying "China, go away! #Kalayaan is ours!", "China, alis diyan! Amin ang #Kalayaan!", or a translation of that in your local language. You may pose in front of the Philippine flag or map. Post the selfie in your timeline, use it as a profile picture, and tag the Martsa para sa Kalayaan Facebook page," Reyes urged.
Last but not least…
Filipino Canadians campaign for Tagalog language education in B.C. public schools
In 2010, more immigrants came to Canada from the Philippines than from any other country. And in the 2011 census, there were 662,600 Canadians of Philippine ancestry.

[James Infante, a member of the University of British Columbia Filipino Students' Association] said that Tagalog classes could enhance the connection between second-generation Filipino Canadians and more recent arrivals. Those newer immigrants sometimes include children of people who may arrived through the live-in caregiver or temporary foreign worker programs. (Late last year, the federal government scrapped the live-in requirement for people moving to Canada under the caregiver program.)

"What we've seen through the years is a lot of parents make the choice of having their kids learn English first," Infante said.
Whether it be branding a trivial contribution to a vast enterprise as a "lethal weapon", or petitioning the inclusion of a no-added-value dialect as a bridge to a culture and tradition that offers little support to one's personal aspirations, or mounting activist spectacles in vain attempts to move a rapidly awakening regional superpower, Filipinos remain consistent to their famous Heritage of Smallness.
But America is the land of the big. Everything is big — big food servings, big highways, big cars, big celebrities, big army, big adventure, big capital, big money. It is not surprising that Filipinos find a niche in such a society by inserting themselves in the small spaces in between these big achievements — the caregivers, the burger flippers, the quaint Tagalog poets, and the real estate hawkers that we try to avoid (or at least grant some token small talk to) in those cocktail parties.
Indeed, with Filipinos exhibiting such a sorry track record of making waves (or even ripples, at least) in the global stage, one begins to wonder whether America or any of those great countries that host a sizeable Filipino community would really like Filipinoness rubbing off on their societies in a significant way. Filipinos all over the world, on the other hand, are proud (whether consciously or subconsciously) of how their adopted societies changed their ways — whether it be in the shallow twang it added to their English or the way they became more "self-reliant" thanks to the lack of the armies of servants that were once at their beck-and-call in the old country. Just observe how balikbayans (returning Filipino expats) assert their imagined "superiority" when strutting around Manila's malls scooping up discounted branded clothes, and behold.
But ask if America, for one, would like their society to acquire a more "Filipino" character in the same way that French, German, Italian, and Spanish traditions now form valuable facets of their society and you'd likely be hardpressed to elicit the slightest serious consideration. It comes down to achievement. What have Filipinos collectively achieved as a community? Until we are able to answer that with a straight face, we should be a bit more circumspect about the place we imagine we hold in the global scheme of things.
benign0 is the Webmaster of GetRealPhilippines.com.