Following an order issued by the Philippines' National Security Council to block Internet access to "news sites allegedly linked to communist rebels", various media groups and "journalists" associated with the Philippine Opposition and its communist allies are up in arms again invoking that all-too-familiar "attack on press freedom" trope. The cast of characters in this shrill outcry consist, of course, of the usual suspects…
The National Union of Journalists of the Philippines (NUJP) denounced the "arbitrary inclusion" of Bulatlat, Pinoy Weekly, and other independent news sites in a list of those tagged as being "affiliated to and are supporting" the Communist Party of the Philippines-New People's Army-National Democratic Front (CPP-NPA-NDF).
The defense is rabid and dishonest, going to the extent of issuing blatant lies as Roby Alampay, "Founder, Chairman and Editor-at-Large of PumaPodcast" does in this tweet.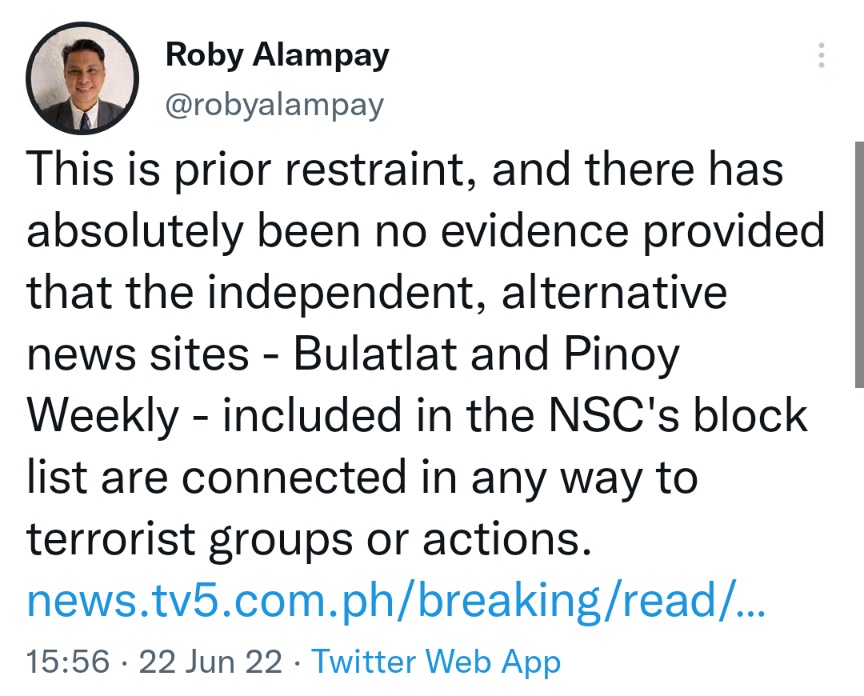 There is, contrary to Alampay's assertion, ample evidence of links of these groups not just to the Communist Party of the Philippines but, more disturbingly, to its terrorist arm, the New People's Army. We cited these links some time back in our article "Make no mistake. 'Pinoy Weekly' is a COMMUNIST publication!". Evidence is in the public domain as both Altermidya and Pinoy Weekly exhibited no reservations taking credit for seemingly exclusive photos of armed NPA personnel…
Interestingly, this "legitimate" news organisation seems to have ready access to the Communist Party of the Philippines' (CPP) terrorist arm, the New People's Army (NPA). In the 2017 article "Five Reasons Why the World's Longest Communist Revolution is Still Going Strong", a photo showing what look like armed combatants in "full battle gear" in formation as part of an event marking the anniversary of the CPP is credited to a certain "Boy Bagwis of Pinoy Weekly".

Another photo featured in the same article showing crowds gathered for that same occassion with the iconic hammer and sickle logo of the world's communists in full view is credited to the media advocacy Altermidya.

Articles in the Pinoy Weekly website authored by "Boy Bagwis" also exhibit photos that evidently put him in close contact with the NPA as this one featured in the article (title translated to English) "Revolution in the Southern Tagalog Continues" shows.
It is no wonder these "journalists" have been utterly discredited. They continue to insult Filipinos with their blatant lies and their presumption to unilaterally crown themselves the foremost "guardians of truth" of the land. Filipinos need to rid their politics of these vermin. What are noble causes and important advocacies are corrupted by dishonest "thought leaders" who use issues of national consequence to disguise an insidious mission to destroy democracy through violent "revolution". Perhaps they may seem not as threatening as they once were — their "fighters" are more snowflake than guerrilla in appearance and their weapons more Apple than AK-47. If for anything, Filipinos should at least get rid of them because they insult Philippine democracy by suggesting that, despite the hard work of people who work within the legal frame, it is hopelessly broken. Philippine democracy is anything but broken. This is a fact that can be further re-enforced once Filipinos put their collective feet down and take back real activism from the communists and their "woke" Yellowtard allies.
"Media practitioners" who belong to leftist-militant media organizations such as Bulatlat, Pinoy Weekly, and Altermidya are included in the order of battle of the state because they incite sedition. The dishonest perception they aim to spin is that there is suppression of freedom of the press in the country when, in truth, there is none. The fact is, many take for granted the idea that these organisations are "news media" channels when, in reality, they are anything but. They are, when it comes down to it, no more than mere propaganda arms of an obsolete Cold War era "movement" that counts as its singular aim the overthrow through violent "revolution" any legitimately-elected Philippine government. Why must Filipinos continue to put up with these crooks? It looks Filipinos are now getting the answer they've long deserved.
benign0 is the Webmaster of GetRealPhilippines.com.