The desperate Yellowtard house-to-house campaign launched by Tricia Robredo, daughter of Opposition "leader" Leni Robredo soldiers on. With just a week to go before the official campaign period of these elections closes this weekend, the Yellowtards are willing to try anything.
They may be in luck this week. Esteemed Pinoy Big Brother alumna Bianca Gonzalez had recently stepped up to a particularly tough task — teach Yellowtard partisans basic good manners and social graces. In a series of tweets she issued today, Gonzalez lays out a short course in character development for her Opposition colleagues…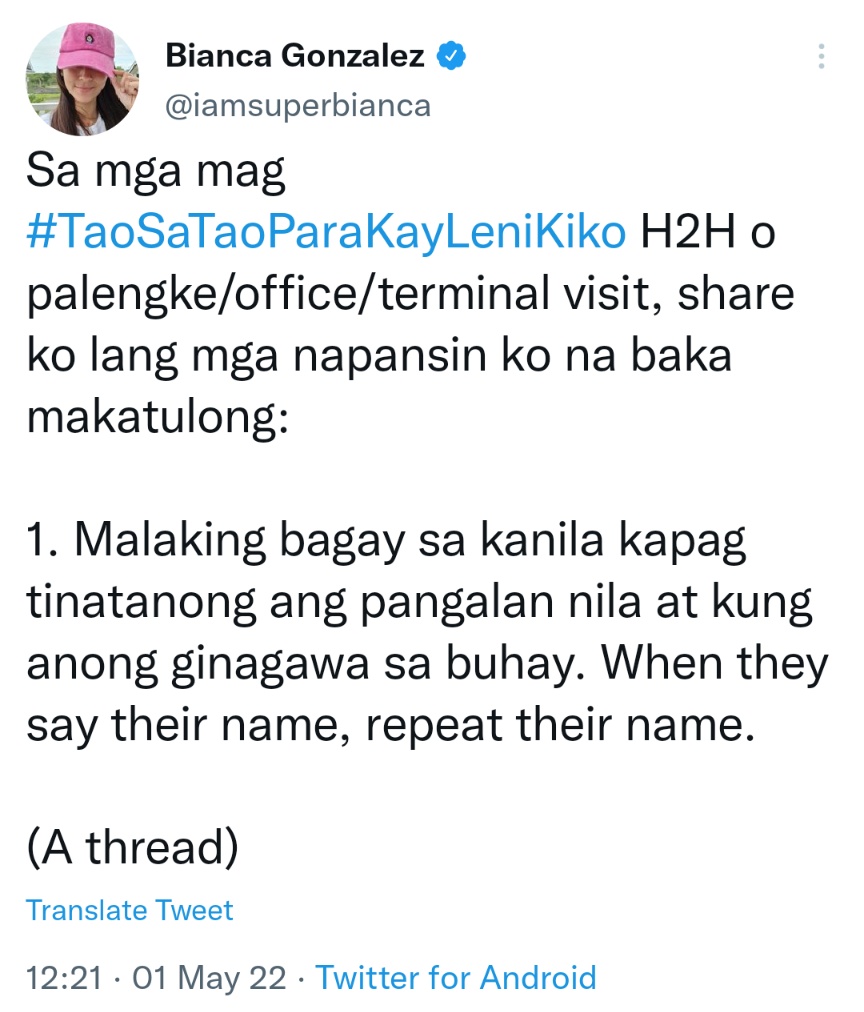 Gonzalez basically lays out a manifesto on how her Yellowtard pals can more effectively engage with Filipino voters (which she repreatedly refers to as "they") to further their agenda of converting them to the Yellow "cause".
What Gonzalez attempts to impart on her flock is stuff most normal people would have likely learned in kindergarten. Engaging with people effectively requires empathy and self-awareness. The core dysfunction that led the Yellowtards to the desperate situation they find themselves in today has to do with an abject lack of both these basic human virtues in the character of their campaign. Rather than invest the time to really understand where ordinary Filipinos are coming from, the Yellowtards, instead, ran a campaign that involved shoving high-horsed notions such as "human rights", "gender equality", "feminism", and "press freedom" down people's throats. Worse, they felt an entitlement to the absolute ascendancy of their "cause" on the imagined basis of their lot being the "good guys" in their manufactured narrative of these elections being a battle between "good" and "evil".
To be fair, Gonzalez has the job cut out for her. She's a revered celebrity and commands an enormous following on social media. If there is anyone Yellowtardom's starstruck partisans will tingala to, it would be a starlet like Gonzalez. With just several days of campaign to go, the challenge ahead is a daunting one. Fortunately for the Yellowtards, their belief that they are "good" and all the rest of them are "evil" is keeping them motivated to campaign harder.
benign0 is the Webmaster of GetRealPhilippines.com.