The words "let me educate you" may not have explicitly been uttered by "vice presidential" daughter (and confirmed woman) Jillian Robredo. However they may as well have. Robredo can be seen strutting around the Baguio City Market surrounded by an enormous entourage the members of which snapped photos at every opportunity as she stopped and stooped to shake hands with whoever gave her a second look. The spectacle had elitist written all over it and it is an exhibit of a lesson the Yellowtard camp led by Robredo's mother have yet to learn with just a couple of weeks left in the campaign.
Small surprise then that a local, reportedly an Igorot woman, heckled her. Word on the street is that she scolded Robredo and her entourage for blocking the way in the crowded market. Interestingly, the Philippines' Big Corporate Media community which would normally jump at every story surrounding the Yellowtard campaign only had this to "report" more than 12 hours after the incident…
'FOCUS TAYO'

After a heckling incident in Baguio City, Jillian Robredo, the youngest daughter of presidential bet VP Leni Robredo, remained focused and will continue doing house-to-house campaigning for her mother.

"Love you, bunso," Dr. Tricia Robredo replied in her tweet.
The embattled Yellowtard campaign of leading Opposition candidate and "vice president" Leni Robredo had been largely unsuccessful at shedding its elitist skin over months of the campaign period of these elections. This most recent incident is yet another setback to their "cause". A statement had since been reportedly issued by the Benguet chapter of the Robredo People's Council.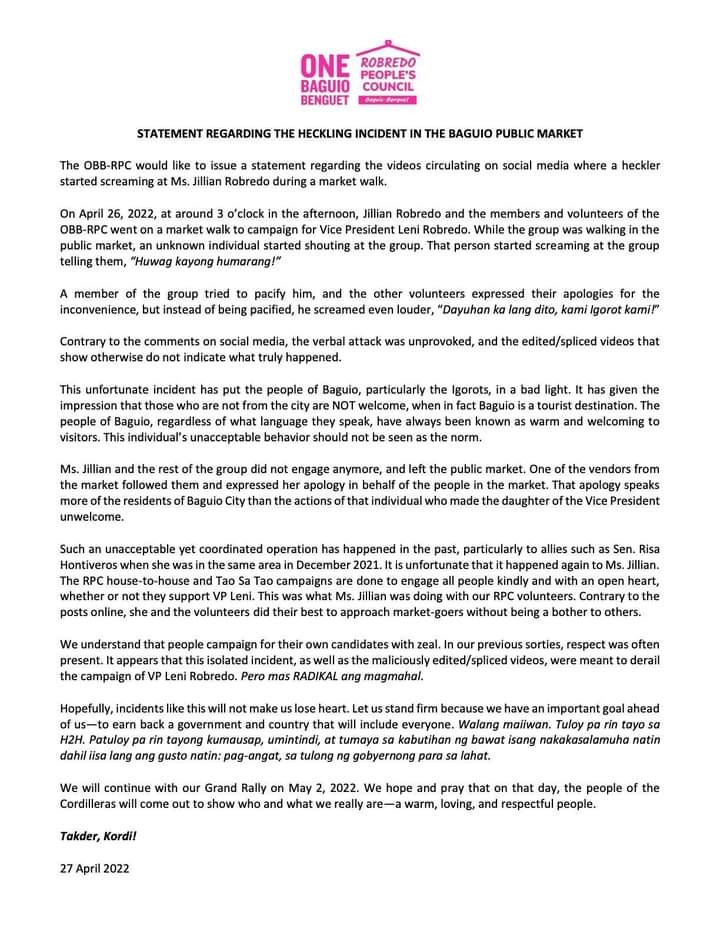 What does Leni Robredo have to do to fix what is clearly a liability to her campaign efforts? Perhaps they could start with reevaluating the role the three daughters, Tricia, Aika, and Jillian play in this ill-fated endeavour. The sisters aren't exactly paragons of populist appeal as they personally embody the very elitism that sticks to their mother's campaign like a rash.
benign0 is the Webmaster of GetRealPhilippines.com.