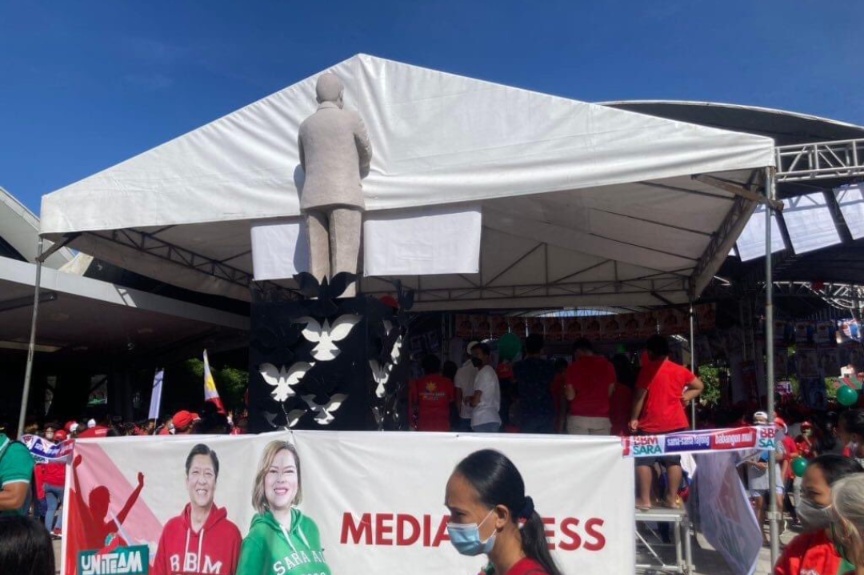 C'mon. You gotta admit, that was funny. This was probably the most ideal spot to set up this tent. Rapplerette Lian Buan "reports", "The main stage of the Tarlac City Plazuela for the Uniteam event fronts the monument of the late Senator Ninoy Aquino, but he has been covered by a tent so that he is not seen from the stage."
Understandably, Yellowtards are up in arms making this the subject of their latest outrage fad. The nerve, after all, right? Ninoy Aquino is a "national hero" and deserves respect. Indeed, Yellowtards believe that Ninoy is so entitled to respect that they've put up hundreds of statues of him all over the Philippines to ensure that Filipinos do not forget that "fact".
SUPPORT INDEPENDENT SOCIAL COMMENTARY!
Subscribe to our Substack community GRP Insider to receive by email our in-depth free weekly newsletter. Opt into a paid subscription and you'll get premium insider briefs and insights from us daily.
Subscribe to our Substack newsletter, GRP Insider!
Learn more
But what exactly did Ninoy Aquino do to earn him the distinction of being regarded a statue-grade "national hero"? Well, we are constantly told that he died. On that tarmac. In 1983. And that from then on, a "movement" was launched. According to the Yellowtards, dying "for country" is a special skill only people from their camp posses. Never mind that thousands of Filipino soldiers did the same fighting the Yellowtards' terrorist New People's Army comrades. No, Ninoy Aquino is the Filipino hero because he "died for the Filipino".
Well, here is one of Ninoy's statues today with a tent set up in his face. Thanks for dying for us, dude. By the way, this tent is best set up right here. Thank you, Mr. Aquino.
benign0 is the Webmaster of GetRealPhilippines.com.