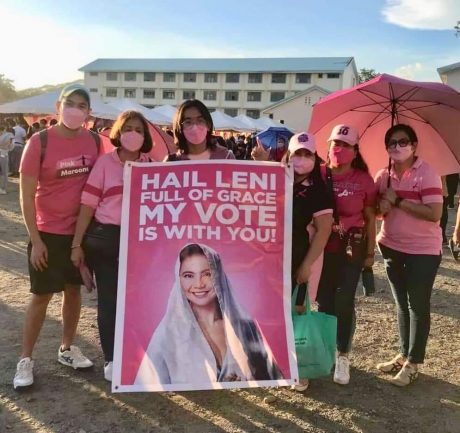 It seems that some anti-Marcos people are so desperate to keep Bongbong Marcos out of Malacanang that they are willing to cling to anything that gives them a ray of hope, even if that ray of hope is based on flawed logic. They claim that Leni Robredo is the cleanest politician around and support her only because of her declaration that she is there to block Marcos. They are willing to ignore her many gaffes, gaffes which lead me to believe that she isn't familiar with her platform that someone else wrote up and she doesn't call the shots; she's just up there on the stage as a showperson trying to rile people up (well, there's Rowena Guanzon too).
Anti-Marcos people like to debunk myths, such as saying Marcos' era is not a golden age, the Tallano gold does not exist and Marcos was not a hero. But I'll say that their choice of Robredo and their approach towards Marcos, as well as towards other people they dislike including Duterte, are also based on myth.
One of the narratives pressed by the Robredo side is that people can be separated into good and evil. Robredo is good, Marcos is evil. They will say, have the good people as your leaders, but
get rid of the "evil" people
(to the point of slander and murder; and, how can you be sure that the person you claim is evil really is? Do you have proof?). This is a ridiculous narrative if you know the realities of life.
In a previous article, I also tackled
the myth that evil is in the blood
. Someone claimed that BBM is as evil as his father because
abuse is passed on in the blood
. This is a ridiculous belief that fuels prejudice and leads to self-fulfilling prophecies. For example, when you assume that a person is born bad, you tend to treat the person according to your assumption, such as insulting and accusing them. If the person does turn bad, it could be blamed on your abuse of them. But if the person turns out to be good, then it means you lied to destroy the person. So if you support the idea of people being born good or evil, you support prejudice.
Being born good or evil is basically the doctrine of predestination. But this means people have no freedom or free will and are set from birth to be doomed or blessed. This is rejected not only by mainstream Christianity but also anyone with the common sense to see that people have choices and are not predestined to do certain actions.
A person's character or "good and evil" status are not a result of blood. There are
children of dictators
in other countries who did not become "evil people," even if they went into politics. If some "evil people's" children got dragged into corruption, it is because of the culture and circumstances or the groups they joined, not because of blood.
Next, the idea that the Marcos side is evil and the Robredo side is good is ridiculous not only because of what I explained above but because of common sense. People are not instantly clean or good just because they oppose an evil side. I reiterate, one can play the angel first then be the devil later. People can
change drastically at the drop of a hat
. Or, dictators can be opposed by other dictators or "evil people." It is ridiculous to believe that all "evil people" will always be friendly or allied to each other. When they fight, it just happens that other people are caught in the crossfire.
I also warn against today's idolatrous veneration of "good persons." There are no good persons, only good acts and maybe thoughts (if you could read their minds to judge them, but actually you still judge them based on actions). Just because a person does a good act one time doesn't mean they are good forever. A person can do a good act once then make a big mistake later. Remember, we punish people for the mistakes; the
previous good acts do not negate guilt
as the law goes.
Robredo supporters believe she has a good personality and hold that a good personality leads to being a good leader. I doubt that she has that kind of personality, that's just sycophancy. But even if she had it, the idea is wrong.
Personality is not a reason for leadership quality
(and dictatorship, yes, the other pole should be included). Good leadership is an effect of good decisions outside of personality. And those good decisions can actually be attributed not to the leaders, but to advisers and other circumstantial factors.
For example, I'm pretty sure the good decisions made by Pasig Mayor Vico Sotto are not his own. Someone else advised him, his mother Coney Reyes being the likeliest candidate. If the leader no longer has access to good ideas and advisers, they are likely to slip up and make a disastrous decision soon enough.
I'll digress a bit to comment on the role of Russian President Vladmir Putin in the Ukraine conflict to show how this myth applies here too. I see posts like "Putin should stop it," and similar. They believe that Putin decided everything and everyone else are yesmen to him. I see that as wrong. The Ukraine invasion was decided on by a group that includes Putin. It is not a one-man decision. It was not Hitler, Pol Pot or Stalin alone who decided to kill Jews in Europe, various people in Cambodia or suspected traitors in the Soviet Union. These were agreed upon by groups.
One-man rule is another myth
.
All this hyping of one-person leadership is a large part of propaganda. The vested interest and pressure groups would like you to be distracted with the "leader," heaping praise for any seeming success or putting blame for any mistake, when in fact the groups are the actual ones responsible. That's why choosing the "right leader" is hogwash to me.
The problems of the Philippines cannot be solved by choosing the "right" personalities. In fact, that is part of the problem: the personality cult. It's part of the whole culture of patronage politics. You have to cut out the personality cult and patronage politics if you want good leadership in the Philippines. This also means dropping the idea of "good and evil persons" and accepting that people are not as clear-cut as we think. The life lesson here is, be careful in dealing with anyone, no matter how "good" or "evil" they seem. Learn to resist charisma and put everyone to the test.
If you think Marcos has a personality cult, Robredo has it too and it may even be a greater cult. Marcos' following is understandable because of the long time his surname had been revered by many. With Robredo, I see nothing spectacular to be crazy about, yet her supporters treat her like the Messiah. In other words, her supporters are using the same thinking that led to the problem they are trying to solve.
And Marcos supporters and other people actually see this. The supporters are thinking, "what, you're trying to play against Marcos using his own populist game? Pathetic! Then I'll go with Marcos." Then, Robredo supporters go house-to-house; but that only highlights that the opposition knows few other methods from the personality hype. As a result of this, Robredo is actually helping Marcos' popularity. She actually looks more like a failing foil, like the Coyote to the Roadrunner.
Let's say by some chance she wins. Who are the forces behind her? Are they really "good people" behind a "good person" as the Pink Fanatics would want us to believe? The Hilbay-Carpio tiff (Balay vs. Samar 2.0?) seems to be a portent of things to come and, if that becomes real and something major happens, the Pink Supporters might get shocked. I just hope some of them will follow their own promise: to watch their own "dear leader" and hold her accountable when she slips up.
I believe, as my cohorts here do, that what Filipinos embrace as their culture is what actually pulls the country down. And those who seem to be anti-dictators, who may also believe themselves to be "heroes," are the real dictators.