Aika Robredo, daughter of Opposition Yellowtard presidential candidate and current "vice president" Leni Robredo finds herself yet again in the midst of another media circus. An old tweet of hers had surfaced that seems to have been fielded at the time woke hashtag #EveryWoman was "trending" on social media. The tweet very likely makes reference to a purported sex video "scandal" then Senator Leila De Lima was allegedly involved in and this tweet of Robredo very likely was made to jump on the bandwagon of expressing "solidarity" with the disgraced senator.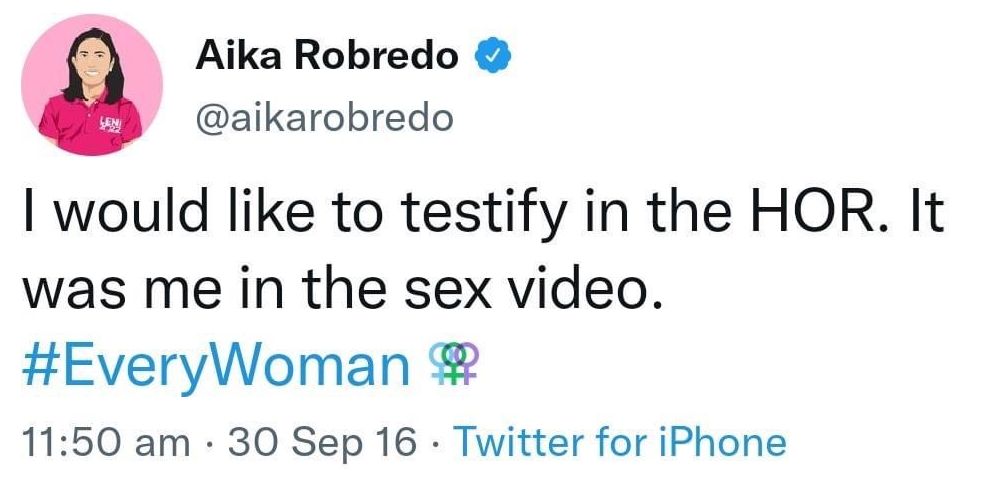 Curiously, the tweet which would have been accessible here seems to have been deleted. Speculation is now running rampant over why Ms. Robredo would delete what seems to be a tweet made in the context of a fashionable woke activist movement at the time. Indeed, Abigail Valte who served as Deputy Presidential Spokesperson for the late former president Benigno Simeon "BS" Aquino III was one of the bozos who jumped onto this "trending" bandwagon, issuing the same scripted tweet.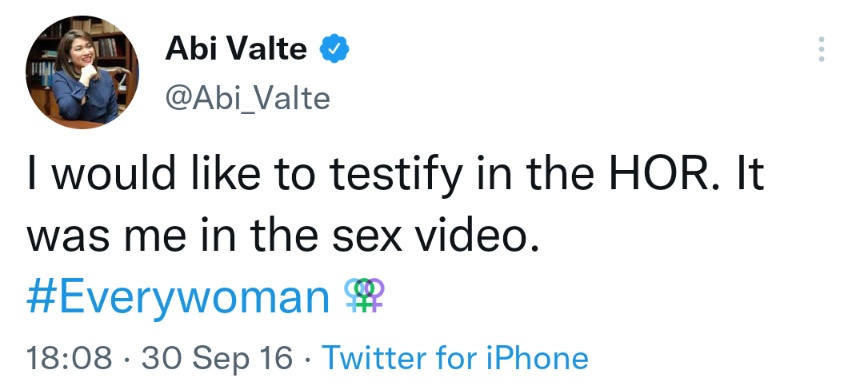 Evidently, being a fashionable sort of tweet at the time, woke Yellowtards had been busy parroting the same text all over Twitter — which all the more makes mysterious Ms. Robredo's motives for deleting the tweet. It is possible that this deletion followed a recent outrage fad seemingly concocted by the Yellowtards this week to arm them with yet another Victim Card to exploit for political gain. Indeed, this stunt was one enthusiastically amplified by Yellowtard-controlled Big Corporate Media…
Nonetheless, it is not just PhilSTAR that is amplifying this latest Yellowtard-created circus. The Philippines' biggest media organisations have themselves jumped on the bandwagon. In "Robredo camp mulls legal action over malicious video", CNN Philippines quotes Gabriela Party-list Rep. Arlene Brosas who screeches "This is a cheap, sexist online attack meant to demean women and to distract the public from VP Robredo's crusade for good governance, health-based pandemic response, and people's welfare". The Inquirer puts in its own two-cent piece on the matter in "Leni Robredo on hateful attack vs daughter Aika: Stay focused, fight it with truth" which it closes by pointing out that "fact-checker Tsek.ph said that Robredo is the biggest victim of negative misinformation, while her opponent in the 2016 vice presidential polls and in the upcoming 2022 national elections, Bongbong Marcos, is the beneficiary of positive but misleading messages on social media." Imagine our shock over this "revelation", right?
Lack of conviction is evidently what is sinking these elections' Opposition campaign. Filipino voters are seeing through the consistent inconsistency of the ideological foundations of the Yellowtard "cause". If Aika Robredo deleted a tweet that was supposedly an expression of "solidarity" with a fellow Yellowtard, that says something about the internal dynamics of one of the most cancerous political echo chambers in Philippine history.
benign0 is the Webmaster of GetRealPhilippines.com.