Survey after survey conducted by and reported on by reputable polling firms continue to show that the Yellowtards led by Leni Robredo are "fighting" a losing battle. They are not gaining any ground and, with every word that comes out of Robredo's mouth, are attracting ridicule as internal contradictions and inconsistencies in their ideology and messaging come to light. Still, the Yellowtards deserve credit for their fighting spirit although this manifests itself more in their continuing the same practices, applying the same thinking, and schmoozing with the same players that stunted their campaign to begin with.
Indeed, the extent of their delusion is mind boggling. Just the other day, Ben Bernabe, communications head of Robredo's campaign team, issued a tweet calling for administration presidential candidate Bongbong Marcos to withdraw from the race. According to Bernabe, Marcos is "the single most divisive person in Philippine politics today" which is a strange thing to say considering Marcos has consistently attracted preference ratings north of 50 percent in these polls conducted over the last several months.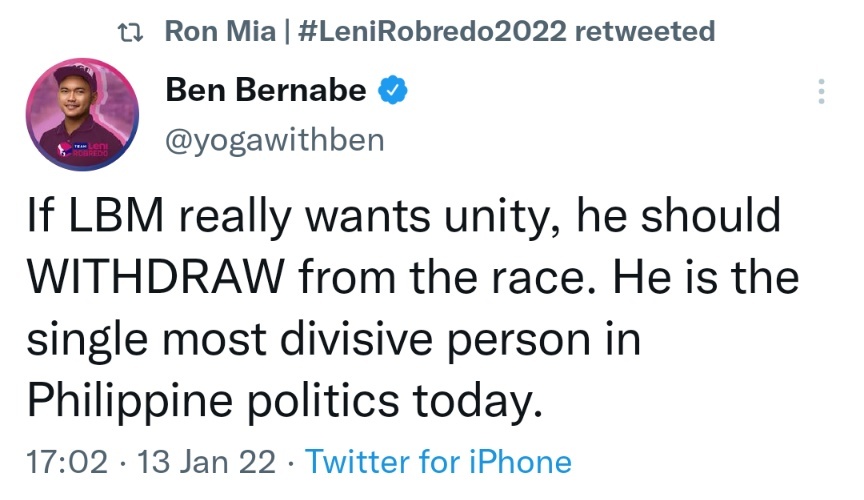 It leads one to wonder what sort of logic Bernabe applied to arriving at this assertion considering that, between the two rivals, it is Robredo who so far fails to unite a credible Opposition force against an opponent that clearly could not be beaten by the fragmented one we see today.
The only other explanation for the baffling optimism the Opposition manage to sustain in the face of increasingly insurmountable odds is that they could be exploring options to acquire political power outside of the frame of these elections. This is not entirely implausible considering the Yellowtards' track record of overusing their hopelessly perverted "people power" narrative to justify any crooked means they might apply to achieving their goals. The Yellowtards believe in the notion that the "people's will" trumps all else but fail to understand that a mature democracy channels that "will" through institutionalised processes — such as elections. For the Yellowtards, a street "revolution" backed by a military coup d'etat is an acceptable means to change leadership. Worse, they have also exhibited an ability to emotionally-blackmail the judiciary into legitimising whoever emerges as the "revolutionary" leader following that. This was the modus operandi they applied both in 1986 and 2001 when Cory Aquino and Gloria Arroyo respectively were "sworn in" by Supreme Court justices following such coups.
To be fair, it is unlikely that the Yellowtards would be able to pull similar stunts nowadays. If waning interest in commemorating the anniversaries of the 1986 EDSA "Revolution" over the last several years are any indication, any attempt to use "people power" to usurp these or future elections will likely fall flat on their faces. Then again, a Marcos coming back to power is a big deal for the Yellowtards and their allies in the Liberal West as it will result in a colossal loss of face for them. Thus, as many political observers are wont to caution those who are tempted to rest on the laurels that are Marcos's stellar polling outcomes, anything can still happen.
benign0 is the Webmaster of GetRealPhilippines.com.