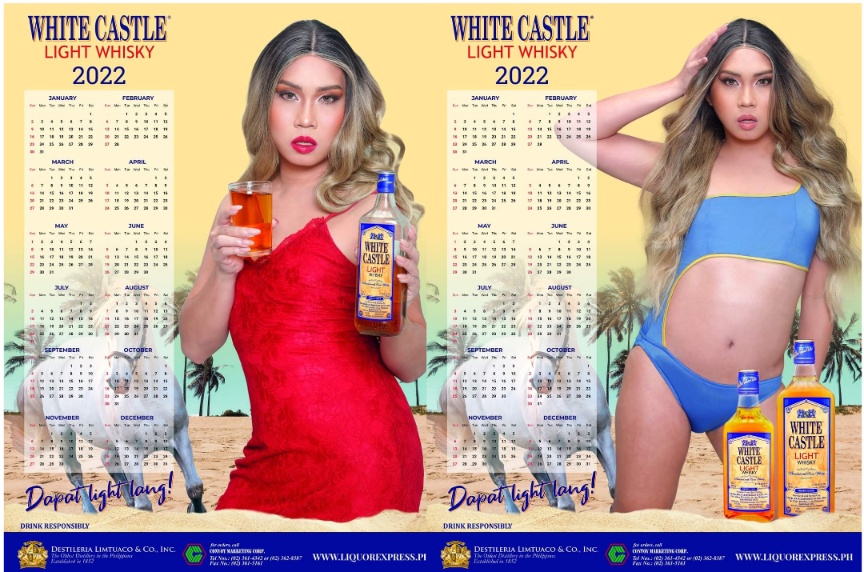 Wokedom are cheering a recent announcement by Philippine manufacturer of alcoholic beverages Destileria Limtuaco & Co. that popular Tiktok influencer Felix Petate Jr., a.k.a. "Sassa Gurl" will be its calendar model for 2022. The thinking behind the cheering is that another member of the LGBTQ+ community had broken into yet another bastion of that reviled culture of "toxic masculinity". White Castle Whiskey has long been identified with working class masculine Filipino drinking culture and its calendars are famous for featuring the hottest natural female celebrities of the year in skimpy attire for men to ogle.
That a gay man who made a name for himself doing low-brow comedy on TikTok in drag made a calendar spread that had traditionally been designed to titillate an audience (not make them laugh or attract ridicule) seems to be now regarded as an "achievement" of sorts. Not all in the community see it that way though. Social media personality Miyako Izabel for one begs to differ, pointing out that an act that gained fame by making a mockery of a way of life used as a ticket to break into a space once reserved for physical feminine beauty is a travesty and not a source of community pride.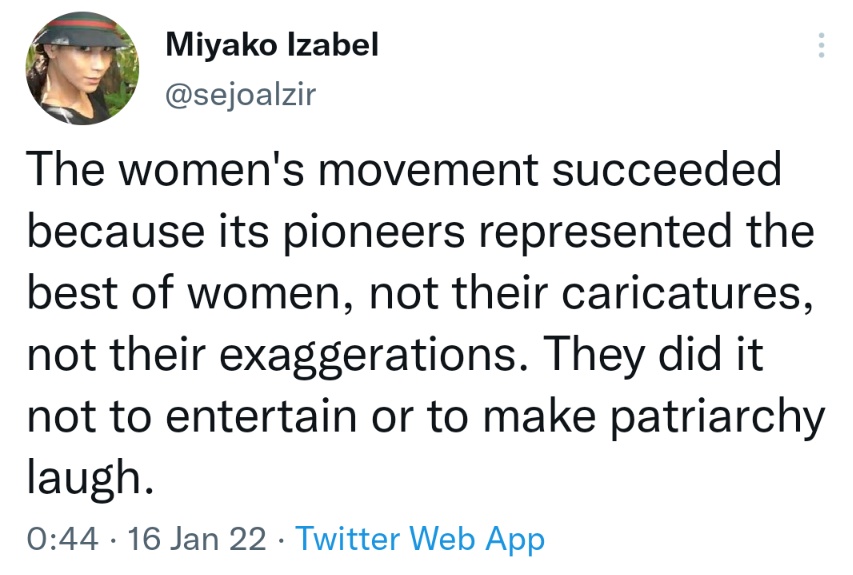 It seems that the intended outcome as envisioned by LGBTQ+ "activists" is to force themselves into a space for the sake of planting their flag and claiming said space as further ground gained. A "representative" claiming the year's edition of a men's calendar being regarded as ground gained misses the point. The real prize ought to have been earning acceptance from that calendar's traditional audience — heterosexual working-class men. The actual outcome couldn't be farther from what LGBTQ+ "activists" imagined.
In reality the White Castle Whiskey calendar is expendable ground. One can imagine the average bugoy seeing Sassa Gurl splashed on this calendar and LGBTQ+ "activists" doing victory dances around it and then thinking, sige sa inyo na yan (go and take your trophy and knock yourselves out). There are, after all, other pinup calendars and, of course, the Net where photos of nice looking women can be found. White Castle Whiskey would still be a nice cheap drink to partake of after a day of pasada. Just don't look at this year's calendar.
Was Sassa Gurl bagging this year's White Castle Whiskey calendar a "win" for the LGBTQ+ "cause". It depends on how you define success. Is it space on a men's calendar? Or is it earning genuine goodwill from — even respect of — straight working class men? If you make yourself the scorekeeper of your own game, you cannot claim to be truly serious about defining what winning really means.
benign0 is the Webmaster of GetRealPhilippines.com.