By putting up Leni Robredo as a poster girl of virtue, humility, and a champion of service to "the poor", the Yellowtards have built themselves into a fragile house of cards. The fragility of this political brand came to light this week following Robredo's latest public gaffe where she assured her audience in a forum for kasambahays (household servants) that selling their votes is OK.
As expected, Yellowtardom quickly shifted to damage control bringing to bear the mass communication might of their allies in Big Corporate Media who were quick to issue "clarification" around what Robredo said and frame it within the "proper context". Robredo's statement was quite categorical, however. So clear was her message that a generic tweet issued by Commission on Elections (COMELEC) spokesman James Jimenez copped a deluge of defensive responses from Robredo's mob.
I disagree with the notion of taking the money and voting according to your conscience. Vote buying is an election offense regardless of financial situation or noble intentions. Di dapat ginagawa, at di dapat sina-suggest yan sa mga botante.

— James Jimenez (@jabjimenez) October 26, 2021
Yellowtard lawyer and "thought leader" Gideon Pena voiced a similar sentiment in a tweet fielded even earlier than Jimenez's.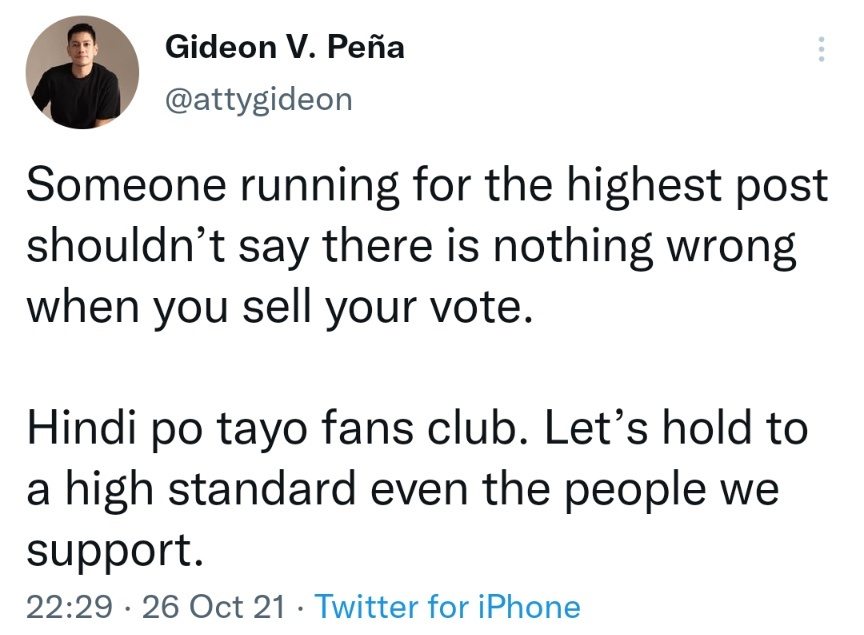 Unfortunately, so intense was the Yellowtard defense campaign that even he was forced to delete said tweet and issue a subsequent backpedal.
It was a privileged take. Thanks for educating me on the issue.

— Gideon V. Peña (@attygideon) October 26, 2021
For his part, Jimenez stuck to his guns even in the face of attacks against him coming from Yellowtard Netizens and even the media — like the true man of conviction that he is.
Yes. I've disagreed with anyone and everyone who has ever said that people should accept vote buying money, even if they later on vote their conscience. And I will disagree with anyone who says it in the future. https://t.co/54x2M1ws8s

— James Jimenez (@jabjimenez) October 28, 2021
If the Yellowtards think their "strength" lies in their "solidarity", they should think again. The spinelessness exhibited by Pena comes at a stark contrast to Jimenez's steely consistency. This goes to show that mobs are not necessarily made up of strong individuals.
benign0 is the Webmaster of GetRealPhilippines.com.