Busted. Again. The former Ambassador is really a thorn in the side of the Yellowidiots. In his latest Manila Times piece "Aquino official behind US firm spreading fake news on Chinese activities in SCS", Bobi Tiglao writes of former Aquino official Peter Anthony Abaya whose last posting in the government of former President Noynoy Aquino, Tiglao writes, "was as general manager of the National Reclamation Authority.". Abaya is also "the brother of Aquino's former transportation and communications secretary, Joseph Abaya." According to Tiglao's source, Abaya is director in the Florida-based firm Simularity Corporation which was "contracted by the US State Department to set up a 'South China Sea Rapid Alert Forum,' its platform for manufacturing anti-China propaganda using its interpretations of satellite images."
Tiglao goes on to cite a number of "devious propaganda projects" that Simularity perpetrated to effect "body blows on China's image in the South China Sea". He then goes into detail on its most recently-manufactured hoax where "its CEO itself Elizabeth Derr in a Zoom conference on July 12, 2021 (on the anniversary of the arbitral ruling) hosted by former Foreign Affairs secretary Albert del Rosario announced that Chinese ships were dumping human feces in the South China Sea 'so much you can see it in space'."
While it did not caption the photo as a Chinese ship, Similarity obviously calculated that some stupid Filipino media outfit would conclude that it was so. The online version of GMA 7 in fact did. An alert netizen however reverse-searched the photo and discovered that it was an image of an unidentified ship dumping waste in Australia's Great Barrier Reef in 2014.

It was only then that Simularity tried to excuse itself, saying that it clearly captioned the image as that of an "unknown ship," and that GMA 7 was an "irresponsible news organization."
Still reporting by GMA.. patigasan talaga.. pic.twitter.com/A7D9WGnL4y

— Manuel Villegas Jr (@manuellvillegas) July 13, 2021
For one, it's common knowledge that ocean-going vessels discharge waste into the open seas while in transit from one destination to another. Why would China go to the effort of dumping human waste from the mainland onto the South China Sea? As we wrote about in our previous articles, the tandem of Retired Justice Antonio Carpio and former Foreign Affairs Secretary Albert del Rosario have been acting not for the Philippines but for their patron, Manny Pangilinan in the furtherance of his interests in Recto Bank. The US will not stop in its vilification campaign against China because it wants to remain the top dog in keeping control over the global economic order.
This is why we have several media outlets being funded by the National Endowment for Democracy (NED) such as Rappler and Vera Files. The NED is a known front of the US Central Intelligence Agency (CIA). Rappler and Vera Files are identified with the opposition and acting in consonance with Pangilinan's media companies which include TV5, Philstar and Business World. It's also able to finance Rappler and Vera Files through advertising agreements. Back in mid-2019, Tiglao wrote in his piece "US govt funding for anti-Duterte media: P74M" presented the following infographic that illustrates this crooked money trail…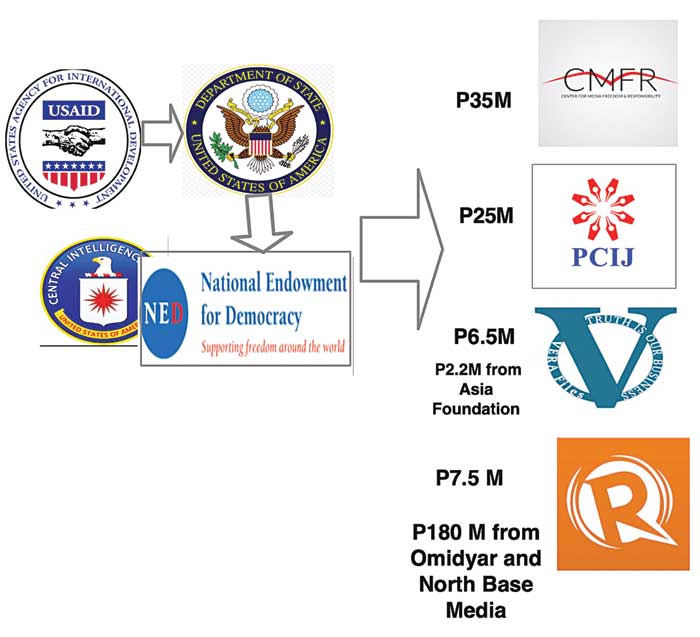 Vera Files, Tiglao wrote back then, "got P6.5 million from NED for its 2016 and 2017 funding and P2.2 million from Asia Foundation, which has also been alleged to be a conduit for CIA operations to mold the minds of a target population. It got an additional P750,000 from the NGO Reporters without Borders, which is also funded by NED." As for Rappler…
With Rappler in the past two years being reported in US media as Duterte's most vociferous critic in media, NED probably got a State Department order for it to give Rappler money, which it did last year, amounting to P7.5 million. It was a lifeline that it would be getting regularly, as Rappler's funds from two US firms had been used up fast.

The NED funding was disguised as a grant to it for a project tilted "Understanding and Addressing Disinformation's Impact on Democracy." That's so ironic as it was Rappler that first spread the vile disinformation that the police had killed "7,080" from July 2016 to January 2017 in the government's war against drugs. The anti-Duterte media here and in the US used that figure to extrapolate very falsely that by 2018, there were "21,000" killed in the anti-drug war — 7,000 multiplied by three (years).
Tiglao points out, "these outfits are violating the constitutional ban on any foreign participation in media, with recent laws unequivocally classifying internet-only news websites as media. The Securities and Exchange Commission had ruled that anything less than '100 percent' control violates the Constitution." Taken together, they constitute a vast landscape over which huge funds are transferred from one dishonest pocket to another. The NED-CIA outfit has likely gone further by also funding 1Sambayan with Carpio as lead convenor. This has led former Solicitor-General Florin Hilbay to question why Carpio is now the country's foremost expert on the South China Sea dispute.
The other organizations in the Pangilinan-Del Rosario stable include the Stratbase-ADR Institute and the Asian Maritime Transparency Initiative. These outfits continuously churn out negative propaganda about President Rodrigo Duterte and his administration. It is safe to assume that they have the tacit support of the US government which needs a friendlier administration in place for the US to establish bases in the country again. The Anderson Air and Naval base in Guam is three hours flying time away. Access to former US air and naval bases in the Philippines is less-costly and enable faster turnaround times for US Navy Carrier Battle groups now operating in the South China Sea and the Indian Ocean.
Filipinos should not allow Carpio and Del Rosario to pull the wool over their eyes. We cannot be on the wrong side of a shooting war between the US ans China. History has taught us this during World War II. US priorities changed and instead of spending to rebuild infrastructure destroyed during the war, the US gave us "independence" while keeping their bases rent-free. The total claims by the Philippines against Japan amounted to $8 billion at that time. The US only had Japan pay $800M and this wasn't even in cash. It also forced the Philippines to sign the Treaty of San Francisco in 1957 which formally ended the Pacific War. It cannot be said that the President is not protecting Filipino's interests in the position he has taken vis-a-vis China and the US. This is opposed to what Carpio and Del Rosario have been pushing for which is not for Filipinos but for only one individual Filipino.
Cook wide reader political crackpot music afficionado old soul out-of-the box thinker aspiring writer tech geek gearhead