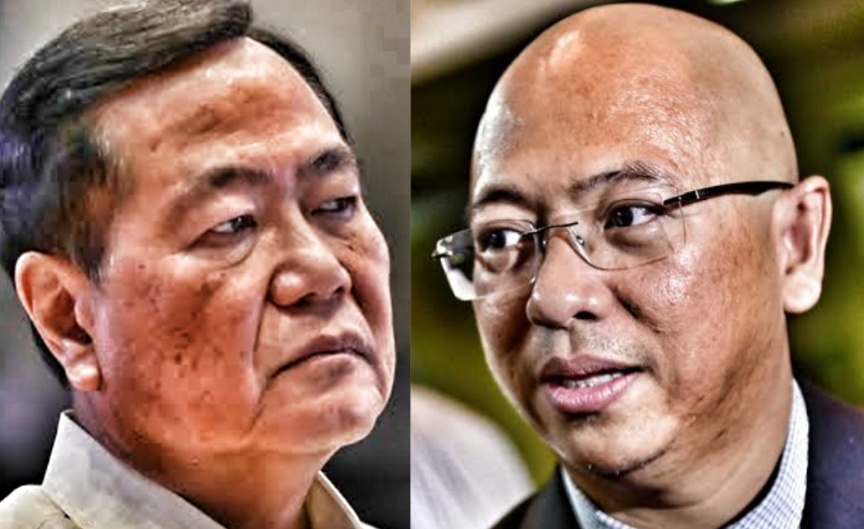 Below is the complete statement of former Solicitor-general Florin Hilbay of what went on behind-the-scenes of the adjudication of the arbitral case filed by the Philippines against China. In the end, he attributes its success to former President Noynoy Aquino even if there is no mention of his active involvement except that of his trusted lieutenants and adviser on Political Affairs, Ronald Llamas.
(N.B. Below text scraped from images attached to tweets posted by former Solicitor General Florin Hilbay here and here respectively. Minor scraping errors rectified. Hyperlinks to documents and articles referred to in the transcription below provided by GRP editors)
* * * START OF DOCUMENT * * *
A Few Facts About the Arbitration Against China.
Florin T. Hilbay
I read with amusement and disappointment retired Justice Antonio Carpio's 1 July 2021 piece in the Inquirer. Let me take this opportunity to point out falsehoods and inaccuracies in his story, and tell the nation a few facts about this interesting case.
During my time as Solicitor General of the Republic, I served as "agent" in the arbitration between the Philippines and China. An agent is the sole and formal representative of the State, with full authority to speak for and bind the nation. I was appointed by authority of President Noynoy Aquino. I'm pointing this out from the get-go not to brag about my role but to establish my "skin in the game" — I was the legally accountable officer and my actions as agent were the official acts of government. What is narrated here takes from this background.
On the other hand, Justice Carpio's formal designation was, as he correctly pointed out, that of an "observer"- he had no direct and formal relationship with Pres. Aquino; was not officially part of the legal team that handled the case; and did not have any authority to speak for or bind the Republic during the arbitration. While his expertise on the matter is a given, as an observer, he had no skin in the game. And yet, he has somehow positioned himself as the voice on the West Philippine Sea (WPS) case, with authority to make accusations and insinuations ex cathedra.
First. When I assumed the position of Solgen, the WPS arbitration was a mess, given what was done to the former agent. J. Carpio had accused then Solgen and agent Francis Jardeleza of betraying the nation because of his actions related to the WPS. Consequently, J. Carpio opposed Jardeleza's nomination to the Supreme Court (SC). He made the accusations notwithstanding that he only had second-hand information-he was never part of the team that discussed the WPS case at the palace and shouldn't even have had access to confidential memos used as basis for the charges.
Despite the accusations, the Judicial and Bar Council (JBC) voted to recommend Jardeleza to the SC. One of those who voted for Jardeleza was then Sec. of Justice Leila de Lima, a member of the President's legal team with personal knowledge of facts. When the objection was raised before the SC, J. Carpio's own colleagues rejected his allegations and also voted for Jardeleza. Finally, Pres. Aquino himself appointed Jardeleza to the SC, with full knowledge of the then public allegations of J. Carpio. This history of embarrassing rejections should have merited the deepest of apologies to J. Jardeleza, a batchmate at UPLaw.
That the JBC, SC, and the President rebuffed these grave allegations should also have warranted, under fair conditions, an investigation of the thrice-rebuked accuser. It is worth reiterating here that the allegations were made by an outsider to the case even as the insiders themselves the authoritative decisionmakers, from Pres. Aquino down to his cabinet members -saw no problem with the actions of the country's agent, J. Jardeleza.
Second. Prior to all this ruckus, I was informed by one of my legal assistants who used to work for J. Carpio that research was being done on how to legally justify the appointment of a sitting member of the SC as agent in the WPS arbitration. At the time, I didn't even know: (1) what an agent meant-it was the first time I had heard of the term in the context of an arbitration, a field unfamiliar to me; (2) that then Solgen Jardeleza was in fact already the agent in the case.
Suffering from this ignorance, I even told this assistant that the model for that plan was the case of Justice Robert Jackson of the United States SC, who acted as prosecutor in the Nuremberg Trials. It was only later on-to my horror-that I realized what all these prior events may have meant. In fairness to J. Carpio, I do not know if he knew what his staff was allegedly researching on, but if he did, then it placed him in a serious moral hazard when he made his accusations against J. Jardeleza.
Third. Given this politicized atmosphere, I sought to avoid being appointed as agent in the case. I already had a lot on my plate, and had no intention of butting heads with giants in the palace or any interloper for that matter. I was young, poor, unknown, did not belong to any organization, and had no powerful patrons. I also initially worried about my lack of rapport with the President's trusted lawyers-ES Ochoa and Chief Presidential Legal Counsel (now Justice) Ben Caguioa. While they weren't opposed to my appointment as Solgen, my understanding is that they supported their classmate, then Usec. (now Sec. of Justice) Meynard Guevara, a very kind and competent lawyer. What amounted to an ally in the cabinet at the time was Sec. Butch Abad (who belonged to a different faction) simply because the OSG handled the budget cases that were so controversial at the time. I thus held a powerful office, but had no political base myself. This was fine by me-I saw it as my claim to independence-though it also meant I was vulnerable.
To be sure, I certainly wanted to avoid having to go through the hell that J. Jardeleza just underwent. The publicity (and the eyebrow-raising campaign) generated by the charges leveled by J. Carpio clearly indicated that the WPS case was not just about the country's case against China, but was also a power play among factions and interests. I didn't want to be in the eye of that storm; it was a big wave I didn't want to ride. I could only laugh seeing myself as a Frodo Baggins, minus the fellowship. I therefore made the formal request to ES Ochoa to have someone else handle the WPS case. That request, though initially accepted, was ultimately rejected. I became the agent.
Fourth. I had a challenging relationship Mr. Paul Reichler, the American external counsel hired by J. Jardeleza. Reichler is justifiably a legend, his competence in his field and showmanship in court quite unparalleled. While we agreed for the most part, we had an awkward relationship and at times argued quite intensely.
The core problem was his insistence on proposing joint development between the Philippines and China as a compromise in case we lose the so-called Itu Aba issue. In fairness to Reichler, he was consistent from the day we met until the hearing on the merits in trying to convince me to sign on to a strategy that would justify joint development. I rejected all these proposals for a compromise. (I've written about these events in a now public memo to ES Ochoa and J. Caguioa. I've also written about it in an article with the Ateneo Law Journal), Truth is, the Itu Aba issue was simply a proxy for the debate over joint development. I was against joint development because it is impermissible as a matter of constitutional law (my area of expertise). With specific reference to China, we simply can't enter into an economic compromise with a country that doesn't respect our full sovereign rights.
The other issue were the professional fees incurred by gov't. This was a serious matter because public funds were being used and the ones accountable were the signatories — myself, ES Ochoa, and Sec. Abad. Politically as well, the palace worried some people were being made to believe their views were important when in all likelihood, the only reason they were being considered was because the gov't was being billed for them. I politely declined the mild suggestion to consider terminating services of external counsel, as it would have created a greater mess instead of a happy solution.
Fifth. Given Reichler's views on joint development, I put myself on the lookout for anyone in the team supportive of that project. At the time, the only one in mind was Sec. of Foreign Affairs Albert del Rosario. This was because, in an earlier conversation with Senator Trillanes, he informed me that he believed Sec. Del Rosario was for joint development. Secondly, I immediately noticed Consul General Henry Bensurto (a knowledgeable, but wildly unpopular trusted assistant to Sec. Del Rosario on WPS matters) was in full agreement with Reichler on joint development.
In hindsight, I should have just immediately asked Sec. del Rosario his views on joint development. Sec. Albert is a great diplomat and an adorable, credible, and charming grandfather with a business background. I can understand why, from a diplomat's and a businessman's standpoint, a joint development to explore oil and gas in the Reed Bank might be a sound political option. But I simply held a different view and, as agent, had full authority to follow my own heart and mind. The call was mine to make and I refused to be labeled, in J. Jardeleza's term, "a joint developer." Strategically as well, I also thought that we should fully commit to winning the arbitration in its entirely and avoid unnecessarily injecting political and economic considerations which might undermine our cause and signal to the arbitrators a potential weakness.
I flagged this concern over joint development with all the insiders-Pres. Aquino, the legal team at the palace, my own team at the OSG, two of Sec. del Rosario's assistants in the WPS case (the late Amb. Nitoy Valeriano and Amb. Ed de Vega). Seeking a media-savvy ally, I also informed an outsider, J. Carpio, but he dismissed my concerns. From that point on, I suspected he was also in favor of a deal with China.
Sixth. The situation came to a head during the hearing on the merits, where joint development became the sore point of conflict. Prior to the hearing and before leaving for The Hague, I got a call from Reichler where he proposed, yet again, that we signal our openness to joint development. Again, I said no.
At The Hague, I was given copies of the draft speeches of the various speakers for the Philippine team. One draft, that of Prof. Bernie Oxman, included Reichler's offer of a compromise by way of joint development. I objected to the language, which brought us to the meeting J. Carpio refers to in his Inquirer piece. Entering that meeting, I knew I was in for a debate with Reichler and that he would probably be supported by Sec. del Rosario. To my surprise, that meeting included the observer, J. Carpio. I thought it was inapproriate that an outsider would be included, but did not openly complain. I maintained my opposition to the present language of the draft which included a proposal for joint development and insisted that counsel fully commit to the wave and ride out the full force of our arguments. In frustration, I emphatically declared that "I will not be the Solgen that sold this case to China!" That seemed to have sobered the other side.
J. Carpio states erroneously that I was instructing Reichler and company to flat-out refuse to answer any questions posed by the tribunal. In fact, all I wanted Reichler to do was answer consistent with my views against joint development. It was my right, as agent, to reject an offer of compromise I found unacceptable. I never even bothered to respond to J. Carpio — to agree or disagree with him — simply because he had no authority to attend that meeting in the first place. The meeting was adjourned and we decided to meet again.
In the next meeting. I decided to bring additional witnesses, Sec. Ronald Llamas (a close friend of the President) and former Senator Rodolfo Biazon (a great soldier and statesman). My additional purpose in bringing Sec. Llamas was this-in the event Reichler insisted again on including joint development, I would instruct Sec. Llamas to directly contact the President to inform him that the external counsel was resisting my instructions and undermining the case. That meeting, surprisingly, proceeded without fuss and ended abruptly. Sec. Llamas jokingly asserted the foreign lawyers were intimidated by my two bodyguards. In the end, I got what I wanted: the reference to joint development was deleted and the speech delivered by Prof. Oxman was brilliant. I emailed to thank and congratulate the esteemed academic.
Seventh. J. Carpio complains about an attempt to somehow exclude him as an "observer" during the hearings on jurisdiction at The Hague. Here's the inside story.
The truth is, save for Sec. Albert and myself, almost no one among the proposed attendees wanted to attend the hearings if J. Carpio and J. Jardeleza were present, given the history between these gentlemen. I was told people were worried of a public altercation between the two old men. But Reichler requested a sizable contingent of VIPs to show the tribunal our seriousness and I agreed it was a good idea. The hearings drew nearer and we still couldn't send our list of attendees to The Hague.
In desperation, I told ES Ochoa and J. Caguioa that to finally solve the matter I would pay J. Carpio a visit at the SC. Once there, I told him our awkward situation and asked for his assurance that he would behave during the hearings on the promise that I would seek the same guaranty from J. Jardeleza. He graciously agreed. At The Hague, we were able bring a good crowd of VIPs, for which the administration was criticized for promoting a junket. With help from Philippine ambassador to The Hague Jet Ledda, J. Carpio and J. Jardeleza were "socially distanced" from each other the entire time. These were some of the things I had to deal with as agent.
J. Carpio believes there were two single-minded factions within the Philippine team during this arbitration. This is the view of an outsider, which naturally misses out on the nuanced interplay among the actual players in the game. The reality is that the players were independent republics of various sizes, with interests and goals of their own. Some of them had actual skin in the game.
Eight. Given all these, I hope people understand when I say that when the decision came out in 12 July 2016, I felt a sense of relief more than happiness. Prior to promulgation, I felt guns of blame were aimed at me the moment any sign of defeat was written into the decision. But even this relief was tempered by the fact that I had little hope that the incoming administration would pursue the stance taken by Pres. Aquino.
With this in mind, I later on wrote in an op-ed with the Inquirer my position on joint development with China, stating that such proposed agreement is a "Trojan Horse in the West Philippine Sea" because such economic agreement would not only be unconstitutional but worse, lead to a potential waiver of our victory in the WPS.
Ninth. I was not surprised when the Duterte administration announced that it was entering into a "Memorandum of Understanding" with China with respect to joint oil and gas exploration in the WPS. This is the foundational agreement that leads to a joint development with China. In interviews, I pointed out that the model for this "MOU" incorporates the views of China on joint development in its dealings with former President Gloria Macapagal-Arroyo, a known ally of China. Any deal that flows from that MOU is therefore deeply problematic.
It also didn't surprise me that both J. Carpio and Sec. del Rosario, in separate statements, have come out openly and repeatedly to fully endorse this compromise agreement with China. Their favorable views on this deal with China are publicly accessible. In all honesty, I find it unfortunate that J.Carpio, from defending the WPS, now happily descends to join this administration and China by lending his credibility to provide legal cover to this rotten deal. He even personally assures us that this compromise with China is "safe." Does he really believe that China would be stupid enough to impliedly recognize our victory at The Hague by contract, even as everything that they've wanted, they've been able to get from President Duterte?
Tenth. In the final analysis, the one person who had the most skin in the game was Pres. Aquino. The decision to fight China and place the nation's stock on the line was his and his alone. Regardless of what the lawyers, diplomats, economists, and generals may have told Pres. Aquino, this most difficult decision of his term was purely political, borne of courage of spirit and moral strength, not knowledge of any discipline. In my view, 99.99% of the credit over our victory in the WPS rightfully belongs to him. Without his courage to fight, there would have been no case to begin with. I also suggest to anyone and everyone who claims or believes that they have a rightful share in the balance of that credit-all.01% of it-to just burn it and throw away its ashes in honor of a great former president.
* * * END OF DOCUMENT * * *
If Retired Justice Antonio Carpio and former Foreign Affairs Secretary Albert del Rosario had been for joint development of oil and gas resources with China all along, what was the reason for the Philippines spending P1 billion on the case? Former President Gloria Macapagal-Arroyo (GMA) had signed a joint-exploration agreement with the China National Offshore Oil Corporation (CNOOC) back in 2004. A seismic survey had been conducted. Could it be that the case was filed only at the instigation of the US to give it cover in its continuing conduct of freedom of navigation operations (FONOPS) in the South China Sea? Was it a PR job to massage the passage of EDCA? Was it meant to finesse the implementation of then President Barack Obama's pivot to Asia strategy? Or was it all of the mentioned in support of Uncle Sam's initiatives with PNoy's explicit blessing for continuing US support of his belligerent stand against China? Only Carpio and Del Rosario can and should enlighten the Filipino people whom they have been agitating to act against the pro-China stand of the President.
Malampaya's reserves are projected to run out by 2024. Our power generation industry is firmly in the hands of oligarchs. More expensive renewable energy is being rammed down our throats and we're already paying a feed-in tariff in our monthly Meralco bill. Nuclear is cheaper and cleaner but no one has been paying heed to its number one advocate former Congressman Mark Cojuangco. The Bataan Nuclear Power Plant has been idle since its completion and an annual budget is still set aside for its maintenance. Isn't it about time that the government acted resolutely as to what is going to be done about it?
We have the second highest power cost in the region which continues to deter foreign direct investment. We need FDIs if the economy is to recover from the pandemic-induced recession.
Cook wide reader political crackpot music afficionado old soul out-of-the box thinker aspiring writer tech geek gearhead