Only fair, right? The basis of Twitter recently shutting down the account of United States president Donald Trump is "due to the risk of further incitement of violence" that it presumably exposes the American public to.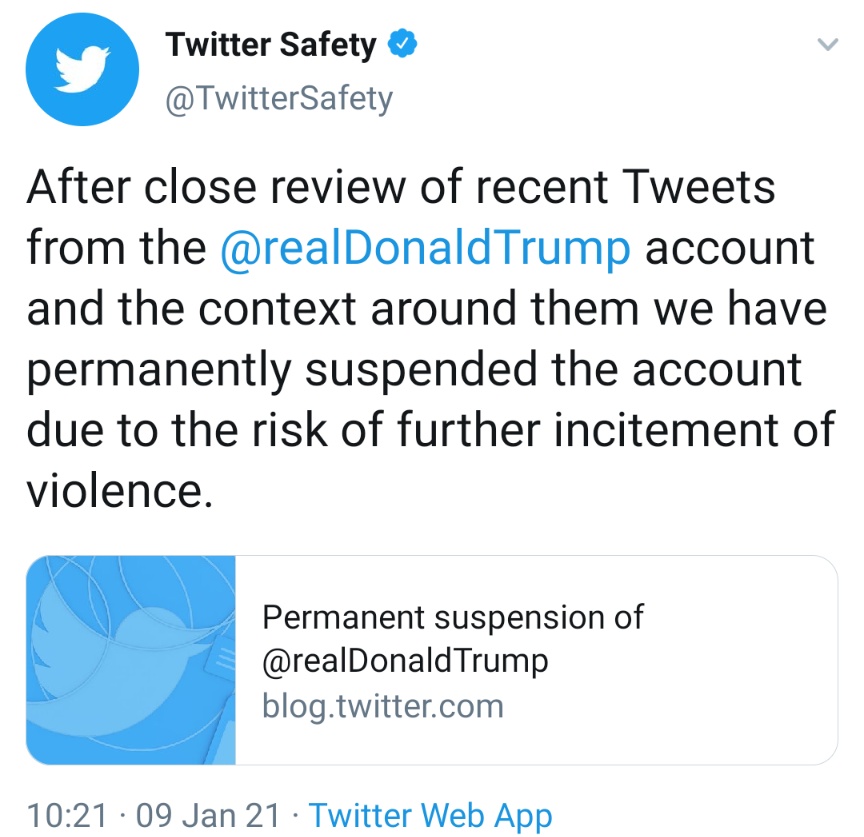 Twitter references its policy on the nature of such behaviour and the actions it holds prerogative to take on users who violate it. On a blog posted specific to the action it took against the US president it reiterates, "we made it clear going back years that these accounts are not above our rules entirely and cannot use Twitter to incite violence, among other things."
That same blog also cites Twitter's Glorification of Violence policy…
We define glorification to include praising, celebrating, or condoning statements, such as "I'm glad this happened", "This person is my hero", "I wish more people did things like this", or "I hope this inspires others to act".
The policy stipulates that included as violations are tweets that glorify, praise, condone, or celebrate "attacks carried out by terrorist organizations or violent extremist groups (as defined by our terrorism and violent extremism policy)".
As such, this draws attention to overdue consideration of the tweets being fielded by the Communist Party of the Philippines through its account @prwc_info where it glorifies the activities of its terrorist arm, the New People's Army (NPA).
Just one example of the impunity with which the CPP-NPA routinely glorifies its terrorist activities is in this recent tweet…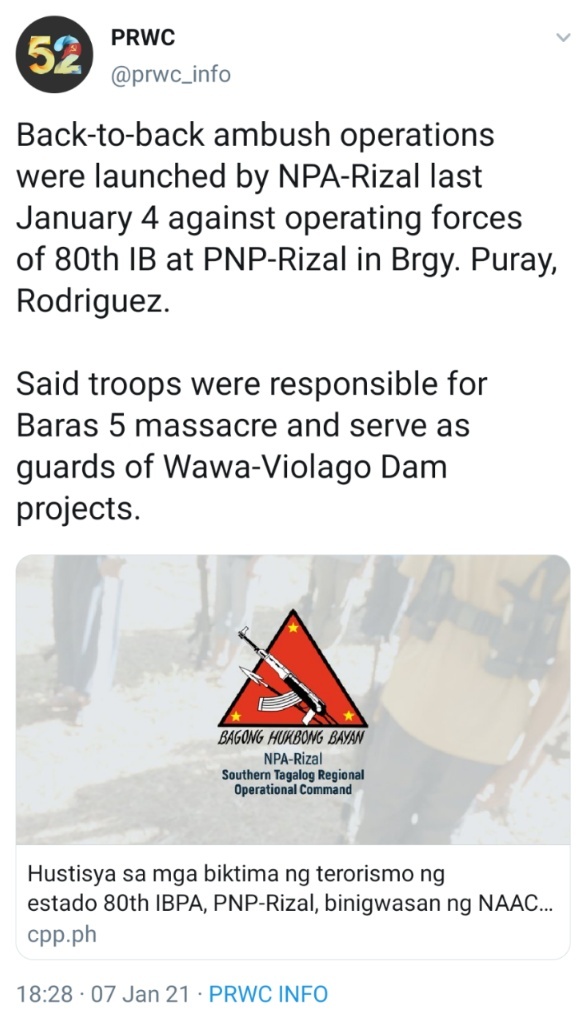 Indeed, a Stanford University report describes the history and capacity for deadly violence of the NPA and its combatants…
In February 1971, [CPP founder Jose Maria] Sison met with CPP-NPA Central Committee members to discuss his plan to attack a Manila rally of the Liberal Party, which opposed President Marcos. The purpose of the attack was to provoke another government crackdown and ideally gain support for the CPP-NPA. On August 21, three CPP-NPA members threw four grenades onstage at the rally in Manila's Plaza Miranda before fleeing the city to a CPP-NPA camp.
The same Stanford report describes current party-list group Bayan Muna as "a political party connected to the CPP and other groups in the Communist movement." According to an ABS-CBN News report Bayan Muna is part of the Makaybayan bloc of left-leaning party-lists that include "Gabriela, Kabataan, Anakpawis, Migrante, and Alliance of Concerned Teachers."
So did Twitter act fairly when it "permanently suspended" the account of the President of the United States? Perhaps yes, though I did elaborate on the implications of such an act when I posed the question earlier; Should Twitter and Facebook block Donald Trump? However, to be truly regarded as fair, Twitter should act fairly and consider all accounts that issue tweets that could be regarded as acts of inciting insurrection and glorifying violence.
benign0 is the Webmaster of GetRealPhilippines.com.