If one were to believe the foremost communist "thought leaders", one would think that simply tagging a person as "red" is a magical curse that dooms that person to a violent death. Perhaps it is a modern-day version of the Filipino tradition of believing in kulam, or the form of witchcraft practiced by pagan indigenous Filipinos. A mangkukulam (sorcerer) is believed, for example, to have the power to put a curse on a person and see that person suffer all sorts of physical and mental maladies (sometimes leading to death) following that.
The key to the influence exerted by these ancient Filipino sorcerers is the power of suggestion coupled with human predisposition to confirmation bias. When a mangkukulam curses a person out loud in public, such is the power of his or her personal brand as a wielder of powerful black magic that the cursed and, often, her friends and family actually believe the curse will stick and do the job in the coming days. And by some luck, the mental stress caused by the belief she is "cursed", or even the social fallout (shunning by friends and family) it causes on the cursed, she succumbs to disease, mental illness, or death, that event will go on to further confirm the bias of her surviving friends and family to the belief that the sorcerer who instigated the curse does actually wield such fearsome power.
The key, therefore, to the power of mangkukulams and other sorts of shamans is ignorance. It is, after all, ignorant people who propagate their confirmation bias towards this nonsensical "power" they swear to being witness to. Consider then this dishonest tweet fielded by the eminent "human rights lawyer" Sol Taule.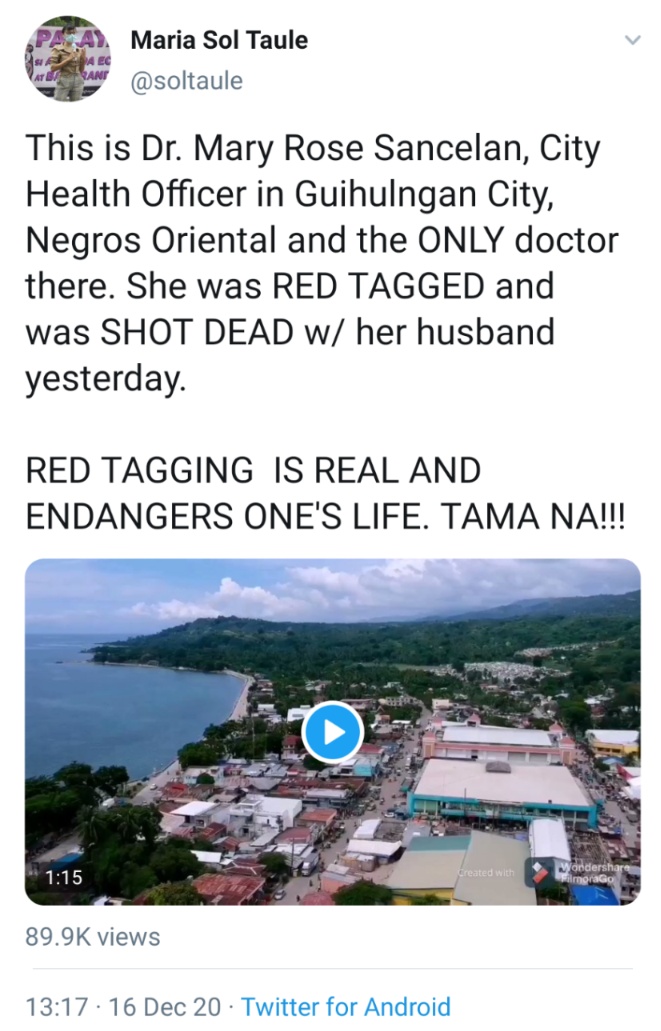 Oh, she was "red tagged" and then was "shot dead", therefore "red tagging" caused her death!
One can easily see straightaway how Taule wields magical powers on the ignorant not too different from that of a sorcerer. She'd like to make people believe that "red tagging" is a curse that leads to the deaths of those accursed. In effect, she is insulting the intelligence of Filipinos. Thing is, it seems that many Filipinos are happy to be routinely insulted that way.
Even more disturbing is how a "lawyer" like Taule uses what is, in essence, a post hoc ergo propter hoc fallacy (the logical error of concluding that an event that precedes another causes the latter) as basis to prosecute people. Indeed, in another crooked tweet, Taule follows through on this primitive thinking and condemns Philippine President Rodrige Duterte, Presidential Communications Operations Office Undersecretary Lorraine Badoy, and Armed Forces of the Philippines (AFP) Southern Luzon Command (SOLCOM) chief Lt. Gen. Antonio Parlade Jr. to be "thrown in the flames" for causing death by "red tagging".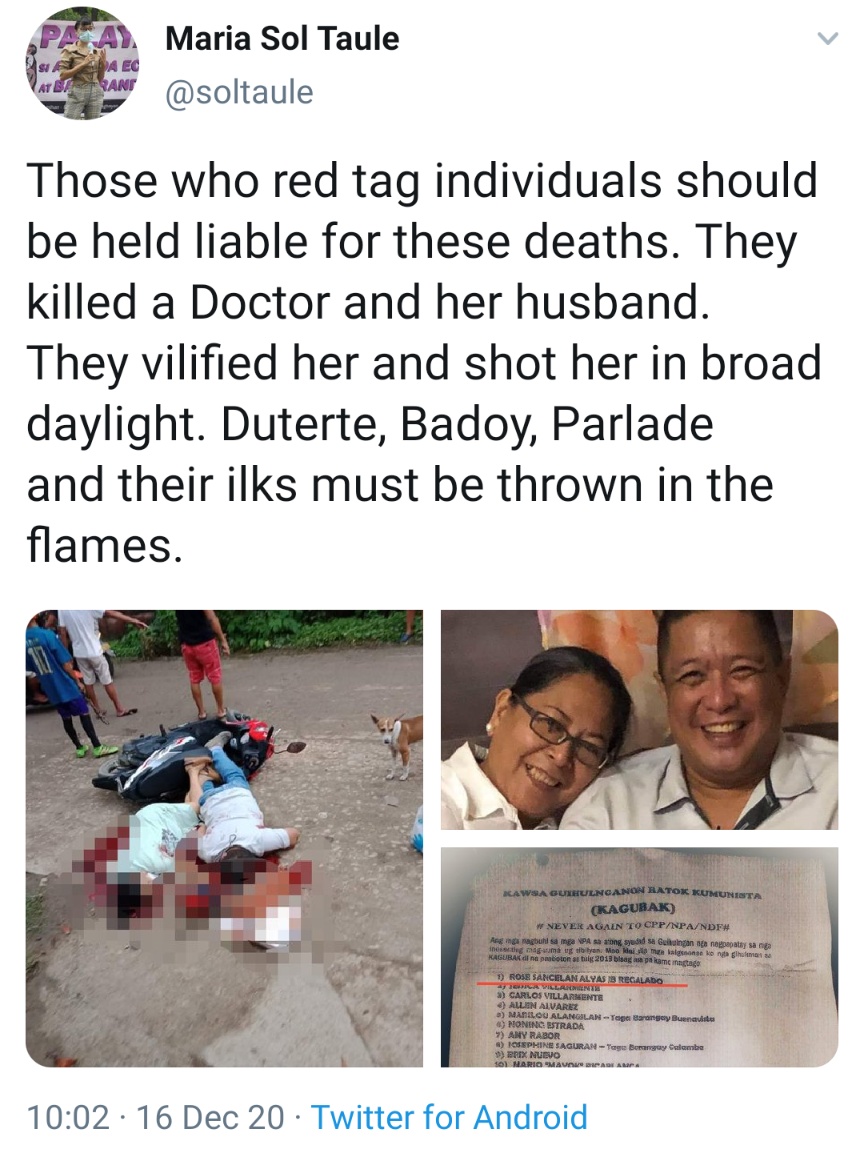 You wonder then how a "human rights lawyer" such as Sol Taule who presumes to "defend" the hapless "victims" of the imagined "tyranny" that supposedly blankets Philippine society conducts herself in a Philippine court. For her sake, one would hope she does not use sorcery and witchcraft as the foundations for the arguments she tables before a Filipino judge. Insulting a judge in his own court, after all, are grounds to be held in contempt. Perhaps Filipinos who lap up all that Taule says on public record should also consider the same.
benign0 is the Webmaster of GetRealPhilippines.com.