First let's do the math and take stock of the science. It takes big bucks, and lots of intellectual capital to develop a vaccine — more so to do it at the speed with which companies like Pfizer and Moderna did. Furthermore, the technology and expertise that went into these development efforts weren't built up in-house individually by these companies and groups. They were backed by the long histories of scientific and technological progress racked up by the societies that bred and raised them. Furthermore, much of this scientific and technological achievement is accounted for by the collaborative efforts of scientists and labs all over the world — predominantly from First World countries.
Second, much of this development effort was led by the private sector. The private sector don't do stuff for nothin' just like farmers and food producers aren't charity organisations out to solve world hunger. Big Pharma don't give away drugs they spent millions to develop any more than farmers give away produce they broke their backs farming and harvesting.
Third thing to consider is the most confronting fact of all. Lives that contribute more to the economy get first priority over lives that matter less economically. Harsh as this fact may be, it is the outcome of a stark equation inherent in the economic system all of us who buy and sell stuff using money signed up to. Indeed, this pandemic raised a difficult question many governments had to answer:
How much of the economy would we be willing to sacrifice to save lives?
A rephrased version of this question drives the thinking even further to its inevitable key point:
How many lives are we willing to lose to re-open the economy?
A curious concept called Value of a Statistical Life (VSL) is routinely considered by the United States government when making decisions on investments that aim to save lives. Using VSL analyses done back in the 1980s, the value of an American life was estimated to be about 10 million in today's dollars. A paper written by H. Spencer Banzhaf in 2013 on The Cold-War Origins of the Value of Statistical Life is quoted in an article on the same subject published on Wired where the following hypothetical scenario is used to illustrate how VSL is applied…
"We spend some money to smooth out a curve on a highway and predict it'll lessen the chance of dying of each person who goes around that curve," Banzhaf says. "If there are million people driving that curve, and each one has a reduced risk of dying on that curve of one in a million, then by fixing the curve, we saved one life." If you believe in the VSL, it's worth spending $10 million to regrade the road.
In the setting of a Third World country like the Philippines, the same approach may be applied when considering investing in health and safety measures and facilities in public works. However, the question as to whether the life of a person living in the Third World is worth as much as, say, an American life measured using the VSL method would then come up. Perhaps, then, this partly explains why health and safety are not considered as much in public facilities in the Third World as they are in the First World.
Coming back to the question of how to prioritise distribution of the COVID-19 vaccine, it becomes clear why it makes sense in the global economic scheme of things to prioritise inoculating the people of rich societies first. Take the industry most impacted by the COVID-19 pandemic — travel and tourism. Pound-for-pound, the tourists and travellers spending the most money at a trourist or travel destination would be people from the First World. Thus, it makes sense to governments of the First World to see open borders and freedom of travel amongst their little club of rich citizens as a priority to pursue. Multiply that thinking across other industries and the equation and statistics average out with the likely outcome of all roads leading to how much economic sense there is in prioritising the top contributors to national economies over all the rest.
When you are poor and not a priority in this scheme of things, what are you to do then? Well, there is "activism" — basically whining about what one is entitled to as this Netizen does on Twitter…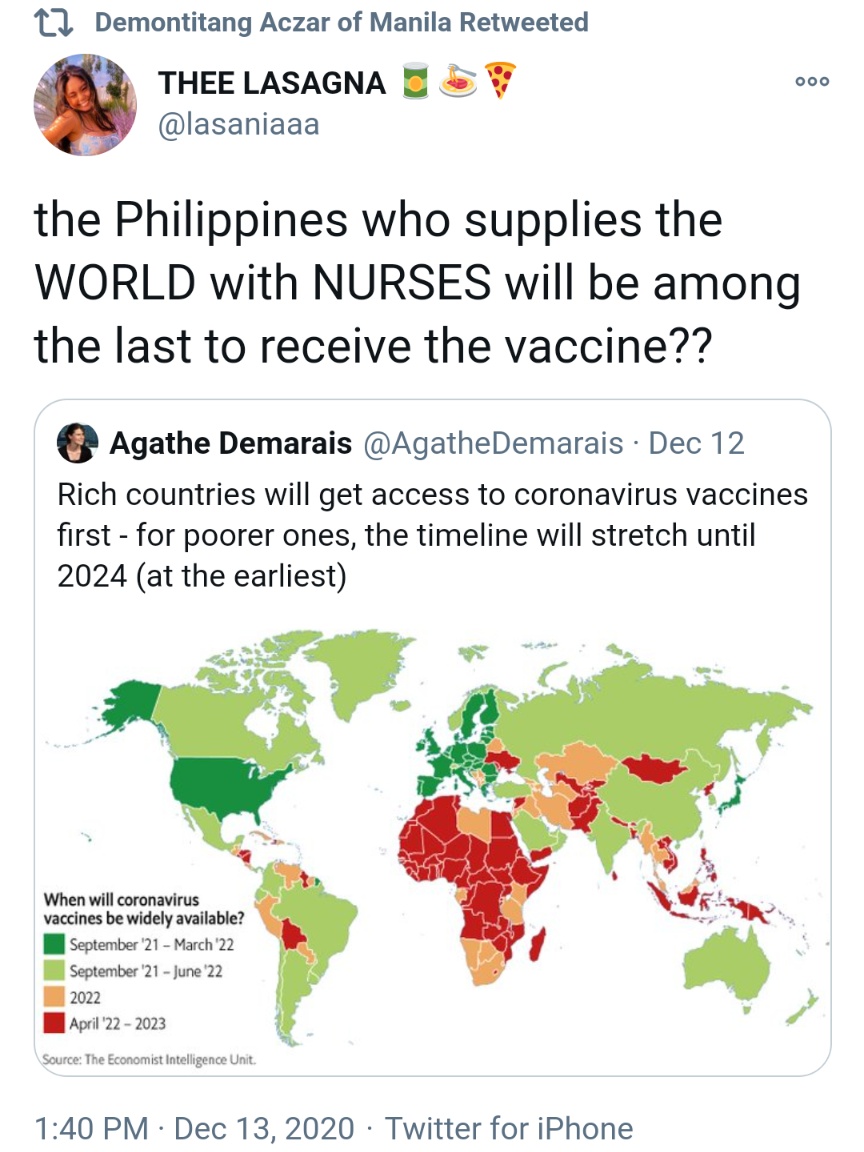 That's not too different from other appeals to charity that have hardly made a dent in the way the free markets operate — how, for example, a rich family of five could live in a big house while a poor family of eight make do in a little shack beside a mosquito-infested estero. That's the free market we all signed up to — one that assures us that money will persist as our most reliable measure of value and societies' most objective scorekeeper of success. The best life has to offer goes to people who could pay for it.
In light of all this, it is quite obvious that the Philippines' mass production of nurses-for-export (thereby accounting for the high statistical probability that a Filipino would be the first to administer the COVID-19 vaccine) is a non-factor in the global scheme of COVID-19 vaccination priorities. From the perspective of those grasping at the short end of the stick that reality dictates, it may seem like an outrage and an affront to "fairness" that the Philippines is at the bottom of the world's priorities. Perhaps the call to action here is not the typical ones traditional "activists" make but more the ones realists make — that Filipinos should learn to become more self-sufficient and to ensure that they are inherently capable of honouring the commitments they enter into as a matter of habit.
benign0 is the Webmaster of GetRealPhilippines.com.