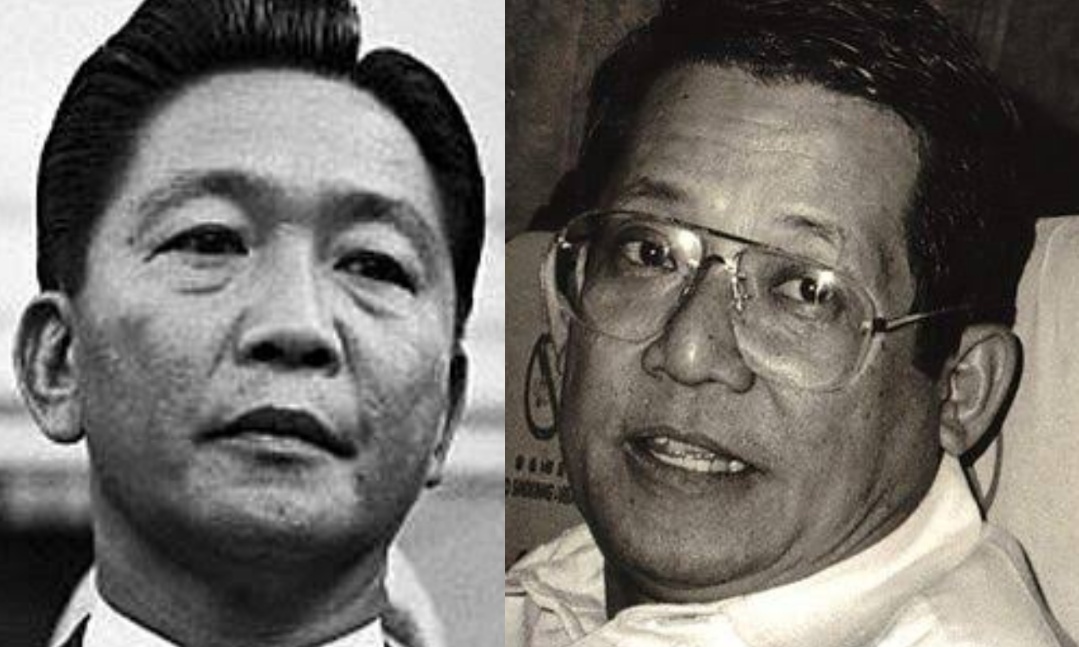 Whether you refer to heroes here as with or without the quotation marks, "heroes" in the Philippines appear to be defined by how well you can get history to side on you. And what better way to do that than name recall? So for anyone wanting to be remembered as a hero, naming roads and public buildings, erecting statues and commemorating special days are just about the most effective techniques in the country. But why is this important? Well, just ask the descendants of these heroes who are out to benefit during election day.
It looks like the tide is turning these days with Ninoy increasingly being portrayed as a fake hero, traitor and terrorist (dying only in pursuit of his political agenda), while Macoy is steadily gaining ground in cementing his legacy as the genuine contributor to the country's development and progress as World War II veteran, distinguished legislator, and former president.
No less than presidential son Paolo Duterte (along with 2 other Congressmen) is authoring the bill in Congress to rename NAIA (Ninoy Aquino International Airport) into anything but after the Yellow Icon. House Bill 7031 seeks to change the airport's name to the Paliparang Pandaigdig ng Pilipinas.
This move has been met with mixed reactions across the spectrum of minds: Filipinos who have snapped out of the Yellow spell welcome this with a resounding Amen, with a sigh of relief that their clamor for this is finally being heard.
One netizen, Jun Dx2, had these kind words to say…
I don't care what they rename NAIA with but just remove the name of that fake hero, yellowshit patriarch and co-founder of the Communist Party of the Philippines out!
But as to the timing of doing this in the midst of a pandemic, Senator Risa Hontiveros reacted:
branding the proposal as "ill-timed and insensitive" would be an "understatement."
Meanwhile Top Yellow Honcho of the Land, Leni Robredo, had a clanging tricycle-load of Taglish to unleash:
"Nasa gitna tayo ng pandemya, ito pa talaga ang maiisip natin?"
"Where is our sense of history?"
"Ngayon pa talaga kung kailan dapat all hands on deck tayo na nagtutulong-tulong para masugpo 'yung pandemya, ngayon pa 'yan iisipin?"
Did they ever consider that re-branding the former winner of "Worst Airport of the Year" Awards towards a positive image at a time when our tourism is at its bleakest is actually good timing and a great marketing opportunity in anticipation of our reopening to the world?
On the other side of the court, the House had just stamped their approval on a bill declaring Sept. 11 'President Ferdinand Edralin Marcos Day' in Ilocos Norte, which makes it a special nonworking holiday in the North to commemorate the birth anniversary of the former president.
Senator Sotto affirmed he would not object to the measure:
former President Marcos was a son of Ilocos Norte and he remains, to this day, a hero not only to the people of Ilocos Norte but also to most Ilocanos all over the world.
He expects the bill such as this with local application to breeze through the Senate.
Apparently at the end of the day a person will be measured by his/her accomplishments and achievements, and not by how many people one has duped into following his "the Filipino is worth dying for" Cult.
Considering the steep fall from the heyday of Yellow euphoria to the sheer shame of getting labelled a Dilawan or Yellowtard these days, all Ninoy and Cory can probably say at this point is "It was good while it lasted!"
Zealous revolutionary advocate of bringing back common sense for the common good in a land of dysfunctional and delusional zombies.