Now that the number of COVID-19 cases has breached the 100,000 mark and calls for a renewed lockdown coming from the Philippines' frontline healthcare workers (HCWs) are being amplified by Opposition "thought leaders", "vice president" Leni Robredo chimes in on cue. Rappler now "reports" that Robredo "urges the government to heed the medical community's plea for a two-week lockdown to rethink the country's strategy in fighting the pandemic".
Interesting that back in June, Robredo reportedly said that Extended lockdown won't help in fight vs. COVID-19.
"I don't think so [that extended lockdown is the solution going forward]. We have seen other countries, Vietnam, Taiwan, South Korea, New Zealand, hindi ganoon kahaba ang lockdown and yet they were able to control the contramination," Robredo said in an interview on ANC television.

"Ano ginawa nila? Sobrang aga nila nag cancel ng flights from China. Going forward, pag naghihirap ang tao, magpipilit na lumabas, at pag naghihirap ang tao, it will breed more problems than we already have," she added.
It gets even more interesting when one considers the mass protest rallies key blocs within the Opposition — the Yellowtards (people rabidly loyal to the Aquino-Cojuangco feudal clan) and the communists — have encouraged hundreds of thousands of Filipinos to participate in. One such rally involved a show of support for embattled media conglomerate ABS-CBN in mid-July where celebrities such as Angel Locsin used their "fandom" to rally public support and to emotionally-blackmail their colleagues in the industry into toeing the partisan line. Needless to say, these mass actions put thousands at risk of contacting COVID-19.
SUPPORT INDEPENDENT SOCIAL COMMENTARY!
Subscribe to our Substack community GRP Insider to receive by email our in-depth free weekly newsletter. Opt into a paid subscription and you'll get premium insider briefs and insights from us daily.
Subscribe to our Substack newsletter, GRP Insider!
Learn more
It is the height of hypocrisy indeed when one recalls how, back in May, ABS-CBN News reported how Locsin wouldn't risk holding her wedding to film producer Neil Arce during lockdown.
"Kaya lang, 'pag lockdown pa, hindi naman namin puwede i-risk, di ba? Hindi namin alam kung ano ang mangyayari," she said.
Goes to show just how selective Opposition "thought leaders" are when considering people's safety amidst the pandemic.
For her part, chi chi daughter of The Megastar Kakie Pangilinan herself encouraged support for similar protest circuses. Quite telling was Pangilinan's quick and very public response to communist leader Renato Reyes's appeal on behalf of 21 San Roque residents thrown in jail for violating government quarantine directives.
On Twitter on April 3, Frankie, the outspoken daughter of Senator Francis Pangilinan and "Megastar" Sharon Cuneta, responded to a tweet from activist and musician Renato Reyes Jr which said bail for those arrested was set at at least P15,000 each.

"Wala na nga silang makain, pagbabayarin pa ng P15,000 each (They're already hungry, and yet they're being made to pay P15,000," Renato said.

"I'll sponsor one. Please give the details," Frankie replied. She followed up with another tweet, saying "and my parents would like to cover the other twenty."
All nice and peachy of course for the habitual duckface-selfie olympian when the trendy thing at the moment is to signal such "virtue" without considering the fallout irresponsible behaviour like this would have on frontline HCWs. But then when the "tending" topics suddenly change and calling for renewed lockdown is the new fashion statement, so too do the tunes of the cliques of chi chi "influencers" the likes of which Pangilinan represent…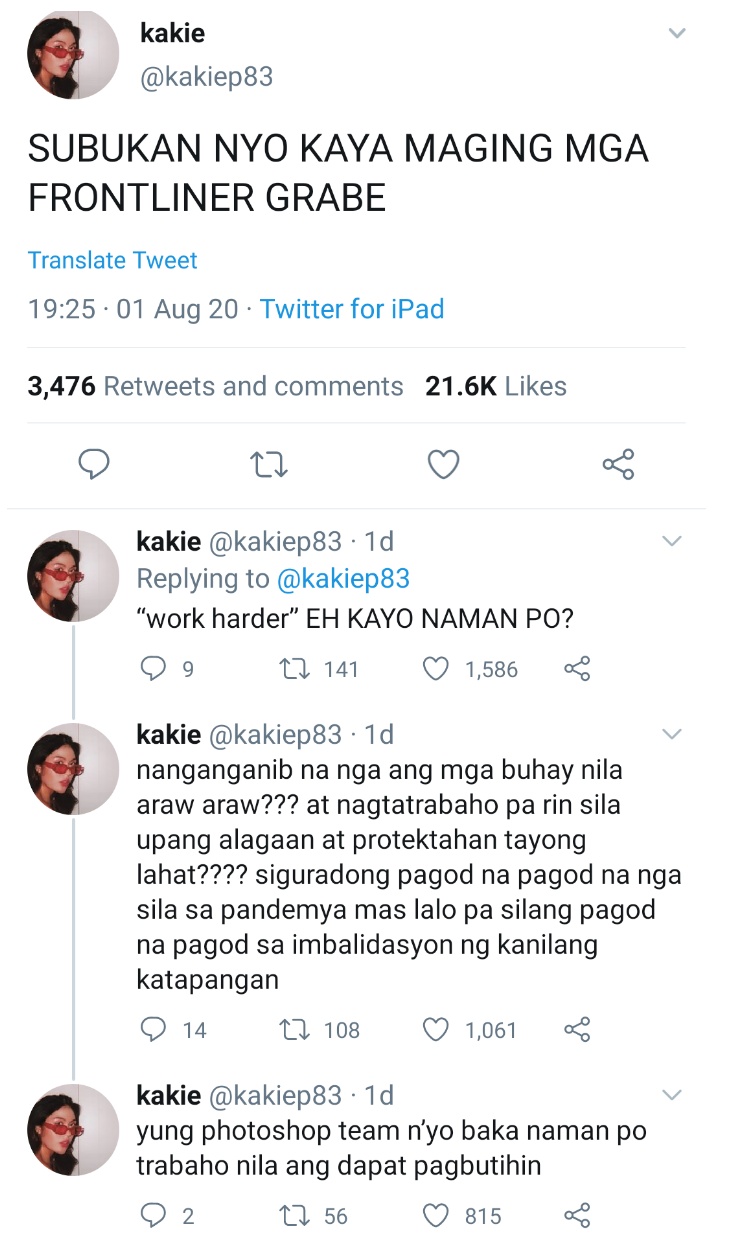 Therein lies the fundamental and evidently fatal flaw in the manner with which Filipinos manage their crisis. The authoritative nature of "information" in the Philippines is a function of how popular the messenger is and, more importantly, the nature of their relationships with media channels that have the means to amplify their quaint musings. Rather than use their better judgement people would rather wait around for the next sound byte of "wisdom" issued by their appointed "thought leaders".
Rally pa more, lockdown pa more. It depends on what is fashionable as much as the latest designer facemasks these "influencers" would be raving about on the side in between their "socially aware" tweets.
benign0 is the Webmaster of GetRealPhilippines.com.