It appears that companies have jumped the gun on the still to be approved Omnibus Guidelines on COVID-19 Testing and have begun marketing their testing kits through social media.
This has prompted the Philippine Department of Health (DOH) to issue an advisory calling out TruLaboratories Corporation for publishing a social media post which it says their brand has been finally approved and is included in the Omnibus Guidelines on COVID-19 Testing.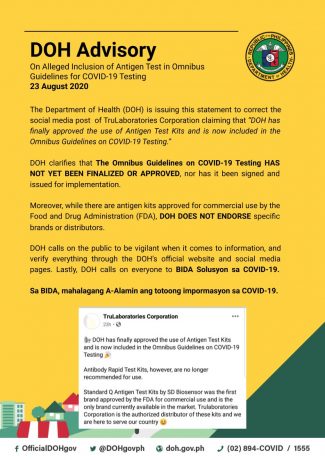 The advisory, which is hardly a slap on the wrist, says:
The Department Health (DOH) is issuing this statement to correct the social media post of TruLaboratories Corporation claiming that "DOH has finally approved the use of Antigen Test Kits and is now included in the Omnibus Guidelines on COVID 19 Testing".
DOH clarifies that The Omnibus Guidelines on COVID 19 Testing HAS NOT YET BEEN FINALIZED OR APPROVED, nor has it been signed and issued for implementation.
Moreover, while there are antigen kits approved for commercial use by the Food and Drug Administration (FDA), DOH DOES NOT ENDORSE specific brands or distributors.
DOH calls on the public to be vigilant when it comes to information, and verify everything through the DOH's official website and social media pages. Lastly, DOH calls on everyone to BIDA Solusyon sa COVID-19.
A cursory inspection of TruLaboratories Corporation Facebook Page which bears images of its brand of COVID-19 testing kits reveals why DOH might be having a problem with the company.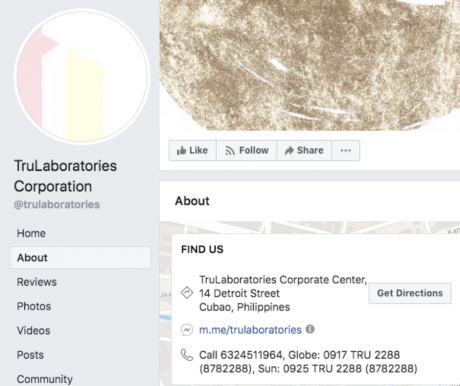 The packaging of the company's COVID-19 testing kits appears to be taking advantage of the confusion it would create in the market, appearing to be branded as COVID-19 ANTIGEN instead of STANDARD Q COVID 19 Antigen Test — a product already banned by the US FDA and pulled from shelves in India. (More information here: https://indianexpress.com/article/india/kit-import-licence-of-3-firms-cancelled-15-suspended-order-based-on-ban-by-usfda-6523542/)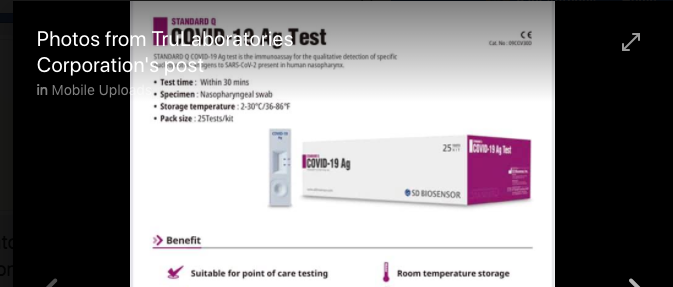 Although why the DOH chose to merely issue an advisory against TruLaboratories and has not called on the Department of Trade and Industry to investigate as well as possibly sanction the company for an easily misleading label is unclear.
It is clear, however, that the paranoia created by fearmongers over COVID-19 has made the general public susceptible to unscrupulous marketing practices by shady entities masquerading as legitimate manufacturers and distributors of medical supplies as well as equipment.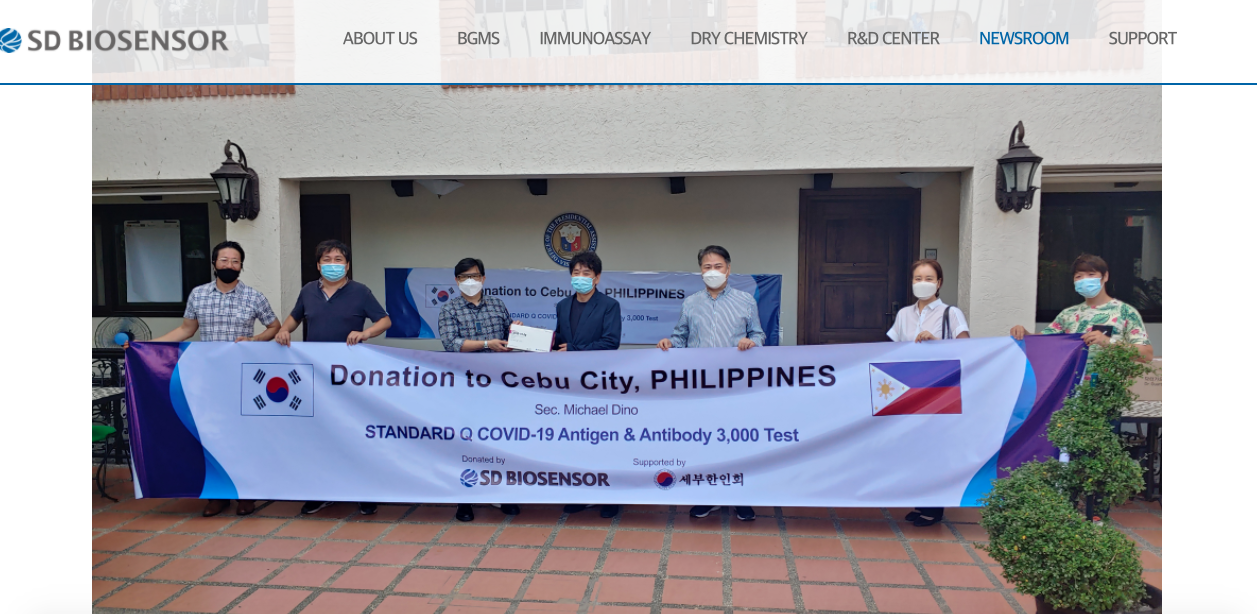 On the other hand, word from the grapevine says that LabX's Sofia2 COVID-19 testing kit passed the standards set by the yet to be approved under the DOH Omnibus Guidelines on COVID-19 Testing.
The company is said to be waiting for the final approval of the DOH Omnibus Guidelines before making an official announcement.